Vegan Cheese: vegan camembert, mozzarella and cheddar
Fortunately for us cheese lovers, it is a real treat that there are so many dairy-free and delicious cheeses out there for vegans and those avoiding dairy or lactose. From alternatives to cheddar, camembert, feta, mozzarella and so much more. 
The days are long gone where vegan cheese is rubbery and unpleasant, thank goodness! 
We now have a large variety of delicious dairy-free cheeses that work well on any cheeseboard, pizza, sandwich, baked potato, a sprinkle over pasta – we have listed below the cheese you need for any dish.
With so many different animal-friendly cheese alternatives out there, it screams for a vegan cheeseboard and we are here to show you the best options. 
A vegan cheese board is a perfect centrepiece at any party or gathering. It requires the least amount of effort and time but is sure to impress and please the crowd. 
I love to make a cheeseboard, you have the freedom to go crazy on cheese, crackers, chutney, and fruits. You can even add nuts and vegan chocolate. We love to add vegan quince and frozen grapes!
That's the best thing about cheeseboards: There are no limits or expectations of what you need to put on them.
Dairy-Free Cheeses that are delicious
We have researched, tried and compared lots of vegan cheese brands and we have compiled this into a top 10 list. Some you may find online and others next door to your house in the supermarket. 
Top 10 Vegan Cheese Options
Violife is well-known in the UK for its delicious variety of vegan cheese. You can get your hands on Violife in most UK supermarkets.
They have such a variety of dairy-free products from epic mature cheddar blocks, original flavour slices, original flavour grated, original flavour creamy cheese which works amazing in cheesecakes – try our Biscoff cheesecake here, and they even have chocolate cream cheese spread. YUM!
One of our new favourites is there alternative to feta cheese, 'Greek White' – perfect for our tomato feta pasta bake recipe here.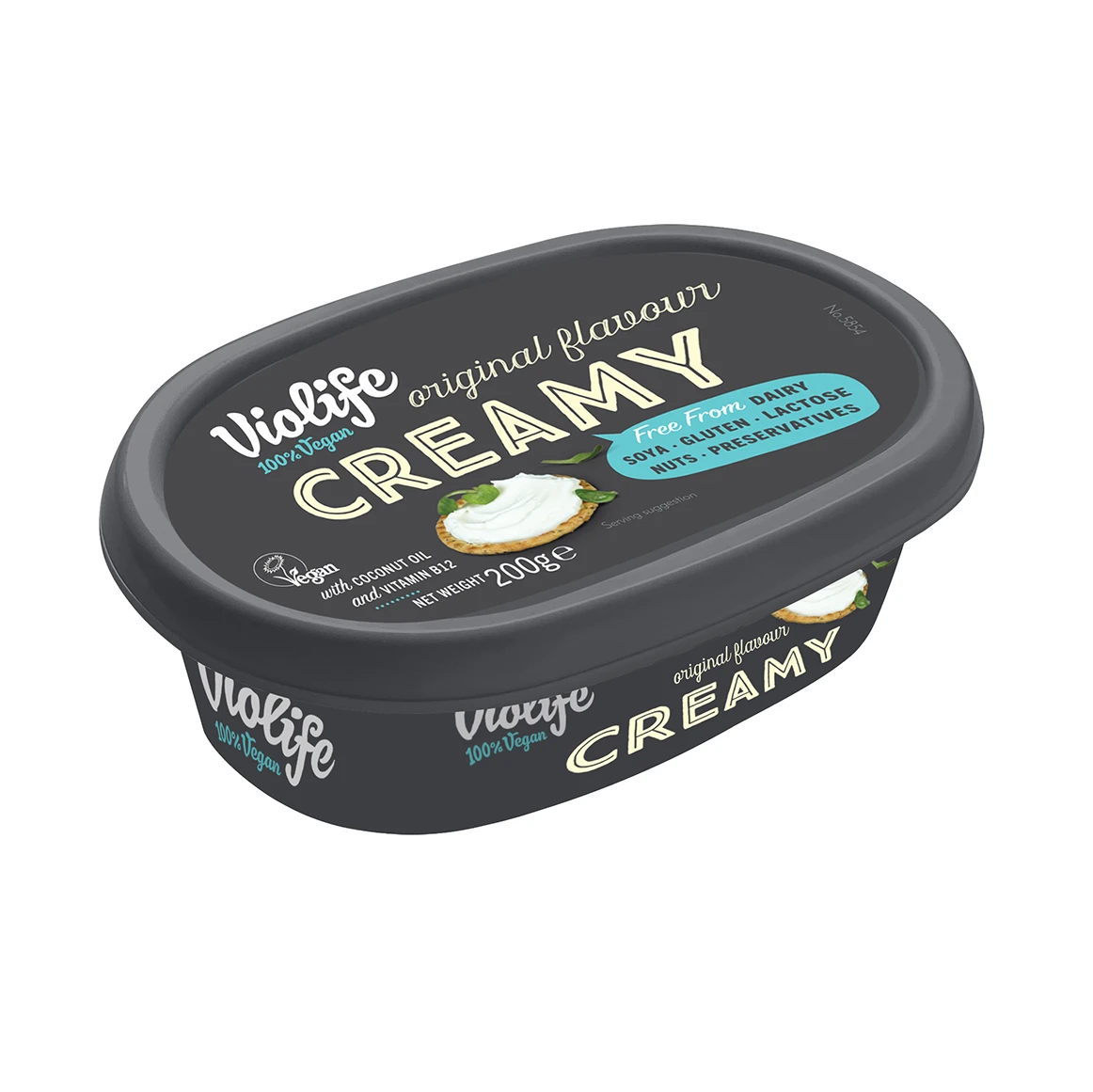 Sheese has award-winning dairy, lactose, and gluten-free cheeses. They have a variety of sheese blocks including Edam, Red Leicester, Gouda Style, Cheddar, Greek Style, and lots more to choose from.
They also have a creamy sheese range that has so many scrumptious flavours including Chive, Garlic and Herb and Sweet Chilli spread. Imagine this with your favourite crisps or breadsticks. YUM.
We at LiberEat also love their grated Mozzarella sheese, we used this in our Vegan Tomato and Sausage Pasta Bake and it certainly did not let us down in terms of cheese pull and taste. Pretty much the ideal topping for a pizza too!
I could speak about Sheese all day long. It's no wonder that their vegan cheeses win awards.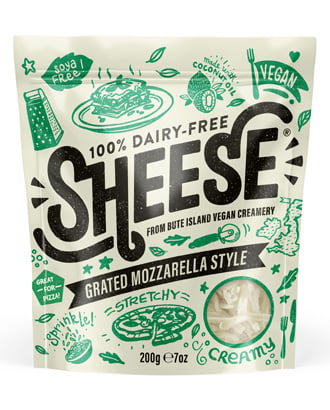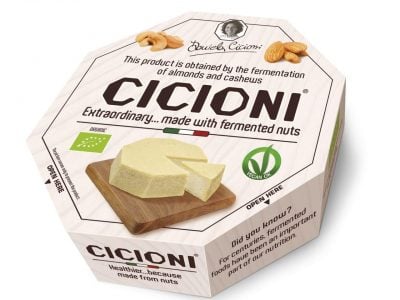 Daiya cheese originated in America but was so popular in the US they have expanded into UK supermarkets, including Sainsbury's.
Their dairy-free Mozzarella style cheese melts and oozes as you would expect from traditional Mozzarella. Their cheese is perfect for pizza, pasta, baked potatoes, sandwiches or really anything you want to add their delicious cheese too. 
You can also use their blocks or grated cheese for vegan Macaroni Cheese!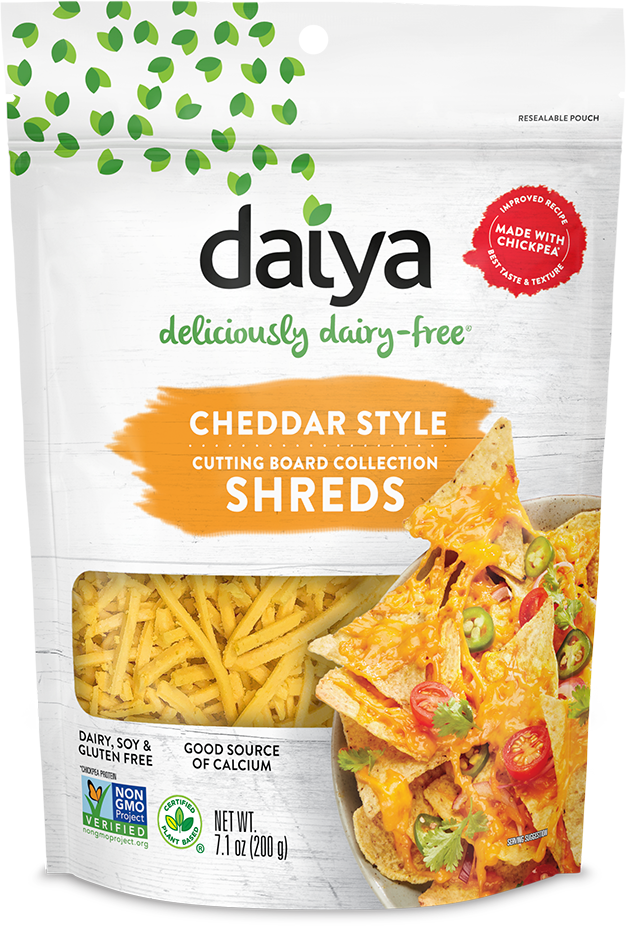 5. Morrisons V Taste Range
Morrisons have pleased all the plant-based humans and shoppers with their V Taste Range which offers vegan cheeses including slices, blocks and spreads. 
I also have to add: They have vegan and gluten-free mozzarella dippers! Made with coconut oil, alternative mozzarella cheese and a crisp crumb! If you can get your hands on these, grab them because they are not easy to find.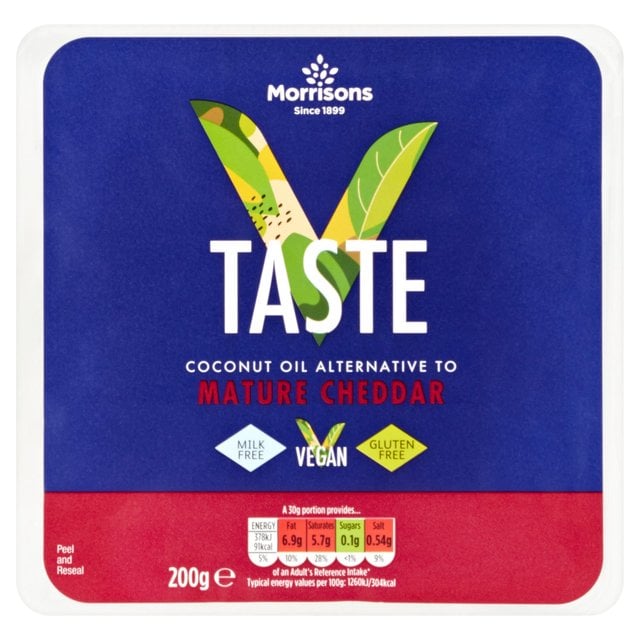 6. Sainsbury's 'Free From' Range
Sainsbury's Deliciously Free From Range offers a cheddar and chive block that can be sliced, grated, melted or cut into a big chunk to enjoy by itself. 
Enjoy it straight out the pack, on a cracker, in a sandwich – whatever you prefer because it is delicious any way you choose to eat it. 
You can get a plethora of vegan cheese from Sainsbury's.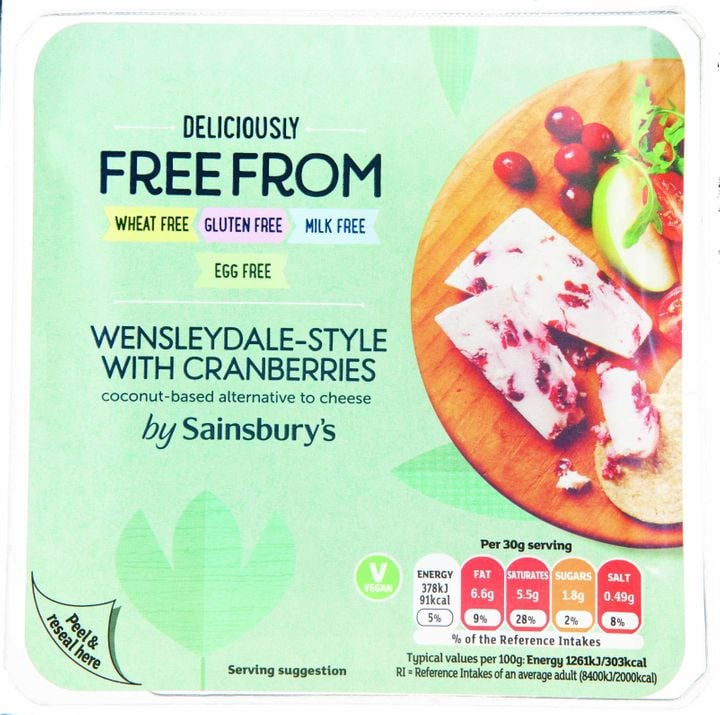 You are guaranteed to love VBites plant-based cheese whether it's a block, sliced, grated or spread. 
Their Mexicana Vegan Cheese is unbelievably good, melts amazingly and has just the right amount of spice. I often recommend it to friends. You can get your hands on this in Sainsbury's too! 
It is also certified by our friends at the Vegan Society Trademark.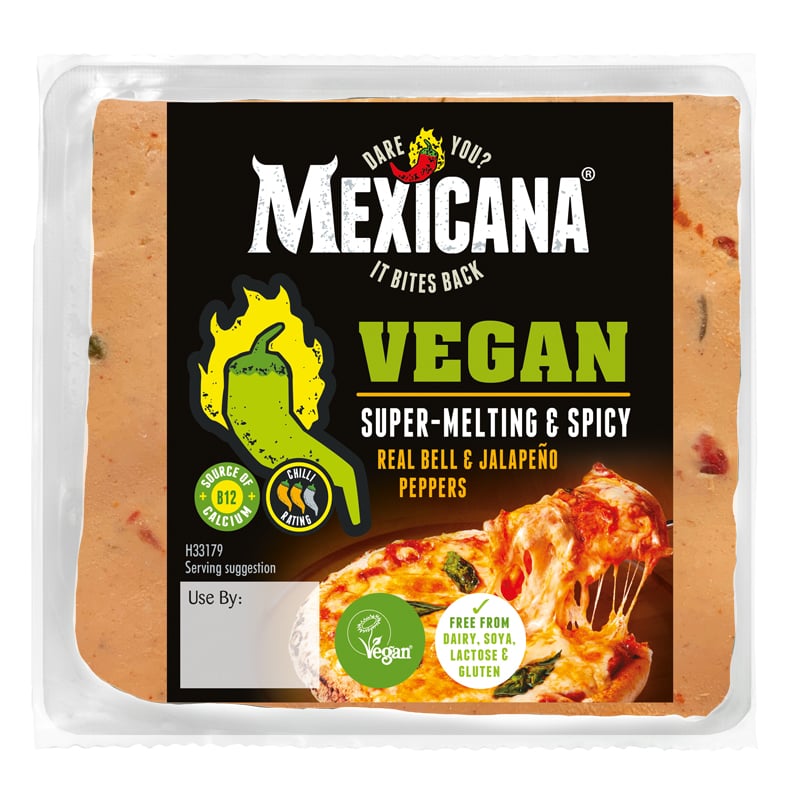 Nurishh is the new kid on the vegan cheese block. Their cheddar and mozzarella blend will make pizza nights your new best friend. Perfect for everyone to enjoy! Nurishh is gluten-free, and vegan, which makes dinner super easy and super cheesy. 
They also have an alternative to Camembert – perfect for any cheeseboard. We have tried using it in a delicious toasted sandwich with some caramelised red onion and it did not disappoint.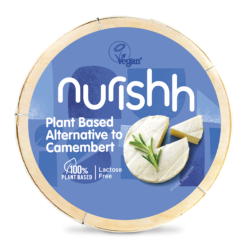 Follow Your Heart cheese is rich, creamy and delicious melted or cold. They also have parmesan alternatives which are perfect with pasta. 
You will be glad to know that they also have a smoked gouda cheese slices to add to your cheese board with crackers and chutney. As well as, shredded cheese, speciality cheese and cheese blocks.
While on the theme of cheeses, Follow Your Heart has a Vegan Bleu Cheese Dressing, which also functions as an excellent dip for pretty much anything, but is especially good for pizza crusts or vegan tacos.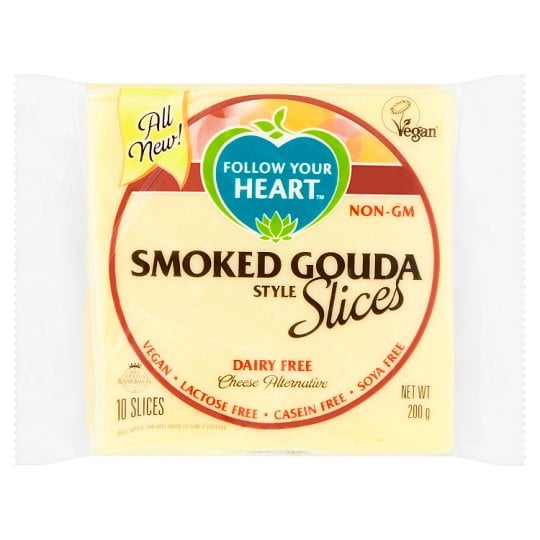 Green Vie has won awards for its delicious animal-friendly Mozzarella cheese. It has a soft and creamy texture, which melts like a dream. The Vegan Society Trademark also approves it.
Their mozzarella works delightfully well eaten by itself, in mozzarella dippers or on pizza!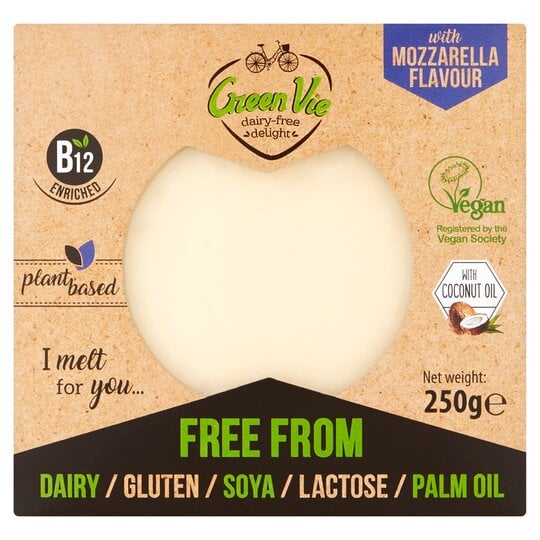 We have tried and tested many vegan cheese options to report back to our wonderful community with our favourite recommendations. These are our top 10. Please share your favourites in the comments below or tag us on Instagram. 
If you enjoyed this Vegan Cheese Blog Post, we are sure you will enjoy more LiberEat recipes and blogs including recipes from The Vegan Society Trademark & lots of other amazing creators! More than 400+ recipes to choose from to satisfy all your cravings!
Some of our other vegan articles:
Know someone who would like this?
Share it with the links below
LiberEat's allergen and error detection technology provides an allergen safety blanket for food businesses to ensure that consumers are safe and healthy when eating at your restaurant or consuming your food products.
LiberEat offers a second line of defense for food businesses by detecting errors, allergens, and other harmful ingredients. Food businesses can apply this technology directly to identify errors in allergen communications, preventing the risk of injury. Get in touch with us today to learn more about our Allergen Detection Technology.
To find out how LiberEat Technology supports food businesses to detect allergens and errors, to protect consumers