Recently we shared our fluffy and delicious Gluten-Free & Vegan Scones, which has proven to be a hit. After all, who doesn't love a scone?
So, LiberEat has decided to create a cheesy version: Gluten-Free & Vegan Cheese Scones.
Gluten-Free & Vegan Cheese Scone Recipe
These cheesy, buttery and delicious scones are so incredibly more-ish and once you smell them baking in the oven you will struggle to say no. Especially when served warm with some soft dairy-free butter, they are irresistible. 
Perfect with a cup of tea as a snack or with a bowl of soup. You have to try our dairy and gluten-free cheese scones. You will not regret it.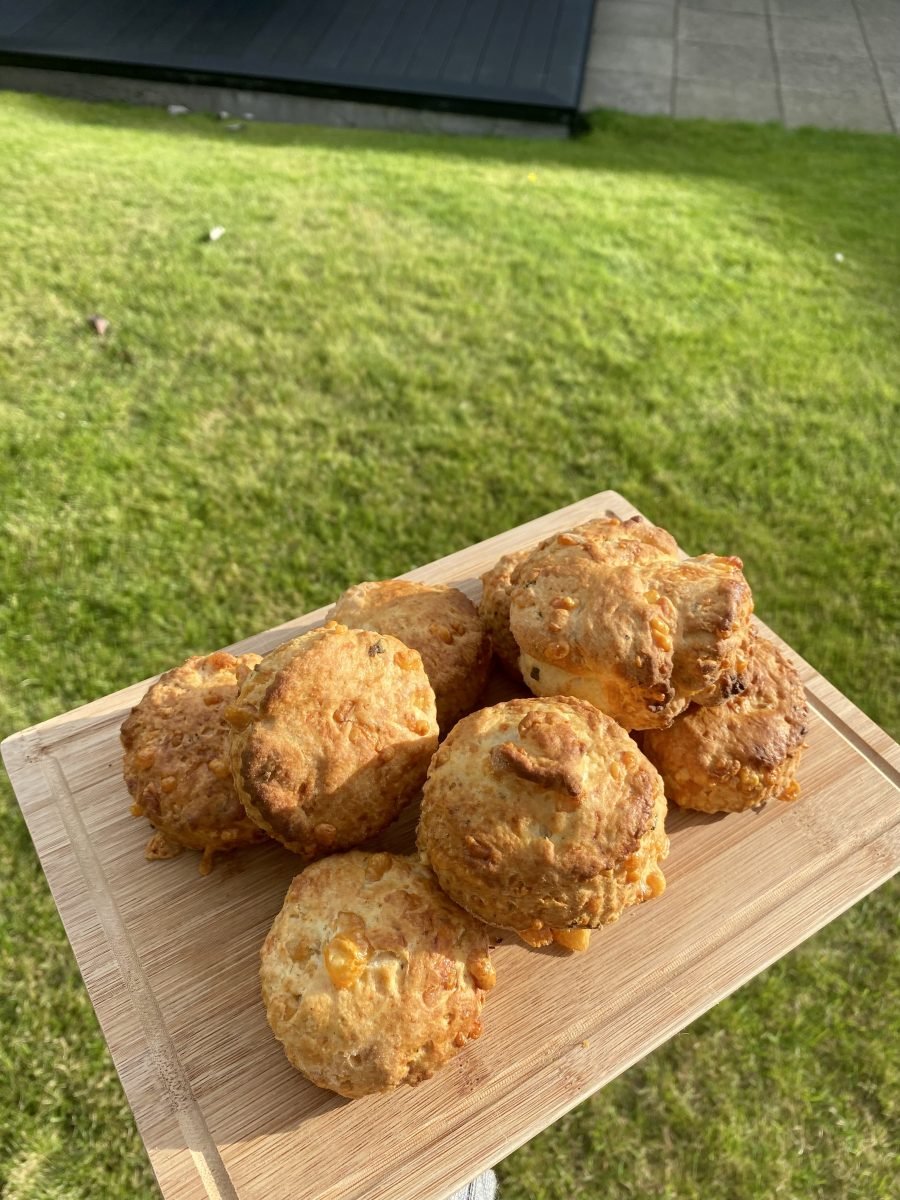 Our top tip for making scones:
An important tip to making cheese scones or scones in general is to work the dough as little as possible. Use a light hand and work the dough until it comes together. 
Overworking the dough will lead to hard and chewy scones instead of light and fluffy.
Spice up your Vegan and GF Cheese Scones:
Add Jalapenos for an added kick. Stir in about 2 tbsp of chopped Jalapenos before bringing the dough together. You can also add in Cayenne pepper for a cheesy & spicy punch.

Make mini cheese scones for a canape idea. Add some chutney on top and you have the perfect finger food.

Add olives – a great pairing with the cheese.

These scones also work great with slices of fresh tomato and fresh basil – a bit like a pizza.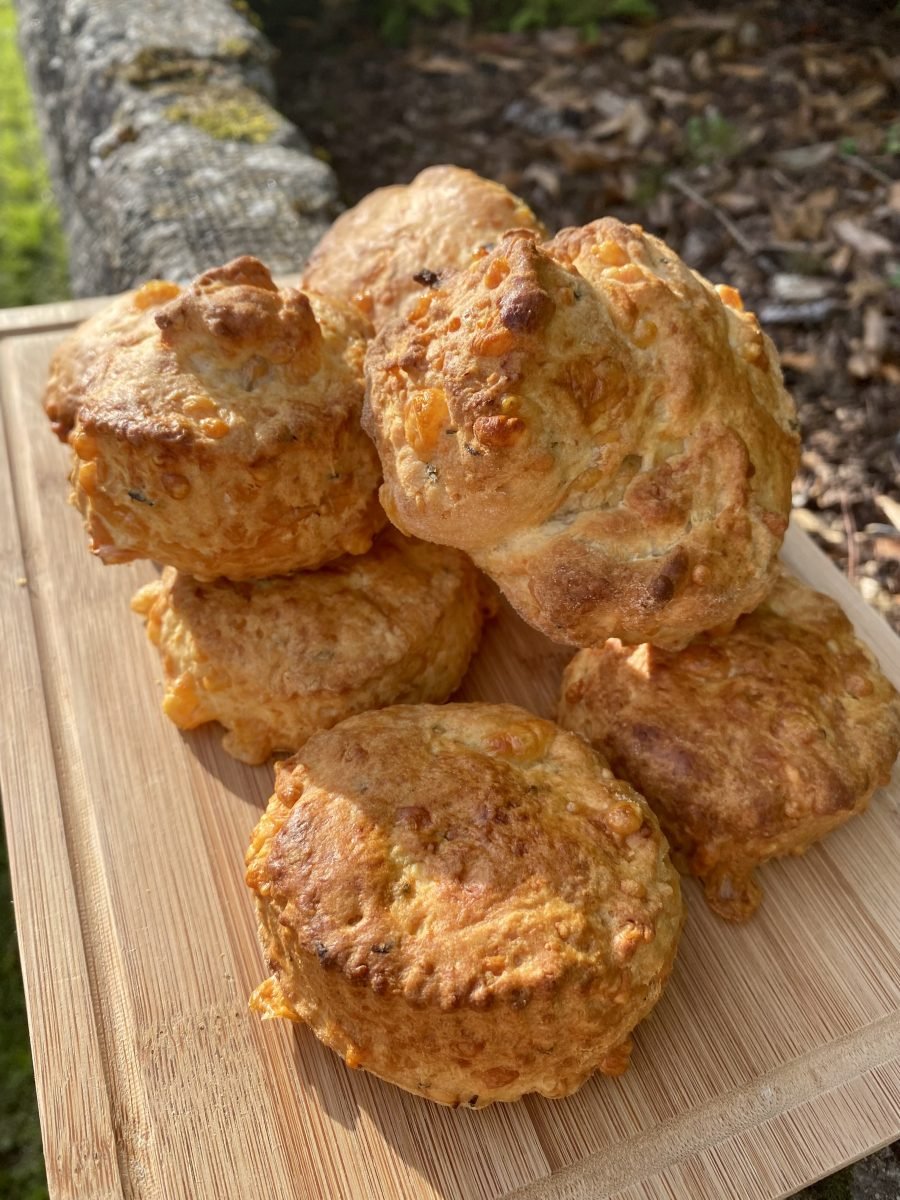 Doves Farm Gluten-Free Cheese Scones
We used the Doves Farm Gluten-Free Self-Raising Flour to make our cheese scones. We found this flour makes a light and flaky scone that allows the dough to rise and turn golden. Everything you want in a scone despite being free from gluten and dairy!
We love hearing from you! Send us pictures of your cheese scones on Instagram @Libereatapp and use #Libereat to show us your version!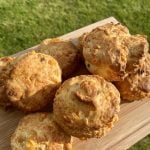 Print Recipe
Gluten-Free & Vegan Cheese Scone Recipe
Cheesy, buttery and incredibly light vegan and gluten-free cheese scones, no one will know they are dairy and gluten-free. Enjoy as a snack or with a nice bowl of soup.
Ingredients
225

g

gluten-free self raising flour

Doves Farm

50

g

vegan butter

room temperature

125

g

vegan cheese

1

tsp

salt

2

tsp

mustard powder

1

tbsp

chives

60

ml

dairy-free milk
Instructions
Preheat the oven to 200 degrees (fan oven). Place baking paper over a baking tray.

Sieve the flour into a large bowl. Cut the room temperature butter into small chunks and add to the bowl.

Rub the butter into the flour using your fingers, until it becomes a breadcrumb texture.

Grate the cheese into the bowl, add the salt, mustard powder and chives. Mix through the flour mixture to combine evenly.

Add the milk and mix until combined. Add a tablespoon at a time of cold water until the mixture becomes a dough consistency.

On a clean surface, add some flour and tip out the dough. Gently roll it out with a rolling pin until 1.5cm thick.

Using a biscuit or pastry cutter, cut out as many scones as possible and place on the baking tray. Repeat until all the dough is used.

Brush the tops with dairy-free milk and pop in the oven for 15-20 minutes until golden brown.
If you enjoyed this vegan and gluten-free cheese scone recipe, you might enjoy more LiberEat recipes, including recipes from The Vegan Society & lots of other amazing creators!

Some of our other vegan and gluten-free recipes:
Know someone who would like this?
Share it with the links below
LiberEat's allergen and error detection technology provides an allergen safety blanket for food businesses to ensure that consumers are safe and healthy when eating at your restaurant or consuming your food products.
LiberEat offers a second line of defense for food businesses by detecting errors, allergens, and other harmful ingredients. Food businesses can apply this technology directly to identify errors in allergen communications, preventing the risk of injury. Get in touch with us today to learn more about our Allergen Detection Technology.
To find out how LiberEat Technology supports food businesses to detect allergens and errors, to protect consumers