LiberEat's Technology Supports
Food Businesses and Consumers
Our technology and our app already help thousands of people who have, or work with, dietary requirements
Supporting Consumers
More than 17,000 people in the UK with dietary requirements are armed with LiberEat; the only free UK app that helps people find restaurant menus, food products, and hundreds of recipes suitable for them. LiberEat supports:
Vegans & Vegetarians

People with Food Allergies & Food Intolerances

People avoiding ingredients for ethical reasons (Palm Oil etc)

Those taking care of people with dietary requirements
Helping Food Businesses
LiberEat technology acts as an allergen safety blanket and the second line of defence for allergy communications. We work with over 2,000 venues across the UK. LiberEat supports:
UK Restaurant Chains

Supermarkets & Retailers

Contract Caterers

Food Producers
LiberEat helps people living with dietary requirements with our free UK app:
LiberEat is a technology business with a mission for good.
LiberEat develops innovative technology and data solutions to support UK restaurant chains, contract caterers, and food producers. Minimising risk for businesses and consumers who avoid certain ingredients.
If you avoid ingredients like gluten, nuts, dairy, or meat products, the LiberEat app will help you find restaurants, food products, and recipes suitable for your dietary requirements; whether due to allergies, intolerances, or lifestyle and health choices.
If you avoid ingredients we can help you
Restaurant menus, groceries, and recipes filtered to your personal profile
What LiberEat App Users Say:
A fantastic app for anyone with food intolerances or allergies. I really like the fact you can add several family members with various intolerances, ideal for the main shopper/cook.
I've been struggling to manage my gluten intolerance in recent years... This app is just what i've been looking for. The App interface is simple and intuitive, the profile setup is straightforward and the weekly shopping 'products' inventory is extensive.
This app is amazing! Recently been diagnosed with egg, gluten, nut and lactose allergies and I've been struggling about what to eat! This app has helped so much giving me ideas that the Internet couldn't! Amazing, very grateful.
Excellent, as someone getting used to a vegan lifestyle this app is a god send. I use it all the time for shopping and the recipe section is great also.
So useful! Being gluten and dairy free makes shopping and eating out so expensive and complicated - this takes away all those issues and is so easy to use for the whole family!
At LiberEat, we work with some great partners who share in our mission to make food easy and safe for everyone.

Our technology is used in more than 1,500 UK outlets: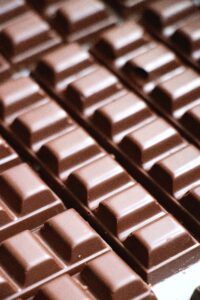 Nut free
The Best Nut-Free Chocolate bars Are you on the search for nut-free chocolate? At LiberEat, we are here to make your life as easy and happy as possible by creating a list of nut-free chocolate that you, your child, or your family can enjoy all together safely.  Perhaps you are looking for nut-free chocolate to