Vegan Biscoff Stuffed Cookies, a mouthful of Biscoff in every single bite. This recipe is absolutely one for the Biscoff lovers, and if you are not a Biscoff lover, you are about to become one.
For those who don't already know, here at LiberEat we are big lovers of Biscoff. And I know lots of you out there are with us on the Biscoff train. The other half of our team are just devastated that they haven't invented gluten-free Biscoff yet. One day…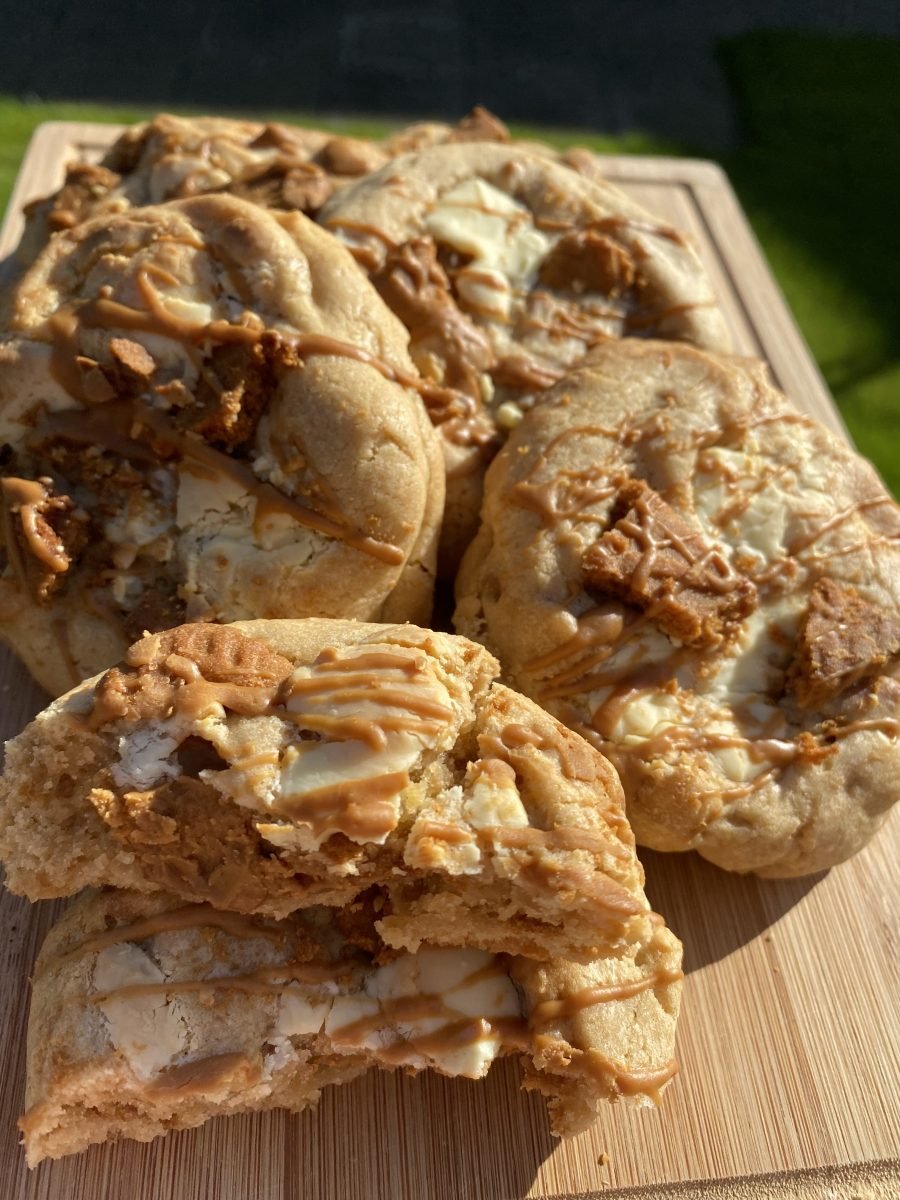 You and the rest of our LiberEat community of bakers and cooks seem to love our other vegan Biscoff recipes, including:
I am sure there will be more to add to the Biscoff collection because I know I cannot get enough. Stay tuned on our Instagram and blog if you want to see our latest vegan-friendly recipes and Biscoff filled content.
My new favourite bake is stuffed cookies. I saw this local store selling stuffed cookies but I could never get my hands on them. So, I thought, to solve this problem, I will make them myself. And it wouldn't be appropriate LiberEat style unless they were vegan and BISCOFF stuffed!
When I tell you I have been making these non-stop it's no lie I am well and truly smitten with these. My favourite cookie recipe ever, and it is about to become yours as well.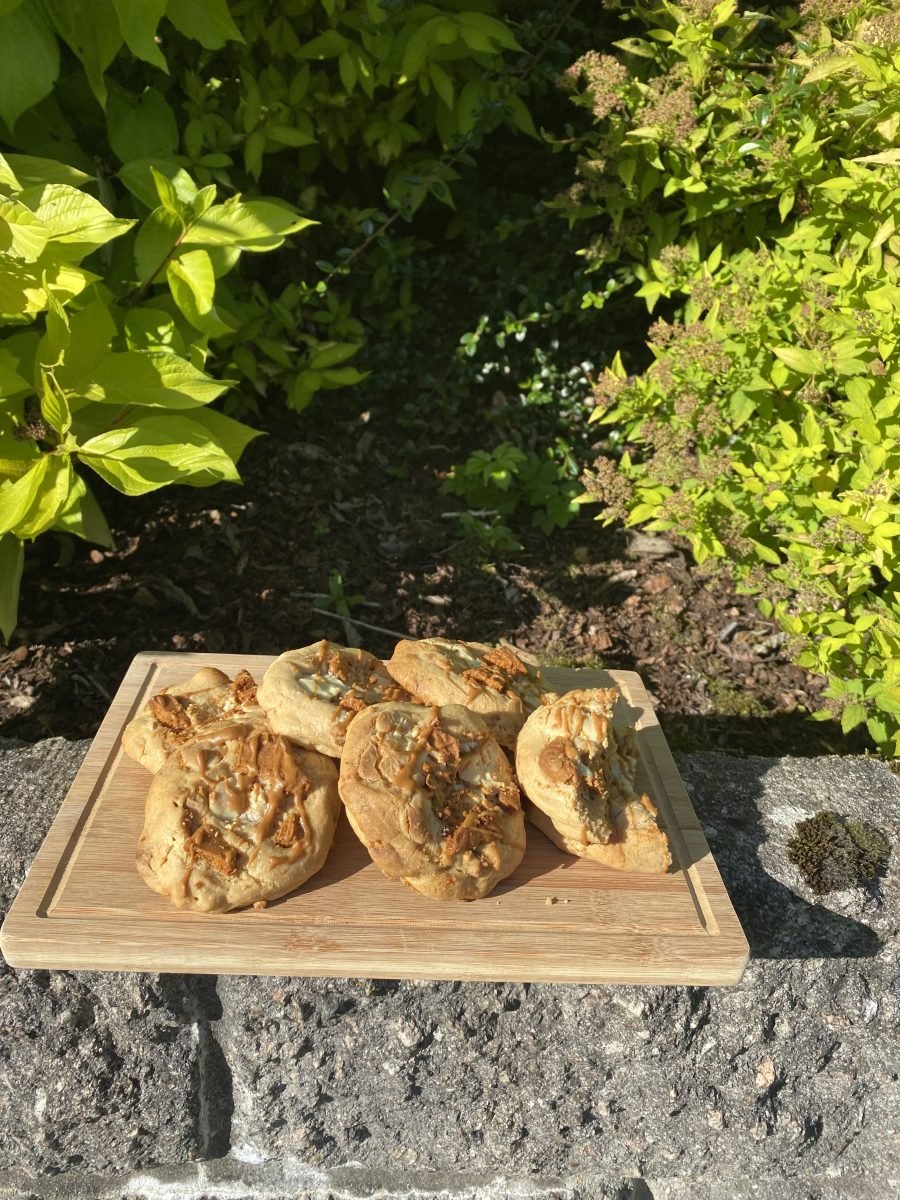 Fill your vegan cookies with your favourite spread!
The best thing about this cookie recipe is you can fill your cookies with any dairy-free spread that you have in the house or that you love the most.
I have tried with dairy-free hazelnut spread but you can even try with peanut butter.
But before we get ahead of ourselves, it has to be Biscoff. 
The key to getting that gooey centre is to freeze the spread until it is frozen and hard. This usually takes an hour. Don't take it out of the freezer until you are stuffing the cookies. If it goes soft and starts to unfreeze then you risk having a pool of Biscoff out of the cookie.
Either way, it tastes delicious. Biscoff in or out:P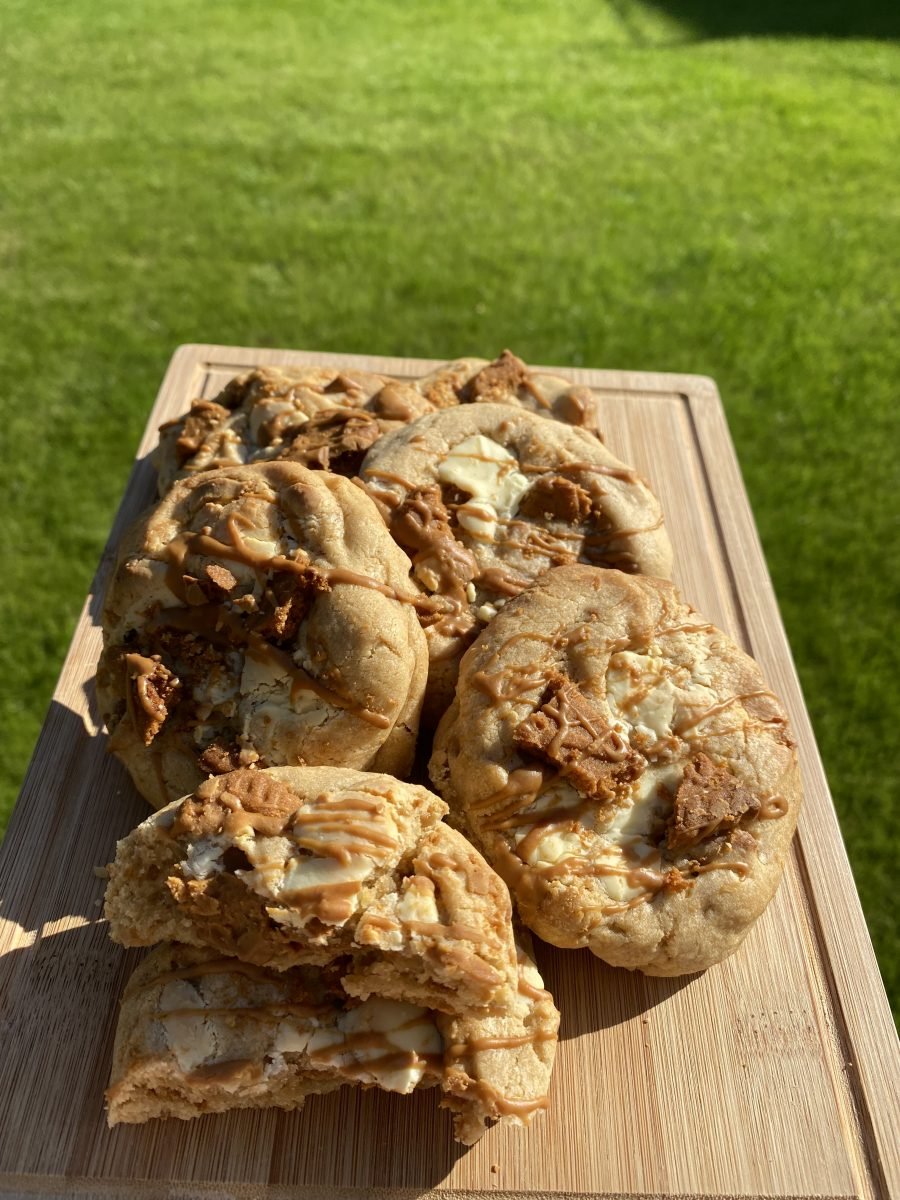 This will quickly become your favourite vegan cookie recipe. I promise you, you are going to be as obsessed as we are!
You can choose to make a chocolate cookie or a vanilla cookie. I like to do half a batch of each. All you need to do to make a chocolate cookie dough is add two tablespoons of cocoa powder to half of the cookie dough. And then follow the same process as described below. 
I love both the lotus Biscoff spread stuffed chocolate cookies and the plain vanilla ones. They are just too good to be true. 
They are best served fresh out of the oven when the Biscoff and white chocolate is gooey. After a couple of days, the Biscoff may harden so you can pop the cookies into the microwave for 30 seconds and they will be perfectly gooey again.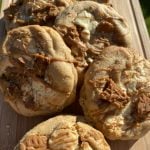 Print Recipe
Vegan Biscoff Stuffed Cookie Recipe
Heavenly Biscoff in every single bite.
Ingredients
15

tsp

Biscoff Spread

heaped

120

g

dairy-free unsalted butter

180

g

light brown sugar

1

tsp

vanilla extract

60

ml

dairy-free milk

235

g

plain flour

1/2

tsp

baking soda

1/2

tsp

salt

150

g

dairy-free white chocolate chips

chopped

80

g

Lotus Biscoff Biscuits

chopped
Instructions
Line a baking tray with baking paper and place 15 heaped teaspoons of Biscoff onto the tray. Freeze until solid, this usually takes 60 minutes.

Preheat the oven to 170C Fan. Line 2-3 large baking trays with baking paper.

When frozen, start making your cookie dough. Beat together the butter and sugar in a large bowl until fluffy. Add vanilla and milk, mix until combined.

In a separate bowl, mix together the flour, baking soda, and salt. Add to wet ingredients and mix (do not over mix).

Fold in white chocolate and chopped lotus biscuits. Leave some spare to decorate.

Scoop equal portions of cookie dough, using a cookie or ice cream scoop. Portion out 15 balls of dough and then take the Biscoff out of the freezer.

Flatten each ball slightly and place 1 tsp of frozen Biscoff into the centre. Roll the dough, so the Biscoff is completely covered.

Add 5 cookies to each baking tray and put any leftover chocolate chips or lotus biscuits on top.

Place in oven for 11-13 minutes until golden brown, the more you cook the less gooey they will be. Remove and place on a wire rack.
Please tag us on Instagram, or Facebook, or Twitter if you decide to try these out. We love to see your kitchen successes!
Some of our other vegan/gluten-free recipes:
Know someone who would like this?
Share it with the links below
LiberEat's allergen and error detection technology provides an allergen safety blanket for food businesses to ensure that consumers are safe and healthy when eating at your restaurant or consuming your food products.
LiberEat offers a second line of defense for food businesses by detecting errors, allergens, and other harmful ingredients. Food businesses can apply this technology directly to identify errors in allergen communications, preventing the risk of injury. Get in touch with us today to learn more about our Allergen Detection Technology.
To find out how LiberEat Technology supports food businesses to detect allergens and errors, to protect consumers