Easy, chewy, delicious Biscoff Blondies.
Here we are again, talking about Biscoff… surprisingly, I have some Biscoff Spread left over from our No-Bake Vegan Biscoff Cheesecake. I say 'surprisingly' because I'm utterly shocked that my cravings haven't forced me into the cupboard to dunk a spoon in. 
But it lives to see another recipe! So, here we are ready to share another delicious Biscoff bake, since it is so popular.
This time we are making Lotus Biscoff Blondies! If you don't know what blondies are, they are the blonde version of brownies. The main ingredient is brown sugar to get that rich butterscotch flavour and chewiness.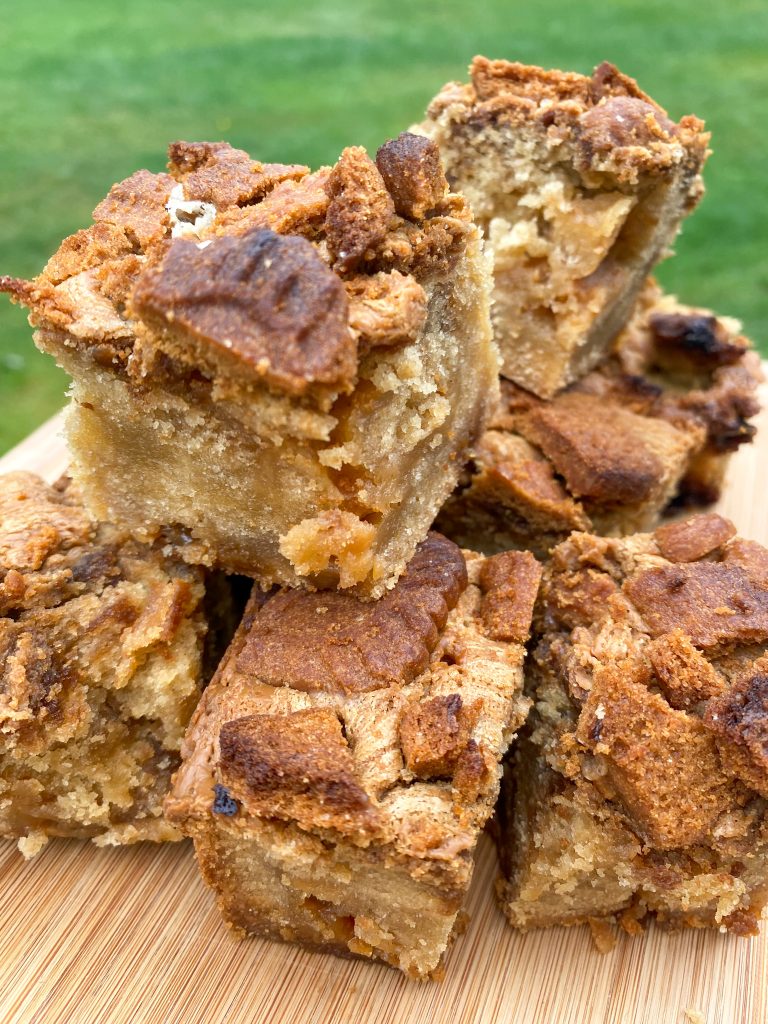 You can create many flavours of vegan blondies, but my favourite has to be Biscoff. You can use Biscoff Smooth or Crunchy Spread. I mixed both because I had a little bit of each left, and it was a match made in heaven.
We hope you love this vegan Biscoff Blondies recipe as much as we do! It's a real winner. 
If you do try and love it then tag us on Instagram @Libereatapp and use the #LiberEat, so we can see and share your delicious bakes with our community of keen bakers and cooks!
Or download the LiberEat app for more delicious and allergy-friendly recipes.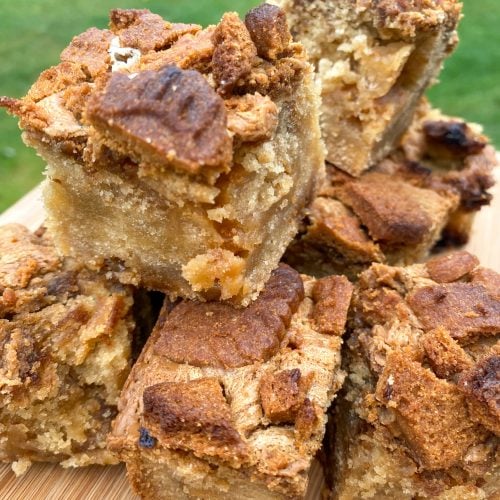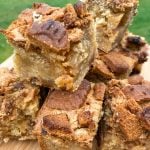 Print Recipe
Vegan Lotus Biscoff Blondies
Easy, sweet and delicious Vegan Lotus Biscoff Blondies. Prepare yourself for heaven. The perfect afternoon treat to share with all your friends and family! These are vegan, dairy-free and egg-free!
Ingredients
200

g

vegan butter

we used Vegan Stork

125

g

white granulated sugar

125

g

light brown sugar

30

g

apple sauce

1

tsp

vanilla extract

275

g

plain flour

1

tbsp

cornflour

200

g

dairy-free white choc chips

250

g

Biscoff Spread

100

g

Biscoff Biscuits

chopped
Instructions
Preheat the oven to 180 degrees C in a fan-assisted oven. Grease or line a 9x9 baking tin or silicone tray with baking paper.

In a large mixing bowl, add the melted butter and the two sugars and whisk until smooth.

Add in the apple sauce, milk and vanilla extract and beat again until combined and smooth.

Sieve in the plain flour and corn flour, mix with a large metal spoon until a thick blondie mixture is created.

Add in the white choc chips and fold.

Spoon the mixture into the tin and spread until even. Melt the Biscoff spread in the microwave for 20-30 seconds and pour on top of the blondie mixture. Lightly swirl using a toothpick or skewer.

Sprinkle on the chopped Biscoff Biscuits and place in the oven for 30-35 minutes, the middle still might be wobbly but this will continue to bake in the tin.

Leave to cool in the tin and put in the fridge for 1 hour
If you enjoyed this Vegan Lotus Biscoff Blondie recipe, you might enjoy more LiberEat recipes on the LiberEat app including recipes from The Vegan Society Trademark & lots of other amazing creators! More than 400+ recipes to choose from to satisfy all your cravings!
Some of our other vegan recipes:
Know someone who would like this?
Share it with the links below