Cauliflower Wings Recipe for everyone to enjoy
Vegan, Gluten-Free, Keto & Low calorie
Vegan or not. I guarantee you will love our vegan buffalo cauliflower wings. This recipe is so easy and has only 6 ingredients!
They can make for a quick snack, a barbeque, lunch or to bring round to a friend's house to impress.
A real crowd-pleaser. You will want to make a big batch because it is hard to resist going back for more.
Comfort food that is good for you - Delicious Cauliflower Hot Wings
Buffalo Cauliflower Wings are the perfect comfort food. The whole recipe contains under 300 calories. A lot better for you than chicken wings with far fewer calories and fat.
These Vegan and Gluten-Free Buffalo Cauliflower wings are also higher in fibre and cholesterol-free. What is there not to like?!
And they are made with the amazing Frank's RedHot Buffalo Wings Sauce which has a cult following because it's so delicious and moreish.
You do not need to feel guilty for eating them all in one sitting! It's very easy to do, and trust me you won't be alone!
If you have not tried cauliflower wings before, this is your time to shine! You will seriously not regret it and you will struggle to stop making and craving them.
Even for those who hate veggies, I guarantee you will have no problem eating up these Vegan and GF Cauliflower wings. 
Why we love Vegan and Gluten-Free Cauliflower Wings:
So easy to make

Only 6 ingredients 

A recipe everyone can enjoy – Vegans, Gluten-Free, Keto, low calorie, low carb! 

Bigger serving size to enjoy with lower calories 

They taste amazing – better than you will expect
Please note: these cauliflower buffalo wings do not taste like traditional chicken buffalo wings. They are made with cauliflower and not chicken so do not expect them to taste like chicken.
Nonetheless, our vegan and gluten-free cauliflower wings are delicious in their own way.
What to eat with Buffalo Cauliflower Wings? Let's talk dips:
Our buffalo cauliflower wings go well with a nice cool dip. Vegan Ranch works well, you could also use vegan aioli – you can make this yourself by mixing vegan mayonnaise and garlic together. 
One of our favourite accompaniments to cauliflower buffalo wings is a vegan blue cheese sauce dip – the coolness of the blue cheese is the perfect match with the hotness of Frank's hot sauce. 
You can try this new Sacla option.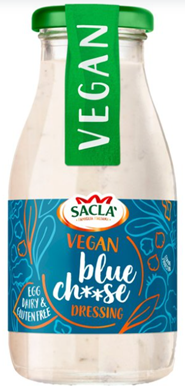 How to make cauliflower wings...this is what you are here for!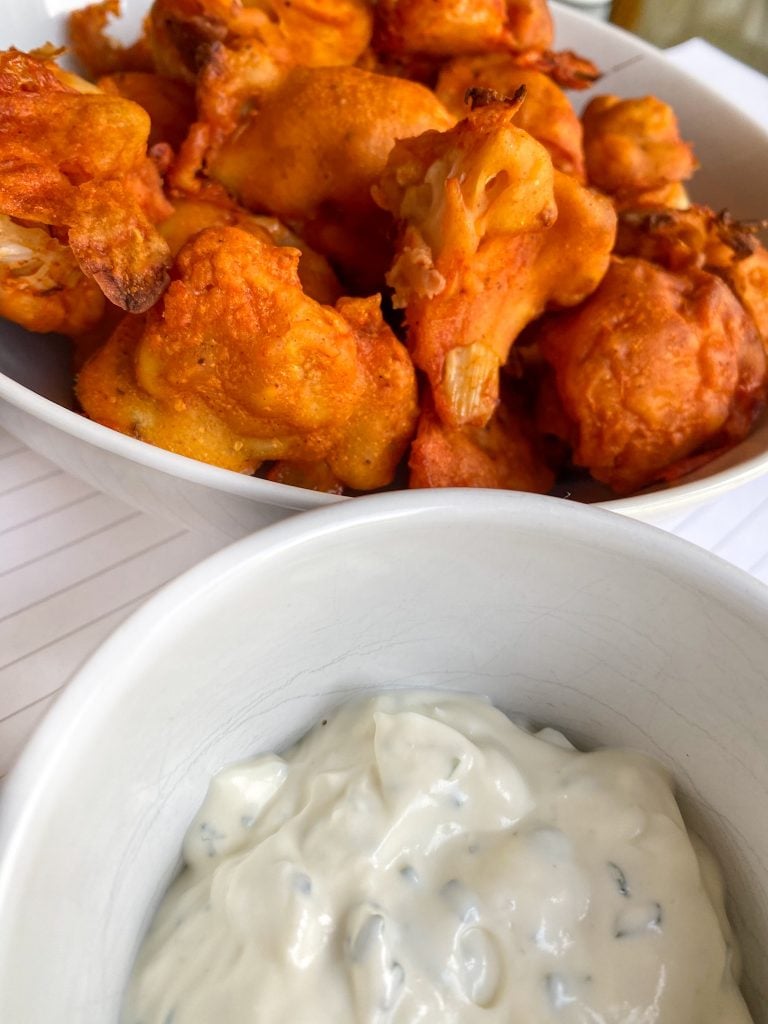 Vegan & Gluten-Free Cauliflower Hot Wings Recipe using Frank's RedHot Buffalo Wing Sauce: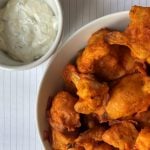 Print Recipe
Vegan and GF Cauliflower Wings
Vegan and Gluten-Free Buffalo Cauliflower Wings only 6 ingredients, super crispy and delicious. Comfort food made healthier! You will be surprised with how amazing they taste! The perfect vegan alternative to chicken wings! Can be made in the oven or airfryer!
Ingredients
1

large head

cauliflower

cut into florets

2

tbsp

vegetable oil

80

g

Gluten-Free plain flour

1

tsp

garlic powder

6

tbsp

plant-based milk

we used almond

salt and black pepper

to taste

130

g

Frank's RedHot Buffalo Wings Sauce
Instructions
Heat oven to 180 degrees celsius and line a baking tray with baking paper. 

Cut the cauliflower into florets. Spray florets with vegetable oil.

In a large bowl sieve the GF flour and add the garlic powder, plant-based milk and salt and pepper. Stir until combined.

Dip the florets into the batter until fully coated. Lay them on the baking tray and put in the oven for 20-25 minutes.

Add 1 tsp of oil to the buffalo sauce (this helps the sauce stick to the florets). Remove the cauliflower wings from the oven after 20-25 minutes and coat thoroughly in the sauce until fully covered.

Put the wings back onto the baking tray and place in the oven again for another 20 minutes.

Remove from the oven and serve with the dip of your choice!
Know someone who would like this?
Share it with the links below
LiberEat's allergen and error detection technology provides an allergen safety blanket for food businesses to ensure that consumers are safe and healthy when eating at your restaurant or consuming your food products.
LiberEat offers a second line of defense for food businesses by detecting errors, allergens, and other harmful ingredients. Food businesses can apply this technology directly to identify errors in allergen communications, preventing the risk of injury. Get in touch with us today to learn more about our Allergen Detection Technology.
To find out how LiberEat Technology supports food businesses to detect allergens and errors, to protect consumers