The easiest vegan and gluten-free doughnut recipe!
Everyone loves doughnuts, and we are delighted to tell you that they are not so difficult to make as you may think – we've tested these out to make sure. 
We are going to be making Vegan and Gluten-Free Doughnuts which are super easy, fluffy, and tasty. Make this vegan and gluten-free doughnut recipe for an afternoon treat, for friends, birthday parties, or dessert!
More good news –  you do not even need a doughnut mould (or the US; 'mold')  for this recipe, as I will take you through how to make your very own with just tin foil and a muffin tray!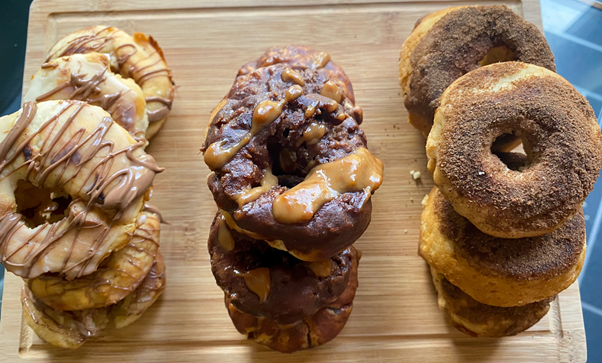 Only four-ingredient doughnuts.
These doughnuts are made with only four ingredients (not including the variety of suggested toppings) that you will most likely already have in your house or can find in your local supermarket. 
You can search food products and groceries using the LiberEat app before you go out to buy or in the supermarket on your smartphone, just use our product scanner or search function to find products that fit with the ingredients you avoid.
Download the LiberEat app now!
Why we love this Vegan and gluten-free doughnut recipe: 
Only four ingredients 

Super fluffy

Gluten and dairy-free 

So easy – Make in just 10 minutes 

Decorate with your favourite doughnut toppings!
How to make your own doughnut moulds!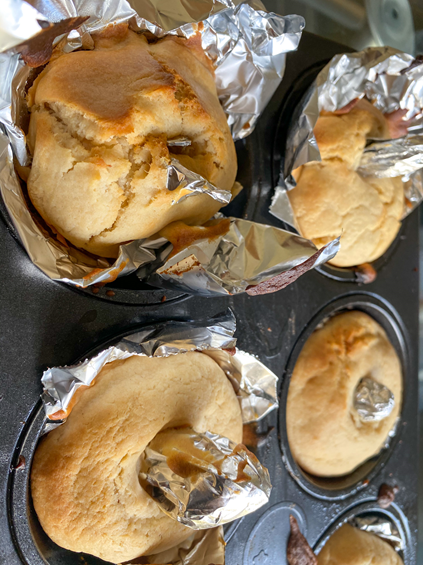 You may want to purchase some doughnut moulds in order to get the doughnut shape but I have discovered this super easy hack to get those doughnut shapes perfect without a silicone mould! All you need is a muffin tray and some tin foil to create a makeshift doughnut mould. 
Simply cut a square of tin foil that will cover one muffin holder, in the middle of the tinfoil stick one finger in the centre, and push down to create a cylinder shape of tinfoil and place it in the middle of the mold and push the excess tin foil around the bottom.
It is really important that you spray or grease your tray and the tinfoil with some coconut oil as this will stop it from sticking and will allow your doughnuts to pop out easily. 
Even without the silicone doughnut moulds these are still super fluffy, hold their shape and cook perfectly.
Vegan and Gluten-Free Doughnut toppings:
The amazing thing about these doughnuts is that you can customise them how you like. I have tried these out with lots of different toppings. 
My definite favourites are:
Chocolate sauce

Cinnamon sugar

The classic icing sugar doughnut
There are so many options to make these vegan and gluten-free donuts your own!
I also like to add a little drizzle over the icing sugar and chocolate sauce doughnuts. I added some vegan chocolate drizzle.
Some tips to perfect your Vegan and Gluten-Free Doughnuts:
Make sure to sift the flour, to ensure no lumps in your dough

Do not overfill doughnut moulds, if you do it will overflow past the top of the moulds and cover the whole which creates the doughnut shape. Fill about ⅔  full.

Ensure to spray moulds before you put the doughnut batter in, this will make it easier to pop out of the tin.
Let's start our Vegan and Gluten-Free Doughnuts:
Gluten-Free and Vegan Doughnuts
Ingredients (makes 6-10, will depend on size of doughnut moulds): 
200g GF self-raising flour 

150ml plant-based milk (we used almond milk) 

6 tbsp maple syrup

4 tbsp melted coconut oil
Method:
For doughnuts:
Preheat the oven to 180C. 

In a large bowl, mix all the ingredients together until a smooth batter comes together.

Grease each foil mould with coconut oil or spray with cooking oil. Spoon or pipe equal amounts of the batter into your makeshift doughnut moulds, fill until ⅔ full. 

Bake for 10-12 minutes, leave to cool completely. 
Chocolate sauce/frosting: 
Mix 2 tbsp melted coconut oil, a pinch of salt, 2 tbsp maple syrup and slowly add in 3-4 tbsp of cocoa powder until you reach the desired smooth consistency. 

Dip the cooled doughnuts into the chocolate sauce, then place on a drying rack and top with whatever you like: sprinkles, pistachios, vegan chocolate chips etc.
Icing sugar: 
Mix 5 tablespoons of icing sugar, 1 tsp vanilla extract and 3 tbsp of plant-based milk. Add more icing sugar if the colour is still pale and not thick enough. 

Cover the doughnut in the icing mixture, top with a drizzle if you want or opt for the classic iced doughnut.
Cinnamon sugar: 
Add 2 tbsp coconut sugar and 2 tbsp cinnamon to a bowl

Once doughnuts have cooled, brush a little plant-based milk onto one side (helps the cinnamon mixture stick) and place milk side down into the cinnamon and sugar mixture until covered.
Please do tag us on Instagram, Facebook, or Twitter if you decide to try these out. 
If you liked this Vegan and Gluten-Free Doughnut recipe, then you might love more of our recipes, make sure to check out the 350+ recipes including more of our vegan or gluten-free recipes on the LiberEat app, including lots of fun and yummy recipes from The Vegan Society.
Download the LiberEat app now!
Some of our other gluten-free and vegan blog posts:
Know someone who would like this?
Share it with the links below