The best vegan macarons - gluten-free, budget-friendly and foolproof
Macarons – the pretty little almond meringues immediately make me think of France. Because that's where I tasted these delicacies for the very first time: in Lyon on the banks of the Rhône – what a dream. But enough reminiscing.
Before I visited France, I thought macarons were just a trend. This was definitely because I had never tried them – they taste heavenly!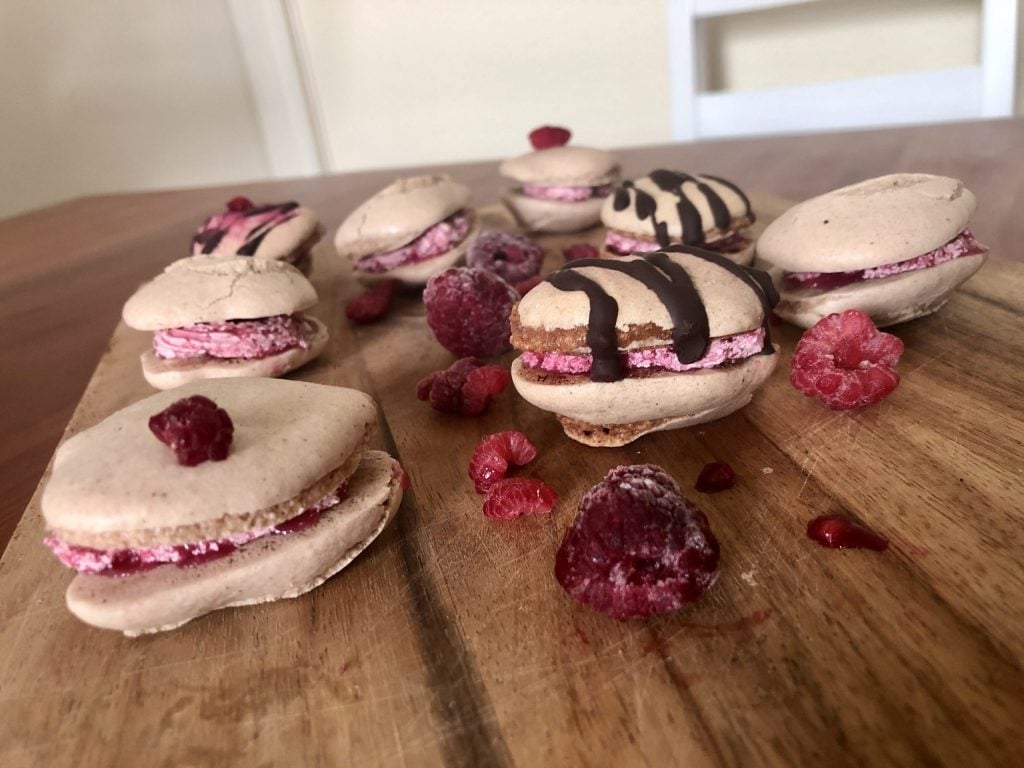 At first glance, they seem incredibly difficult to imitate, but do not despair. With a few tips and tricks that you will find in this article, nothing can go wrong and you will be able to make your very own delicious vegan and gluten-free macarons in no time.
This recipe for fruity acai – vanilla macarons with a chocolate shell is perfect for beginners. Using slightly cheaper substitutes like almond meal instead of almond flour, it's a step-by-step guide to make macarons like the French do without breaking the bank.
Now that I've talked so much about these French desserts my mouth is watering and I can't wait to share this recipe with you. But before we jump in you might be wondering:
Typically, macarons are not vegan because the main ingredient for the macaron shells is whipped egg white. Usually, the meringues are filled with buttercream which can also be a challenge as this is not normally dairy-free. To turn regular macarons into plant-based treats you need to pay attention to those two components. In this case, I used Aquafaba to replace the egg whites and vegan butter for the buttercream filling.
Are macarons gluten-free?
Because the French confections are made with almond flour (or almond meal in our case) and unlike regular flour, this ingredient does not traditionally contain gluten, macarons are often gluten-free.
You may have heard of Aquafaba before. It is one of the cheapest and most accessible egg replacements you can find. Aquafaba is the liquid found in a can of beans and is typically drained. Most recipes use chickpeas as these are said to work best, but Aquafaba can also be obtained from tofu.
It can be used for a variety of recipes – sweet as well as savoury – and some examples are:
Meringues

Frosting

Brownies and cupcakes
Recipe for fruity-chocolate vegan and gluten-free macarons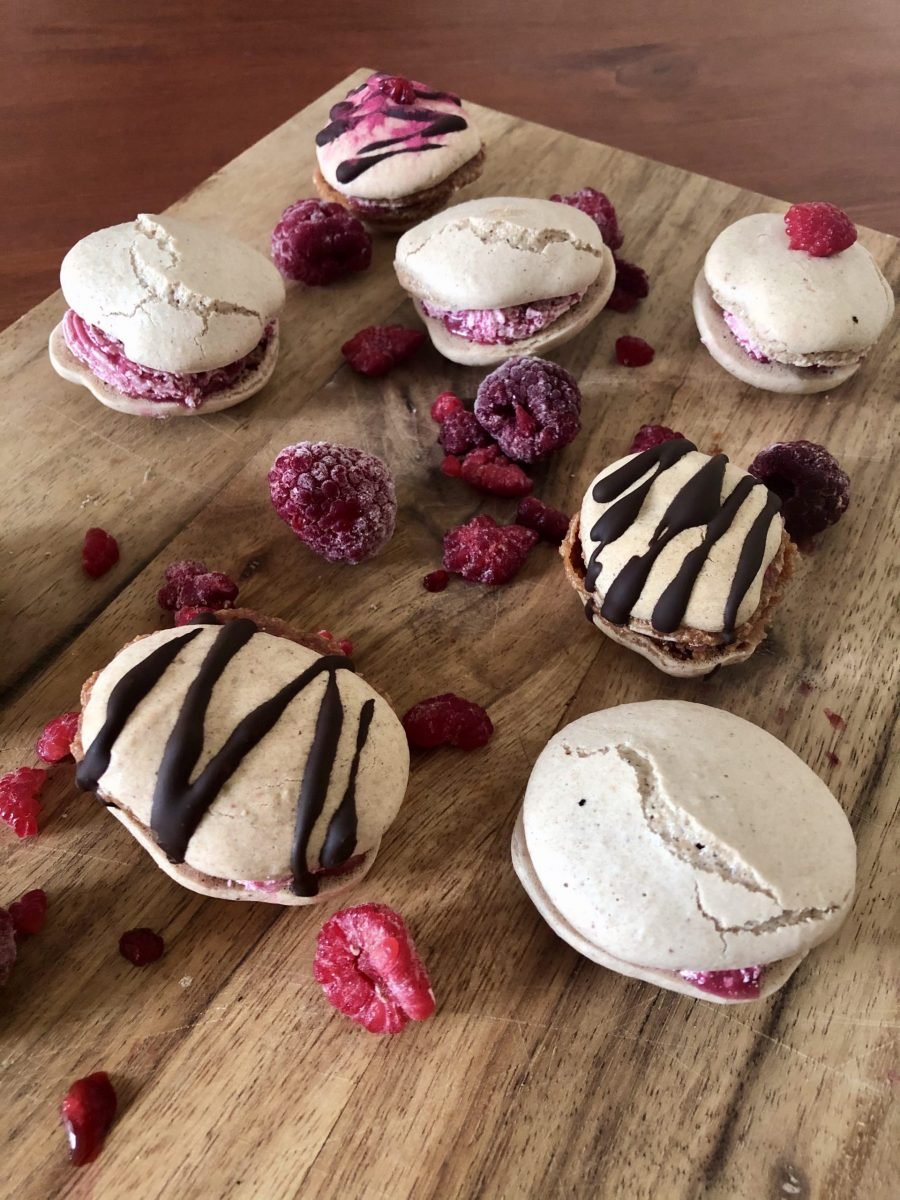 240ml Aquafaba reduced to 80ml

70g sugar

10g Cream of Tartar

110g Almond meal (I used the one from Asda)

110g Icing sugar (gluten-free)

1-2 tbsp Cocoa Powder (add in

gel-based

food coloring for dark brown colour)
50g vegan butter  (I used Flora)

1tsp vanilla extract 

3tsp acai powder

120g icing sugar
First of all, prepare the Aquafaba. To do this, pour 240ml of chickpea juice (the liquid you drain from a can of chickpeas – find out more about swaps for vegan food here) into a saucepan and let it simmer on low heat until reduced to a third. Then leave it to cool off in the fridge – I kept my Aquafaba in the fridge overnight to get a thick consistency. 
Once the Aquafaba has cooled off completely, the consistency should have become jelly-like. It is then whipped in a bowl with a hand mixer until frothy. When it starts to form slight peaks, you can add the cream of tartar and the sugar to the mixture. Continue beating until a firm consistency – much like whipped egg white – is reached. 
In a second bowl, mix all the remaining dry ingredients: the almond meal, cocoa powder and icing sugar. Make sure that no lumps are left.
Then carefully fold the dry mixture into the Aquafaba mixture using a silicone spatula. A good consistency is achieved when everything melts together again within 20 seconds after you stop folding it in. 
Now pour this into a piping bag. The nozzle should have a diameter of approx. 1 cm, as the mixture is relatively thick and otherwise difficult to squeeze out. 
On a baking tray lined with baking paper, form small circles with the mixture, spacing them out a little. These should all be of the same thickness, the size can vary depending on how big you want the macarons to be in the end. 
Then knock the baking tray against the worktop a few times to make all the bubbles disappear. Any last, stubborn bubbles can be poked with a fork or toothpick. Let the macaron shells rest on the tray until they are no longer glossy and you can easily run your finger over them without the dough sticking to it. 
Meanwhile, the oven can be preheated to 120 degrees.
When the macarons are no longer glossy and the oven has reached the desired temperature, place the macarons in the oven for about 20 minutes. Once they are completely dry and well baked, set aside to cool.
When the macarons have cooled off, they should come off the baking tray easily. If they do not, or if they are hollow inside, then they were either not fully cooked or cooled off (you might want to crumble them over some vegan ice cream or a smoothie bowl instead). 
Now it's time for the filling: First, whip the vegan butter with the vanilla extract until creamy. Then mix the icing sugar well with the acai powder in a bowl and add to the mixture. Finally, mix everything.
If the consistency is too thick, plant-based milk (I used almond milk) can be added – I recommend adding 1 tablespoon at a time and see how the consistency turns out.    
The last step is to fill the macaron shells. Use the piping bag again. The typical macaron look can be created with the scalloped tip. Now you can decorate the macarons as you wish and then put them in the fridge – they taste EVEN better on the second day.
Top Tips:
Before creating this recipe, I often read that macarons can be very temperamental. If you have an oven thermometer, it's a good idea to use it to check the temperature of your oven. I didn't use one but instead made sure that the shells formed little "feet" after about 6-7 minutes in the oven. This is a good indicator that the temperature is as displayed and a factor that can be crucial to the success of your vegan and gluten-free macarons.
The macarons last for about 7 days in the fridge and with the beautiful sunny weather, they are also the perfect snack for a vegan picnic.
Know someone who would like this?
Share it with the links below
LiberEat's allergen and error detection technology provides an allergen safety blanket for food businesses to ensure that consumers are safe and healthy when eating at your restaurant or consuming your food products.
LiberEat offers a second line of defense for food businesses by detecting errors, allergens, and other harmful ingredients. Food businesses can apply this technology directly to identify errors in allergen communications, preventing the risk of injury. Get in touch with us today to learn more about our Allergen Detection Technology.
To find out how LiberEat Technology supports food businesses to detect allergens and errors, to protect consumers