How to make a rich and citrusy chocolate orange cake that is gluten-free and vegan!
If you are making a birthday or Christmas cake for someone special in your life that has specific dietary requirements or you, yourself are vegan and gluten-free you'll have a lot of fun making this sumptuous cake! Does it even need to be a special occasion? Maybe it's just a Tuesday!  
I will have strong words to anyone that tells me chocolate and orange aren't one of the best combos out there. So in honor of my birthday coming up and Christmas quickly approaching. I decided that a chocolate orange cake was well and truly needed. 
Chocolate orange is a true Christmas tradition in my family. My cousin's girlfriend spent her first Christmas with us and received not one, not two but FIVE chocolate oranges. So it is only right to make a cake that fits with family Christmas tradition, that everyone will love and that is also vegan and gluten-free!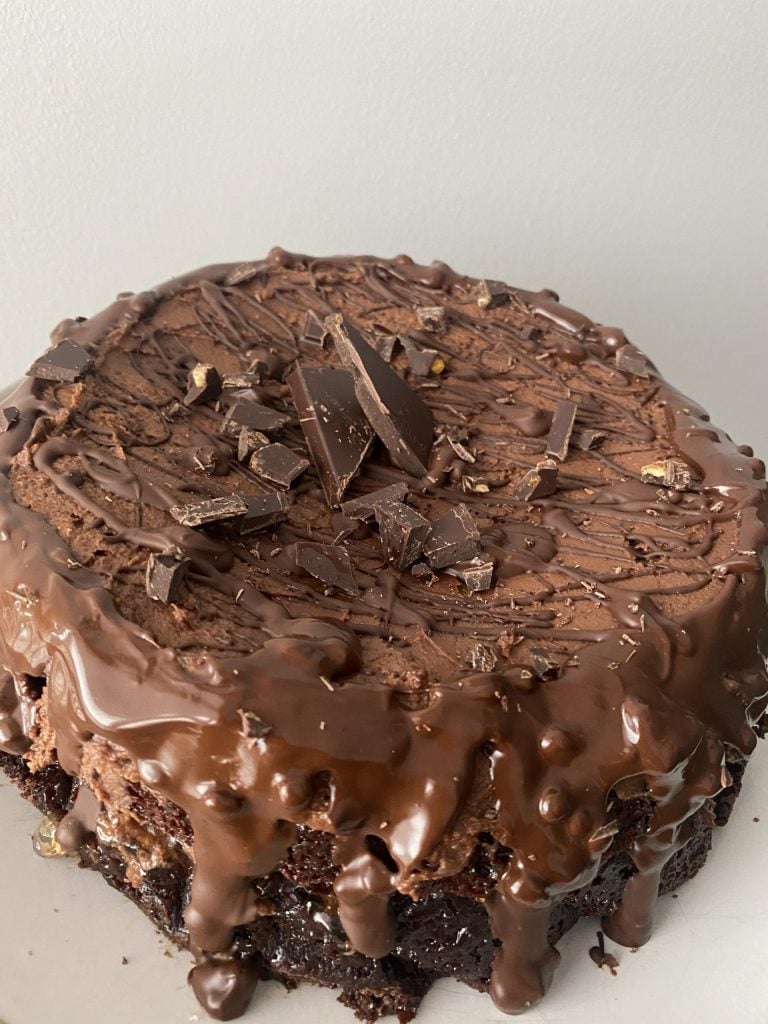 The perfect chocolate cake for any occasion
In my humble opinion, this is the best gluten-free and vegan cake out there: it is truly divine and moist. This cake does not crumble which is a common problem in most vegan and gluten-free cakes instead it is fluffy and firm. 
This is a two-layered cake with chocolate orange buttercream and zingy marmalade in the middle is PERFECT!
This cake is vegan, gluten-free, and dairy-free (so also lactose-free) whilst still being super fluffy and moist, and let's not forget; seriously tasty. My family have no allergies or intolerances, but they loved this cake, it was gone in a heartbeat. Which has to be the best compliment out there. 
The decadent chocolate flavour along with the citrus orange is a match made in heaven. 
Fresh oranges or orange extract to pack a punch
I have tried this recipe using both orange extract and fresh orange zest and juice. The difference is not too major but personally, I find that using fresh gives a more citrusy flavour and really brings out the orange flavour in contrast to the rich chocolate. 
It is up to you which you use or what you have in the house. If you use fresh oranges, use one zest in the cake batter and half the orange juice, the same in the icing
Important details you need to know about this delicious, gluten-free vegan chocolate orange cake recipe. This cake is:
Vegan, dairy-free, lactose-free and gluten-free
Super chocolatey
Intense orange flavour
Fluffy and moist
Two-layered
Rich and decadent
Tips: 
Please wait until the cakes are completely cool before you start adding the marmalade and buttercream in the middle. If you do it whilst it is hot the cake will be too soft and the buttercream will slide off completely = DISASTER! Be patient and you will get a fluffy and beautifully presented cake. 

Greaseproof

paper is your best friend. Use it. The paper will make it so easy to lift the cakes out of the tins without them being too soft and crumbling to pieces. This will also prevent your cake from sticking to the tin and struggling to get it out in one piece.

I find that putting my cakes in the fridge once they have completely cooled out of the oven helps a lot, this will make sure that your cakes are properly chilled and are given the chance to firm up before you start the assembling process.
How to make gluten-free and vegan chocolate orange cake:
Ingredients:
For the cake:
300 ml of oat milk (or your preference of plant-based milk)

75g coconut oil (melted – you can also use olive oil or vegetable oil)

2 teaspoons of apple cider vinegar

1 teaspoon of orange extract (or zest of an orange)

400g of gluten-free self-raising flour 

50g cocoa powder

1 teaspoon of baking powder

1 teaspoon of bicarbonate soda

Pinch of salt 

400g golden caster sugar

Orange marmalade for the middle (enough for one generous layer)
For the buttercream: 
150g vegan butter (I use stork block)

300g icing sugar

50g cocoa powder

2 teaspoon orange extract
Decoration:
Galaxy Vegan Smooth Orange Bar

Chocolate drizzle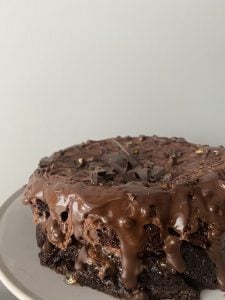 Method:
For the cake:
Preheat your oven to 180 degrees Celsius and line two 9-inch cake tins with greaseproof paper.

In a large mixing bowl, add oat milk and apple cider vinegar and whisk until combined. Set this aside for about 10 minutes to curdle. This will create vegan buttermilk.

In a separate bowl, sift the flour, cocoa powder, sugar, baking powder, bicarbonate soda and salt. Mix well, until fully combined. 

Add the melted coconut oil and orange extract (if you use fresh oranges, instead add orange zest and half of your orange juice at this stage) to the buttermilk bowl. Whisk together. 

Add the wet ingredients to the dry and mix until fully combined and you will have a nice thick chocolatey cake batter.

Divide equal amounts of the batter into the two lined cake tins. 

Pop the cakes into the preheated oven for 25-30 minutes. You will know when they are ready when you insert a knife or a skewer and it comes out clean. 
Take out of the oven and place on a wire rack to cool completely.
For the buttercream icing: 
Beat your vegan butter until soft and fluffy.

Add icing sugar, orange extract (or 1 fresh orange zest, and half the orange juice), and cocoa powder. Beat again until fluffy and yummy.

Once your cakes have completely cooled, place a layer of orange marmalade on one side of the cake and then a layer of your orange chocolate buttercream on top of the marmalade. Stack the other cake on top. 

Decorate! Place the remaining buttercream around the top of the cake and decorate how you would like.
I decided to put melted vegan orange chocolate on top and with a few drips around the side to make it look pretty. With a few chunks on top to add a nice crunch! I chose the vegan Galaxy Smooth orange chocolate bar which is heavenly!
More of our delicious recipes:
Know someone who would like this?
Share it with the links below
LiberEat's allergen and error detection technology provides an allergen safety blanket for food businesses to ensure that consumers are safe and healthy when eating at your restaurant or consuming your food products.
LiberEat offers a second line of defense for food businesses by detecting errors, allergens, and other harmful ingredients. Food businesses can apply this technology directly to identify errors in allergen communications, preventing the risk of injury. Get in touch with us today to learn more about our Allergen Detection Technology.
To find out how LiberEat Technology supports food businesses to detect allergens and errors, to protect consumers