Tasty pink Angel Slices with chunks of glace cherry
As a kid I loved to bake gluten-free angel slices because they are more than just tasty cake slices, but tasty PINK cake slices. It is an important distinction….
Anyway, to make this recipe a little more special, I added another childhood favourite ingredient: Glace Cherries. Slotted in between the sponge layers, I am a glace cherry addict and they look cute peeking out between the buttercream.
I have also suggested using food colouring gel, as gels seem to have better pigment and richer colour than old fashioned liquid (which also spills alllllll over the kitchen). 
Perfect for Afternoon Tea!
These pretty pink and yellow gluten-free angel slices also look cute sliced up and served for afternoon tea as they are excellent finger food.
Try out the recipe below, and I hope you like it.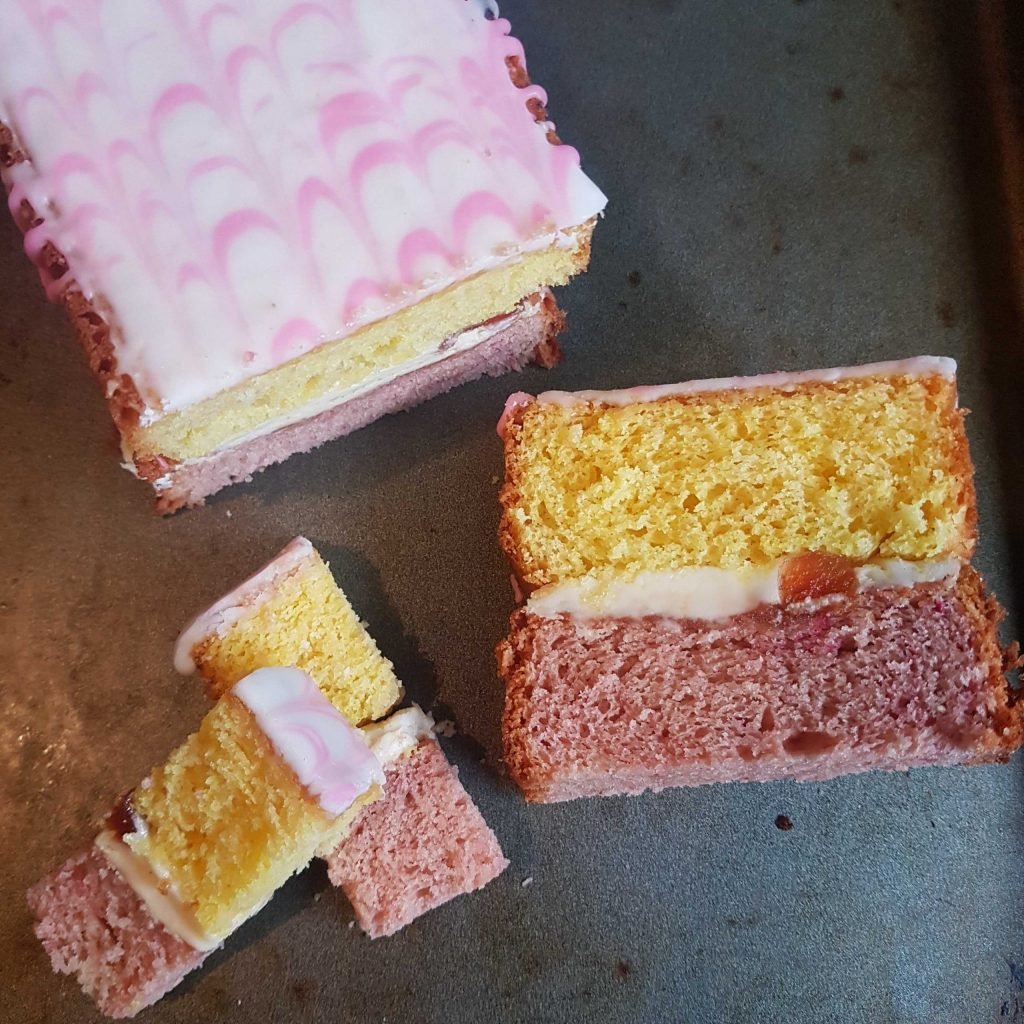 250g caster sugar
250g baking spread
4 eggs
250g GF Self raising flour
1 heaped teaspoon baking powder
1 heaped teaspoon xanthan gum
Yellow food colouring gel
Pink food colouring gel
Strawberry flavouring
Glace cherries
Icing Sugar
Butter 
How to make gluten free Angel Slices:
1) Preheat oven to 180 degrees C 
2) Grease & line two loaf tins. If you only have one, that's OK, you'll just need to reuse for the second layer. 
3) Cream together the baking spread and caster sugar until smooth. 
4) Beat in the eggs, and then fold in the flour, baking powder, and xanthan gum until smooth. Be careful not to over mix. 
5)Split the mix equally in two. to one side add pink colouring and strawberry flavouring, and add yellow colouring and vanilla to the other. 
6) Place each mix in to the tins (or one at a time if you one have one tin) and bake in the centre of the oven for 30 minutes. check it is ready by piercing with a clean knife, and ensuring the blade comes out still clean. 
7) When the cake is ready remove from the oven and allow to cool completely before completing the next steps. 
8) Prepare the butter cream by mixing 100g of icing sugar with 50g of butter. using a bread knife, level out any raise in the cakes to make it flat. Spread the buttercream over the top of the pink layer, and the place the yellow layer on top, upside down. I put glace cherries in the buttercream as a little treat for myself, but feel free to skip this unconventional detail 
9) Mix together 75g of icing sugar with a little water, until you reach a thick but spreadable consistency. cover the top of the cake with a thin layer of white icing. Add pink colour to the remaining mixture, and use to decorate with drizzling or patterns. 
Bon appetit! Serve your gluten-free angel slices with 
tea for a delicious pairing. 
Looking for more recipes just like this?
Know someone who would like this?
Share it with the links below
To find out how LiberEat Technology supports food businesses to detect allergens and errors, to protect consumers