How to make the best fluffy vegan banana pancakes:
I LOVE pancakes, they are so simple. I can pull them together in one bowl with a few household ingredients, that you probably already have in your house. The result is the most perfect and tasty breakfast or a dessert of champions.
I have struggled to find a vegan banana pancake recipe which is easy, and that I already have all the ingredients for. I just wanted something truly delicious, fluffy and simple. 
So, I created my own and what better than a guide to the best vegan pancakes? By the end of this post you will be able to quickly make the fluffiest, eggless and most beautiful pancakes. 
No need to search any further, this is the recipe for you.
Start your day off right with fluffy vegan banana pancakes!
Boost your morning and impress your family or friends by making this perfect batch of pancakes. Set your day off right! 
Also, please do not think that pancakes are just for breakfast, in my eyes (and should be everyone else's too) they can be eaten for breakfast, lunch and dinner. Even as an afternoon treat or as a dessert. 
The batch of these simple and tasty vegan oat pancakes can be doubled or tripled to however many you wish to make. They also store very well, so you can make in advance for tomorrow's breakfast too.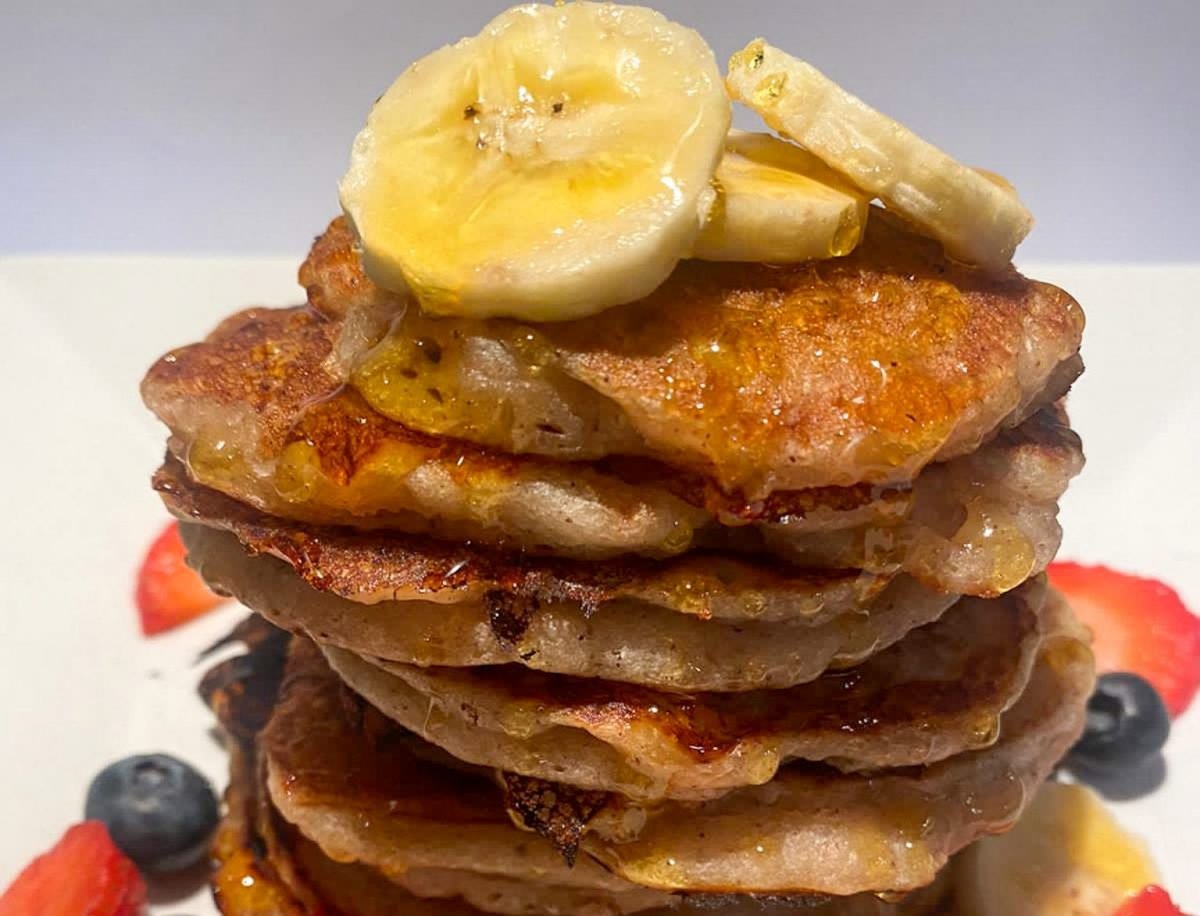 Change up your pancake batter
If you don't like bananas, that is not a problem. Introduce a different fruit into your pancake batter (blueberries work great and add a similar moistness to the pancakes!)
Adding oats into your pancakes which makes your breakfast healthier and adds fibre into your diet.
You can switch it up and use different toppings, whatever you might have in the house, or are craving that day.
So, without tormenting you any further, let me introduce to you:

Cara's guide to the best, most fluffy, tasty vegan pancakes.

Fluffy Vegan Banana Pancakes
This is hands down the best vegan banana pancake recipe for breakfast or a treat. It is  both egg and dairy free! The pancakes are light, easy and most importantly super tasty! Top with sliced bananas and maple syrup for the ultimate pancake stack. 
I have searched high and low for a vegan banana pancake which holds the right amount of texture and the right amount of banana and cinnamon flavour. I wanted something fluffy, tasty and easy to make. 
Now, I can say that I have mastered this recipe and my banana pancake game is strong. Yours is about to be too!
What to serve with your vegan pancakes?
One of the pleasures about pancakes, is that you can personalise them to your taste and your cravings. I am normally a "let's have a bit of everything" type of girl for my pancakes but: for these vegan banana pancakes, I find simple takes the win. 
Some of my other favourite options: top with some of your favourite chocolate if you are a chocolate lover or a dollop of your favourite spread. You can use up some fruit or warm up some frozen berries and serve as a berry compote (delicious by the way!!) 
Blend or Mash the Banana?
I have tried both ways and there isn't a huge noticeable difference in texture. Personally, I think the best option is to blend the banana along with the wet ingredients. This ensures that the mixture is completely blended and there are no lumps of banana. But if you prefer that texture, then mashing is a great option!
How to know when your vegan banana pancakes are ready?
With the addition of banana in your pancakes you will have to cook until both sides are browned. We have all been there with the struggle and mess of flipping pancakes but it doesnt need to be that difficult! 
You will know when your pancakes are ready when they start to bubble on top, wait until there are lots of bubbles, not just a few. Be patient and you will get fluffy and moist banana pancakes! The sides will begin to brown and it will be easy to flip the pancake. 
You may want to repeat the process of flipping and pressing down on the pancake with the spatula to ensure they are fully cooked on the inside.
Top Tip: Do not have the heat too high on the hob, or you will burn your pancake straight away. It is better to have on a lower heat for more control.
Some details of these fluffy vegan banana pancakes:
SO fluffy! 

Only 8 ingredients 

Easy to make 

Vegan ingredients 

Top with your favourite ingredients 

Amazing banana flavour

Dairy and Egg Free
Fluffy vegan banana pancake recipe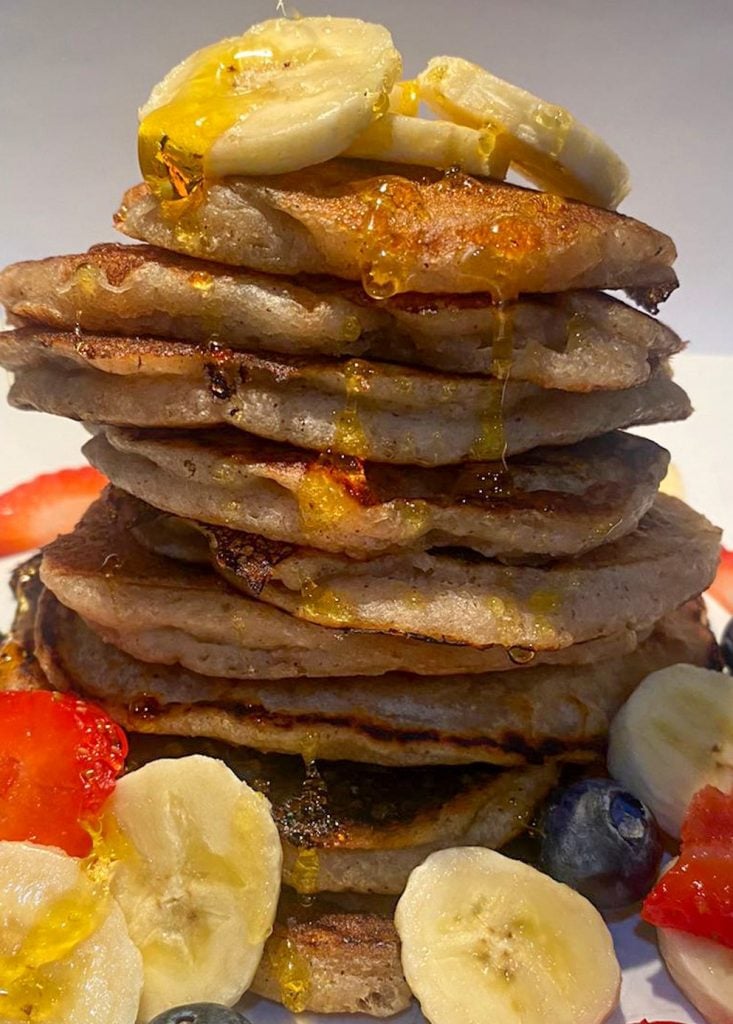 Yield: 10 pancakes
Prep time: 10 mins
Cook time: 20 mins
Ingredients:
1 large banana (riper the better)

2 tbsp vegetable oil (or coconut)

2 tbsp of golden caster sugar

¼ tsp of salt

½ tsp of baking powder

1 tsp of cinnamon

150 ml of oat, soya, almond milk (of your choice)

120g self raising flour
Method: 
Blend the banana or mash in a mixing bowl.

Stir in your oil of choice, sugar and salt.

Sift in the flour, baking powder and cinnamon into the same mixing bowl and mix until combined.

Add the milk of choice and mix. Your batter should be nice and thick.

Heat your frying pan to a medium heat with a little bit of oil and add 2 tbsp (or however much you wish, depending on the size you want your pancakes to be) of pancake batter to the pan. You will know when the first side is ready when the sides look dry and the top begins to bubble. And flip! Repeat until all the batter is used.

Serve your delicious, fluffy vegan banana pancakes with your favourite topping. 
Some of our other favourite vegan blog posts:
Know someone who would like this?
Share it with the links below
LiberEat's allergen and error detection technology provides an allergen safety blanket for food businesses to ensure that consumers are safe and healthy when eating at your restaurant or consuming your food products.
LiberEat offers a second line of defense for food businesses by detecting errors, allergens, and other harmful ingredients. Food businesses can apply this technology directly to identify errors in allergen communications, preventing the risk of injury. Get in touch with us today to learn more about our Allergen Detection Technology.
To find out how LiberEat Technology supports food businesses to detect allergens and errors, to protect consumers