An old school recipe for gluten free bread & butter pudding with cinnamon and raisins
Bread and butter pudding is an old school classic, which is often forgotten. However, it is the perfect way to use up excess bread, and only uses a handful of ingredients.
I used to make it as a child. pre-coeliac diagnosis, using cheap bread and so I was a little worried about replicating with gluten-free bread, which can be drier and more thickly sliced.
However, once the custard is on, it is just as tasty as non- gluten-free bread & butter pudding. The only real change I made was lightly rolling over each slice with a rolling pin to flatten and spread out each slice.  
How to make gluten-free bread & butter pudding: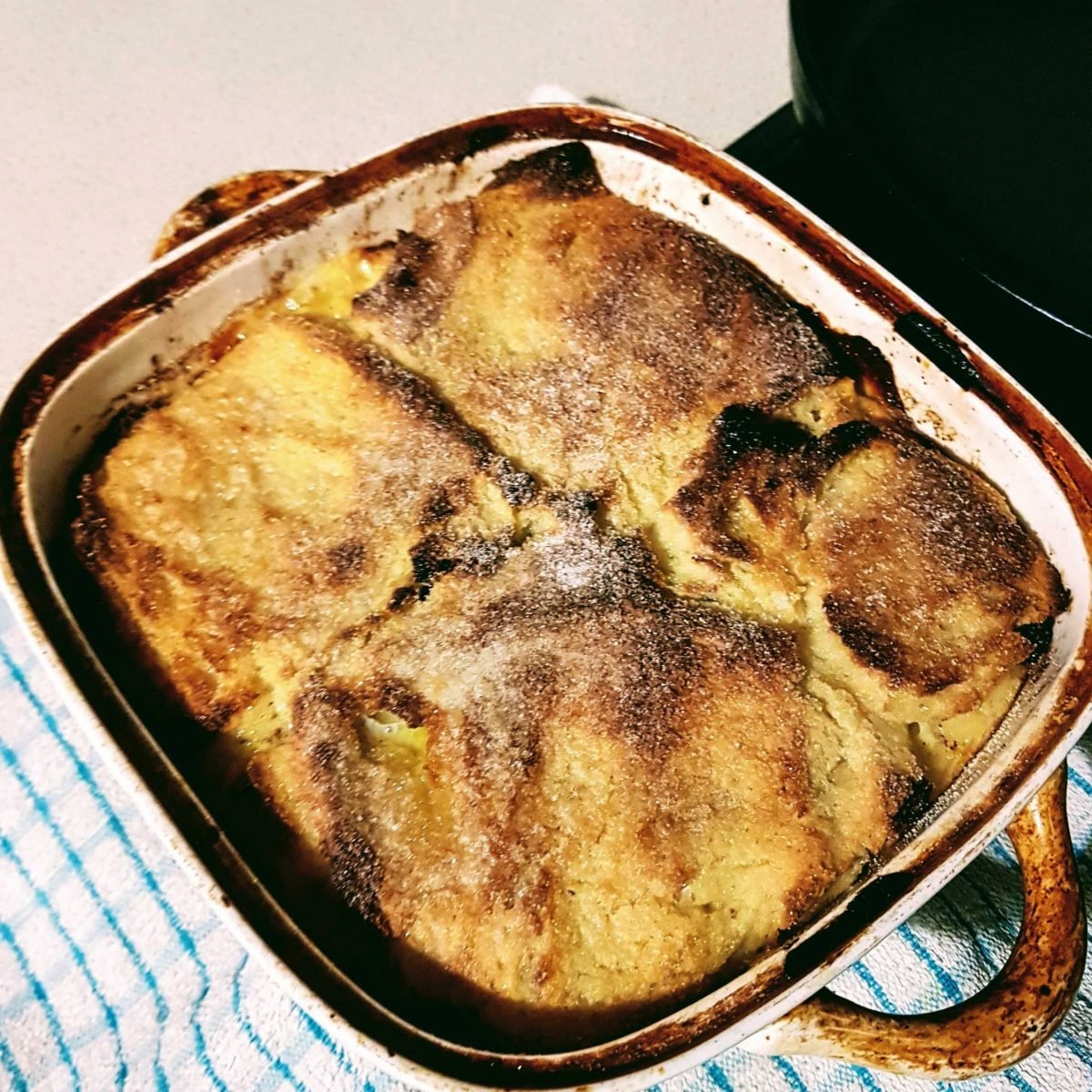 1 small loaf of bread (approx 8-12 slices depending on size of loaf) I used gluten free bread 
50g butter (at room temperature)
1 handful raisins & sultanas 
3 teaspoons cinnamon 
150g caster sugar
3 eggs
500mls Milk
200mls Cream
1) Prepare the bread by cutting off the crusts and rolling lightly under a rolling pin. This helps particularly with Gluten Free Bread which tends to have thicker slices which need thinning and squishing. 
2) Spread a thick layer of butter on each side of the bread slices, and place a layer of bread in the bottom of a dish approx 15x15cm.
3) sprinkle 1 teaspoon of cinnamon over the layer, followed by a small handful of rasins/sultanas. 
4) Repeat steps 2 and 3 until all the bread is used up. 
5) Now time to prepare the custard! Separate the egg yolks and whites. Add the yolks to a large bowl with the caster sugar, and combine to make a yolky paste. 
6) Heat the milk on a medium heat in a heavy bottomed pan until it is just below boiling.
7) Slowly add the milk to the yolk/sugar paste, while whisking. This will slowly form a thin textured custard. 
8) Pour the custard over the layered bread. Sprinkle a teaspoon of caster sugar over the top layer. 
9) Place in the centre of the over and bake for 25-30 minutes, until the custard has been absorbed by the sponge, and the sugar has lightly caramelised on top. 
10) Serve with cold custard or ice cream 
Looking for more gluten free recipes?
Why not try these recipes?
Know someone who would like this?
Share it with the links below
To find out how LiberEat Technology supports food businesses to detect allergens and errors, to protect consumers