How to make the best Upside Down Pear Cake | Gluten Free
If you are interested in how to make a delicious gluten free upside down pear cake which is super easy to make and moist, this is the recipe for you!
This cake is a winner.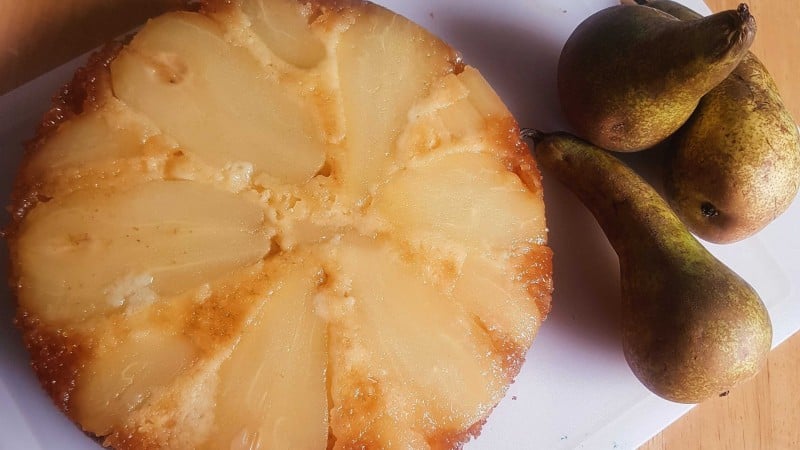 Yes, PEAR upside down cake! And it's Gluten Free! A spin on the classic pineapple upside down cake. A less sweet but even more tender, moist and caramelised take on a classic. In only a few steps, you will have a perfect sweet cake suitable for an afternoon tea or dessert.
A perfect spin on a classic upside down cake and so easy to make!
You just cannot go wrong with upside down cakes. The sponge is moist, it's springy. It reminds me of the cold evenings when you are in need of a warm treat. Even better, the addition of the pears makes it feel semi-healthy (take the guilt out of eating cakes)! And the best part of the cake is the magic of turning the cake out and seeing the tender, swirls of caramelized pears.
When I tell you this is a winner at parties, I am telling you. Bring it to a family party or bake it for your friends and it is guaranteed to be the star of the show. Both pretty and delicious. This upside down pear cake gluten free will have people scraping at the bottom of their plates and giving you puppy dog eyes for seconds. 
One of the main reasons why this gluten free cake is a delight: you can eat it at any time of the day. This sweet treat you can have with a cuppa tea in the afternoon, as a dessert. Or.. it has fruit in it so why not indulge for breakfast too?!
Tip for your gluten free upside down cake: Use fresh pears.
An important step in order to get a perfect, fluffy and moist upside down pear cake is to use a juicy fruit. The main and most common contenders are pears, apples, peaches, apricots and the classic: pineapple rings. However, pears add a subtle and less sweet approach to this gluten free cake and is definitely one to try. 
If you however, opt for dried fruits, you can poach them in fruit juice or alcohol to juice them up a bit.
What to accompany your upside down pear cake with?
This cake can go with lots of delicious extras, and will go nicely with anything you have in the house. 
The easiest supplement is cream, can use whipped cream or double cream. Or if you are a custard lover like me, this is the perfect treat to accompany it, homemade or bought, both delicious.
For the ice cream lovers out there, another great partner, a scoop or two of your favourite flavour. Personally, I find vanilla ice cream the perfect match as it doesn't overpower the punchy flavour of the pears and the fluffy cake.
On the other hand, if you are a simple, easy, can't wait to eat it, shove it in your mouth kind of person, eat as it is. Either way, it is truly delicious and packed with flavour.
When spreading the batter on top of the pears be careful not to disturb as this could upset your pretty design when you turn it upside down.

It is essential to line the baking tray, if you do not then you risk the bottom getting stuck and caramel leaking out. 

Try the same recipe with different fruits (pineapple (canned or fresh), cherries, peaches, apples) for different flavours or if you need to use up excess fruit. 
Without further ado, let's get into this easy, moist and caramelized pear upside down cake!
INGREDIENTS 
2 Large Pears
175g butter
50g brown sugar
125g caster sugar
2 eggs
125g gluten free self raising flour
1 teaspoon Xanthan gum
1 Teaspoon baking powder  
METHOD 
Preheat oven to 180 degrees C
Peel your pears, chop off the stalk and stamen, and slice in to four slices, longwise.
Cream together 50g of butter with 50g of brown sugar.
Grease your baking dish, and then spread the brown sugar/ butter mix evenly across the base. Place your pear slices on top in a pleasing pattern. Any gaps can be filled with off cuts or other fruit pieces such as cherries or grapes.
In a separate bowl, cream together 125g of butter with 125g of white sugar.
Beat in 2 eggs, followed by the flour, xanthan gum, and baking powder.
Once the batter is perfectly mixed, pour over the pears and spread evenly.
When cooked, leave to cool, before flipping out of the tin on to a board or cake so it is… Upside down! Serve hot with ice cream or custard, or cold with a cup of tea

Place the dish in the centre of the oven and bake for 20-25 minutes, skewering with a clean knife to check when it is cooked.
Some of our other favourite gluten free cake recipes:
Know someone who would like this?
Share it with the links below
LiberEat's allergen and error detection technology provides an allergen safety blanket for food businesses to ensure that consumers are safe and healthy when eating at your restaurant or consuming your food products.
LiberEat offers a second line of defense for food businesses by detecting errors, allergens, and other harmful ingredients. Food businesses can apply this technology directly to identify errors in allergen communications, preventing the risk of injury. Get in touch with us today to learn more about our Allergen Detection Technology.
To find out how LiberEat Technology supports food businesses to detect allergens and errors, to protect consumers