Moist gluten-free apple & carrot cake with walnuts and cream cheese
A recipe for moist gluten-free apple and carrot cake with crushed walnuts for added crunch and sweet cream cheese icing. I love using apples in baking cause they are juicy and add a sweeter flavour, plus its great because I don't have to grate quite so many tricky carrots! In this recipe I show you how to make the cake in a bundt tin, but I have found the mixture works just as well in muffin cases, just bake for 12-15 minutes. 
How to make gluten-free apple & carrot cake :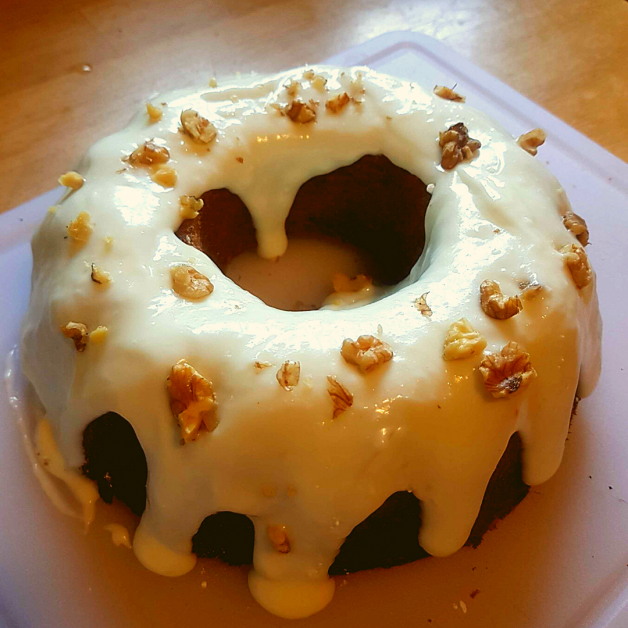 150g carrots
1 apple
100g brown sugar
120g unsalted butter
2 eggs
1 handful chopped walnuts
120g gluten free self raising flour
1 tsp xanthan gum
1 tsp baking powder
3 tbsp icing sugar
1.5 tbsp cream cheese
splash of milk
1) Preheat oven to 180 degree Celsius and line a muffin tray with cases or grease a bundt tin with butter
2) Peel, core and grate your apple and carrots as best you can
3) In a separate bowl, cream together the brown sugar and butter
4) Add eggs, flour, xanthan gum, and baking powder and mix well.
5) Once your mix has a consistency which you are happy with, fold in the grated carrots and apples, and chopped walnuts.
6) Spoon the mix in to the cases or tin. Bake in the oven for 12-15 minutes for muffins or 25 minutes for a cake, skewering with a clean knife to check when they are ready.
7) When cooked remove from the oven and allow to cool.
8) Meanwhile, prepare the icing by creaming together the icing sugar, milk and cream cheese
9) When the cake has cooled, pipe or spoon the icing on top. Decorate with dried flowers or nuts as you see fit
Looking for more recipes like this?
Try our recipe for
Both perfect for Afternoon Tea!
Know someone who would like this?
Share it with the links below
To find out how LiberEat Technology supports food businesses to detect allergens and errors, to protect consumers