A sweet ground almond sponge flavoured with lemon and a sticky lemon icing. Gluten-free almond and lemon cake is easy to make and great with afternoon tea. This bake uses naturally gluten free flours such as ground almonds and gram flour, made with chickpeas. Very moreish and easy to bung together
How to make gluten-free almond and lemon cake: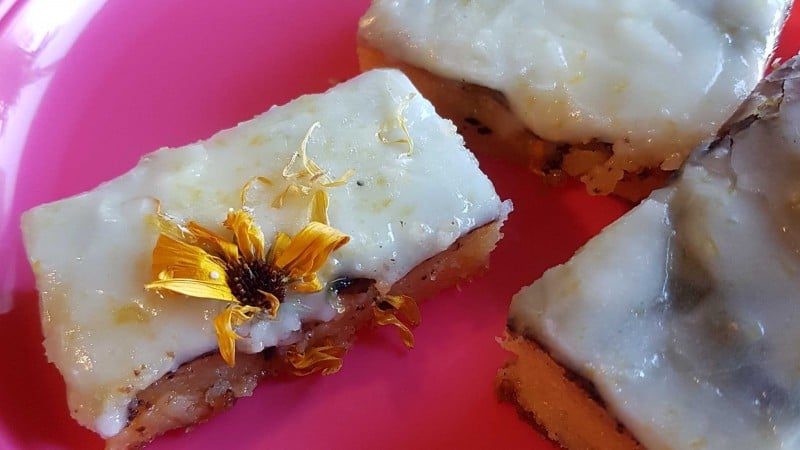 2 Lemons 
180g Caster sugar 
180g unsalted butter
3 eggs
100g ground almonds
40g gram flour OR plain flour 
100g icing sugar 
1 tsp xanthan gum 
1 tsp baking powder 
1) Preheat oven to 160 degrees C
2) Cream together the caster sugar and butter.
3) Mix in the eggs until combined.
4) Sieve in the flour, xanthan gum, and baking powder and add the ground almonds. Mix well and decant in to a greased tin measuring approx 9″ x 9″
5) Take the zest and juice from one of the lemons and add to the mix. Save the other lemon for the icing
6) Place in the centre of the oven for 25 minutes, until the top is a golden brown and, when punctured with a clean sharp knife, the knife comes out clean.
7) Remove from the oven and allow to cool.
8) Prepare the icing by using the zest and juice from the second lemon and combining with the icing sugar. Alter the consistency to your preference by adding water/ extra icing sugar accordingly.
9) Once the sponge has cooled, cover with the icing and decorate as desired. Serve your almond and lemon cake with afternoon tea, sliced in to fingers! 
If you liked our recipe for gluten-free almond and lemon cake, try these great afternoon tea recipes:
Know someone who would like this?
Share it with the links below
To find out how LiberEat Technology supports food businesses to detect allergens and errors, to protect consumers