How to make the tastiest vegan oat pancakes that are also gluten-free?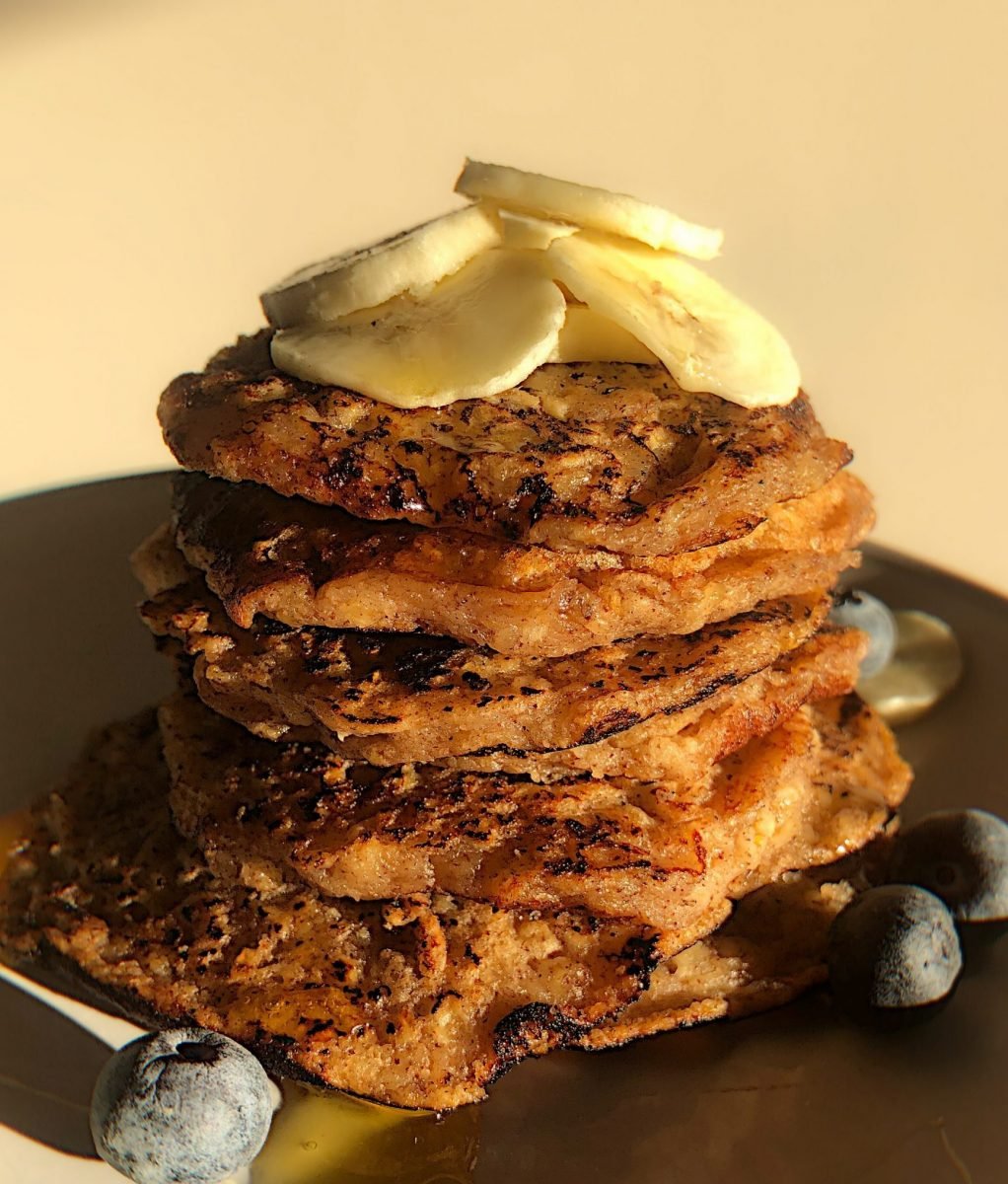 Make vegan & gluten-free oat pancakes this morning for a perfectly healthy and hearty start to your day. A super simple recipe which can be made in one bowl and with only 9 household staple ingredients. 
Boost your (and everyone else in your house's) morning by making this perfect batch of pancakes. Set your day off right!
Okay, hear me out. Pancakes but made it a little bit healthier. Add a bit of fibre and protein into your diet, and you can still add whatever toppings you wish.
Vegan, dairy-free and gluten-free. The perfect pancake recipe.
It is not easy to find a healthy pancake recipe that is truly tasty, vegan and gluten-free. But this is a go-to in my house, and definitely, one I go back to time and time again. They are perfect in flavour and moist whilst being eggless and may I add amazingly tasty!
If you have had a look at our easy and fluffy vegan banana pancakes, and hopefully given them a go, because they are seriously tasty, you might be looking for something else new to try in your pancake repertoire. In comparison, these oat pancakes are not as fluffy and have less height to them, instead they have more of a crunch (if you have used rolled oats) and a denser cinnamon flavour to them.
Creating a healthier take on a pancake perfect for kids or anyone following a healthier diet.
Blended or un-blended oats?
I have found multiple recipes on oat pancakes which blend the rolled oats to make oat flour and personally it's always a hassle for me to take the blender out and use more dishes. I'm just lazy!
In this recipe, I have discovered that the oats aren't necessary to be blended, when they are left whole, they are perfectly tasty. Whilst saving dishes and effort 🙂 
But of course, if you have rolled oats and prefer them to be blended, you do your own thing. It won't alter the taste, just the texture.
How to know when your vegan & gluten-free oat pancakes are ready?
When your pancakes are ready they will start to bubble on top, wait until there are lots of bubbles, not just a few. Be patient and you will get moist vegan oat pancakes with no dairy! The sides will begin to brown and it will be easy to flip the pancake. 
You may want to repeat the process of flipping and pressing down on the pancake with the spatula to ensure they are fully cooked on the inside.
Top Tips to make the ultimate oat pancake stack:
Cook the pancakes as soon as possible after you have made your batter, otherwise, the oats will soak up all the liquid, leaving your batter dry and too thick. And nobody wants dry pancakes!

Do not put too much oil in the pan, too much will make the pancakes ragged and can become an oily mess! On the other hand, if you put too little, your pancake will stick to the bottom. Pop a little dollop in the pan or another handy trick is to use a spray oil. 

Cook on a low to medium heat. Do not have the heat too high on the hob, or you will burn your pancake straight away. It is better to have on a lower steady heat for more control and less stress in the kitchen..
How to serve your healthy oat pancakes?
My personal go-to is to serve with some syrup and fresh fruit. This is super easy and accompanies the oats and cinnamon wonderfully! 
Some other options: Warm up some frozen berries and serve as a berry compote (delicious!) or if you are craving a dose of chocolate this morning, add some of your favourite vegan chocolate chips.
And please do not think that pancakes are just for breakfast, in my eyes (and should be everyone else's too) they can be eaten for breakfast, lunch and dinner. Even as a healthy afternoon treat or as dessert.
The batch of these tasty, simple-to-make vegan and gluten-free oat pancakes can be doubled/tripled to produce however many you wish to make. These pancakes also store very well once cooked, so make for tomorrow's breakfast too.
Store in the fridge on a plate on a single layer. If you overlap they can get a bit soggy. You can try putting parchment paper in between each layer of pancakes to avoid them sticking. When you are ready to enjoy your second batch of oat pancakes simply pop in the toaster or microwave, alternatively heat up in a frying pan or grill to give a little heat.
Important details you NEED to know about this delicious, vegan oat pancake recipe:
Only 9 ingredients

Adds fibre and protein into your diet

Made in one bowl

Gluten-free, vegan & dairy-free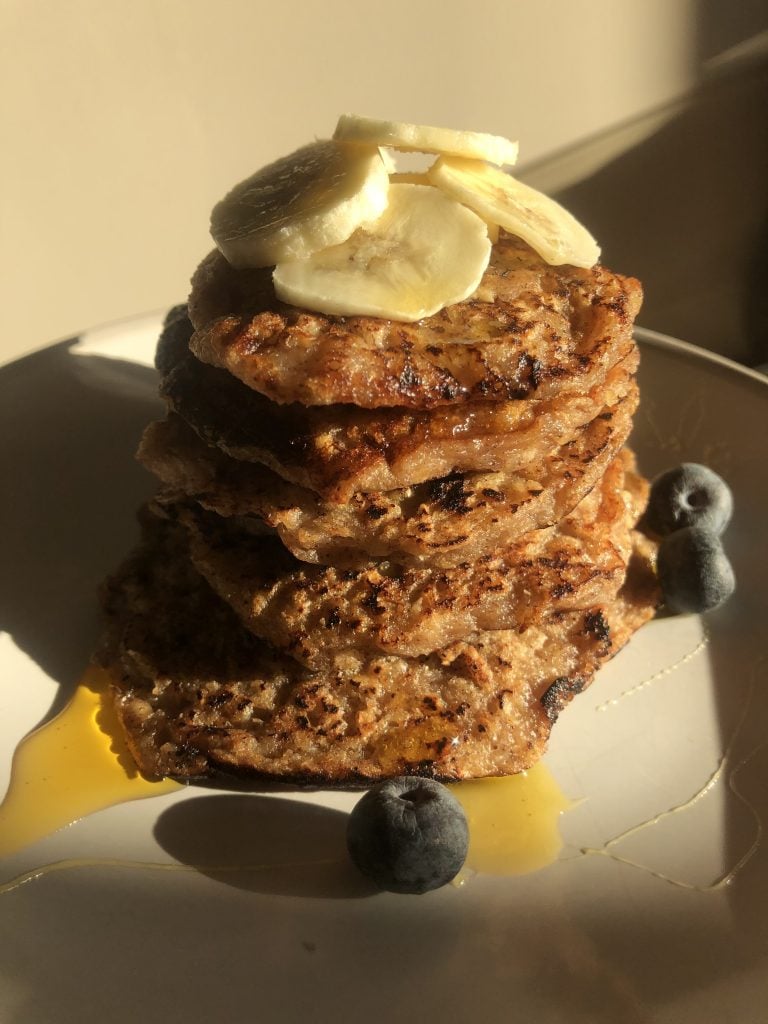 Vegan and Gluten-Free Pancake Recipe
Ingredients:
100g of g

luten-free

rolled or quick oats (These can be substituted with normal rolled or quick oats if you are not gluten-free) 

50g all-purpose gluten-free flour (or all-purpose flour if not GF)

2 tbsp sugar (coconut sugar or granulated sugar)

2 tsp baking powder

1 tsp salt

2 tsp of cinnamon

230 ml oat milk (or your prefered plant-based milk)

2 tablespoons of coconut oil (or any other plant-based oil, plus extra for cooking)

1 tsp vanilla essence

If you fancy turning these vanilla pancakes into some more chocolatey goodness: simply add cocoa powder.
Method:
In a mixing bowl, add all the dry ingredients: oats, flour, sugar, baking powder, salt and cinnamon. Mix together until combined. 

Add the vanilla, oil and milk of your choice

to the mixing bowl

(add gradually so your batter doesn't get too runny, if the batter is too runny your pancakes will be super thin) to the mixing bowl.

Heat your frying pan with some coconut oil, add a tbsp of your pancake batter to achieve a medium sized pancake (or add more depending on the size you want your pancake to be). Once the sides begin to brown and it starts to bubble on top, flip! Flip a few times until the edges are toasted to your preference. Continue this process until all of the batter is used.

Serve with your favourite toppings.
And that is it! Easy, healthy and intolerance-friendly oat vegan pancakes.
More of our favourite recipes:
Know someone who would like this?
Share it with the links below
LiberEat's allergen and error detection technology provides an allergen safety blanket for food businesses to ensure that consumers are safe and healthy when eating at your restaurant or consuming your food products.
LiberEat offers a second line of defense for food businesses by detecting errors, allergens, and other harmful ingredients. Food businesses can apply this technology directly to identify errors in allergen communications, preventing the risk of injury. Get in touch with us today to learn more about our Allergen Detection Technology.
To find out how LiberEat Technology supports food businesses to detect allergens and errors, to protect consumers