UK Vegan Sweets you can probably find in your local supermarket.
Just because you are eating a vegan diet doesn't mean you don't get to eat yummy sweets. You will be surprised and pleased to discover that some of your favourites are in fact vegan.
So while some people might believe that if you are on a plant-based vegan diet, that you have to swap sweets and chocolate for apples and carrots, we can now tell them actually some of your favourite sweets are vegan!
This article is for the vegans out there with a major sweet tooth (like me) who fancy the occasional sweet snack but have the struggle of finding tasty vegan sweets in your local supermarket. (or understand which ones are vegan).
I will save you the time of having to search the sweet aisle high and low in Tesco; or any local supermarket for vegan-friendly treats. Instead, you will be able to run in: grab your bag of sweets and go.
You will be seriously surprised by a few I reckon!
Your favourite sweets are vegan
If you have just recently turned vegan, you will be glad to know that you don't have to cut out ALL of your favourite sweets, and you will realise you have been eating vegan-friendly sweets all your life! 
So, without further ado, let's run through our top 10 UK Vegan Sweets
Starbursts or formally known as Opal Fruits are a childhood (and adult) British favourite over the years. The fruit flavoured soft chews are in fact vegan and vegetarian! But they do include palm oil which may be something to avoid for some vegans 🙁
Skittles moved away from using gelatin in their products to make them entirely plant-based. What a treat for us! and even better: Gluten-Free too! Although like some other sweets, they use palm oil, which is an ingredient some like to avoid.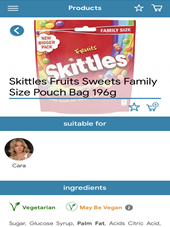 Another childhood classic, 5 fruit flavours to excite your tastebuds. Made by Rowntree's: Jelly Tots has been around since 1965 and has been a favourite ever since and not just by kids. They contain only vegan-friendly products. Note: they are made in factories which also handle gelatine, so some vegans will choose not to eat these fruity treats.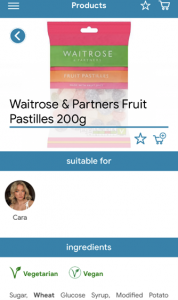 Fruit Pastilles are vegan! You can now buy vegan Fruit Pastilles in the supermarket, the Waitrose & Partners Fruit Pastilles are delicious and surprisingly vegan! Alternatively, if you are a fan of the traditional Rowntree's Fruit Pastilles these are available for vegans so far only in sharing bags but from February 2021 you will be able to get your hands on single tubes and multipacks that are vegan, so keep your eyes peeled for more vegan-friendly goodies.
Another surprising vegan sweet, Millions are stocked in many flavours from Cherry to Coca-Cola and if you are like me, you'll shove as many in your mouth as possible. If you are in need of a sugar fix, millions do the job and are vegan! But only the strawberry, bubblegum, raspberry, apple, orange & lemon, blackcurrant buzz, and cola flavours. Which is more or less all of the flavours.
Candy Kittens are relatively new on the scene, so don't be surprised if you have not heard of these gourmet-style sweets. These are 100% tangy and 100% vegan goodies, which you should definitely get your hands on. They come in a range of different flavours such as Blueberry Bliss, Peach Fizz and Eton Mess. All which are super tasty, vegan friendly and gluten-free! 
Another plus is that they have no artificial colouring, all-natural flavourings and made with real fruit juice! So Candy Kittens are a real all-round winner.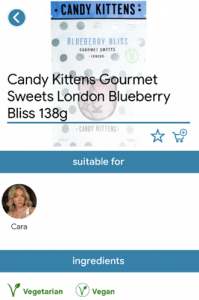 Another Truly Iconic Swizzels sweet which captured the attention of sweet lovers and lovers in general with captions on the sweets such as 'I LOVE YOU' and 'BE MINE'. Even Vegans can do valentines day in style as these are vegan friendly! 
You can even order personalised Love Hearts for special occasions or weddings which is a nice touch.
8. Haribo Rainbow Stripes
Whilst Haribo star mix is unfortunately not appropriate for vegans. Rainbow strips are! Made with real fruit juice and no artificial colours, these are a fab little treat and perfect for those who enjoy really fizzy sweets.
A classic. If you are a fan of hard-boiled sweets, you will be happy to discover that Fox's Glacier Fruits are vegan! Woop!
10. Swizzels Drumstick Chews, Choos & Chew Bar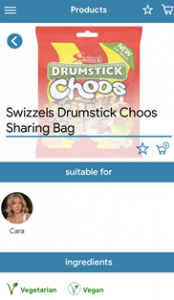 Swizzels created the drumstick chews which have been adapted in different formats after popular demand for the drumstick lollies. They remain the same flavour as the lollies but it's worth flagging that though Choos are vegan, Drumstick lollies are NOT suitable for vegans.
We have done our research to discover the best vegan sweets for you. Please let us know if we have missed out any of your favourite vegan sweets and we will make sure to add them in to share with the community. 
Some of our other favourite vegan blog posts: 
Know someone who would like this?
Share it with the links below
LiberEat's allergen and error detection technology provides an allergen safety blanket for food businesses to ensure that consumers are safe and healthy when eating at your restaurant or consuming your food products.
LiberEat offers a second line of defense for food businesses by detecting errors, allergens, and other harmful ingredients. Food businesses can apply this technology directly to identify errors in allergen communications, preventing the risk of injury. Get in touch with us today to learn more about our Allergen Detection Technology.
To find out how LiberEat Technology supports food businesses to detect allergens and errors, to protect consumers