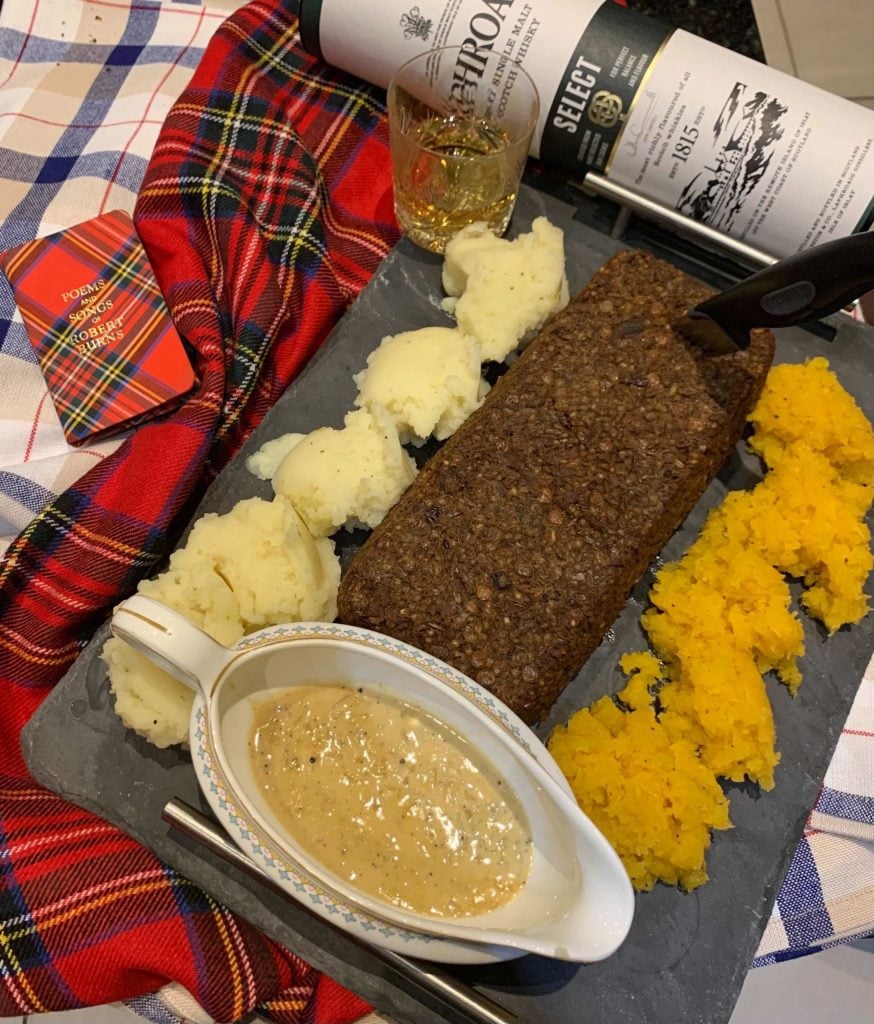 With Burns Night quickly creeping upon us, it is time to get the goods in and get organised for the annual celebration of Robert Burns, but in vegan and gluten-free style. 
This year it lands on Monday the 25th of January, where we celebrate Scottish heritage and our much-loved poet, Robert Burns. 
In this post, I have highlighted some vegan and gluten-free essentials from homemade Haggis to a creamy (and boozy, if you wish) Cranachan.
On, or around, the 25th of January every year, we celebrate the life and the poems of the famous Scottish poet Robert Burns, this is normally held on the 25th to celebrate his birth. 
Many Scots celebrate this day as he contributed a significant amount to Scottish culture. 'Burns Night' is normally celebrated by eating haggis, neaps (turnips), and tatties (potatoes). Burns' most popular piece of work is 'Auld Lang Syne' which is known by people all over the world and a song many Scottish people are proud of.
Vegan and Gluten-Free Burns Night Menu
Vegan and Gluten-Free Haggis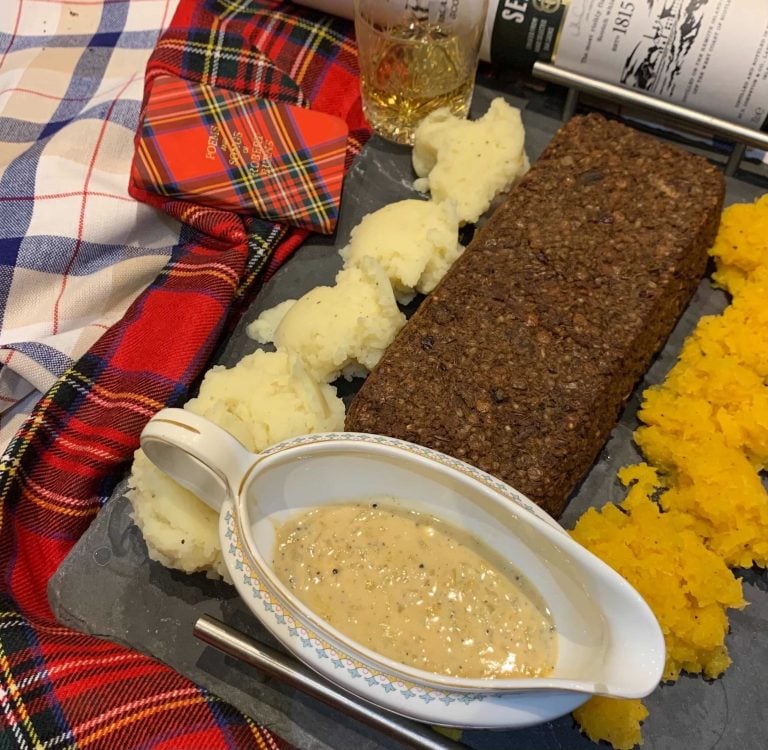 You can find a few vegetarian and vegan haggis options in supermarkets, but It is more difficult to find a vegan and gluten-free haggis alternative. So, we are here to help and provide a delicious, vegan, and gluten-free haggis recipe because we can't have anyone missing out.
With Haggis being the main ingredient and focus on Burns Night, it is important to get it right. Alongside mashed tatties, neeps, and for some people, you really can't forget the gravy, this turns out to be utterly heartwarming and delicious. 
How to make your own vegan and gluten-free haggis:
Ingredients (serves 4-6):
1 tbsp of vegan butter (we used Vitalite Dairy Free)

1/2 large onion, finely chopped

1 clove of garlic

1 large carrot, peeled and grated

150g of mushrooms, finely chopped 

200g of brown lentils (can also use green or black beluga lentils) 

250ml vegetable stock 

1 tsp of salt

1 tbsp of black ground pepper 

2 tsp of dried thyme 

2 tbsp of gluten-free soy sauce 

1 tbsp of lemon juice

1 tsp of nutmeg

1 tsp of allspice

1 tsp of cinnamon 

60g of kidney beans

125g of gluten-free porridge oats (we used gluten-free pinhead oats)
Method: 
Heat the vegan butter in a pan, add onions, garlic and carrots and cook for 5 minutes. Then add mushrooms, cook for a further 5 minutes. 

Add lentils, stock and all of the seasoning (everything except the oats and kidney beans) simmer on a low heat for 5-10 mins.

Preheat the oven to 180 degrees Celcius.

Mash the kidney beans well and add the beans and oats to the pan, stir until combined, simmer for a further 15-20 minutes. Taste and adjust to ensure you're happy with seasonings. Stir regularly so it doesn't stick to the bottom. The mixture will be thick but add more water if you think it looks too thick. 

Spoon the mixture into a greased/foil-lined loaf tin and bake for 30 minutes until firm and brown. 

Once cooked remove from the oven and the tin, serve with neeps and tatties. Yum!
Vegan and Gluten-Free Burns Supper: Potatoes
Ingredients (serves 4)
4 large potatoes

1 cup of oat milk

1 tablespoon of dairy-free/vegan butter

Salt and Pepper to taste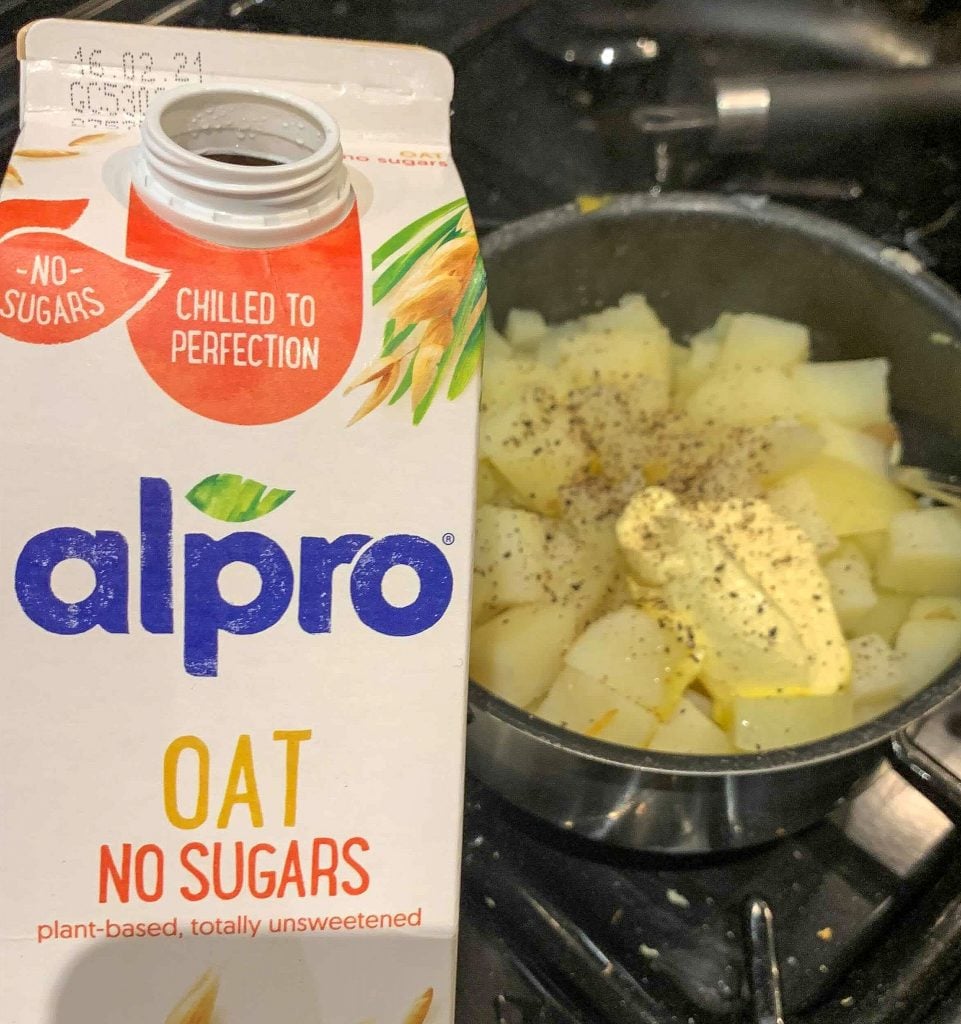 Haggis is traditionally paired with mashed tatties (potatoes), but I do see many people controversially having their Burns Supper with crispy roast potatoes. This would also work a treat but personally, I must my Burns Supper with mashed tatties, I'm a traditionalist. It ties the dish together and is the perfect soft (no lumps!!!) texture to go with the vegan and gluten-free haggis.  
My favourite, go-to recipe for smooth, buttery mashed potatoes: peel the tatties, cut the potatoes into small dices, boil in saltwater until soft, drain and mash. Add the cup of oat milk, vegan butter, salt, and pepper (taste and adjust if need be.)
I like mine to be super fluffy and buttery, so I do go pretty heavy on the butter but again depends on the number of tatties you are making and on your taste, keep mashing until fluffy and light.
Vegan and Gluten-Free Burns Supper: Neeps (turnips)
Next on the burns night tradition, is neeps (turnips). They certainly aren't everyone's favourite vegetable but on Burns Night, it's a must. If you simply don't want/like neeps, feel free to exchange with any other of your favourite vegetables.
All that needs to be done for your neeps is to boil until soft. Drain and mash until you see no big lumps, add a big spoon of vegan butter and some salt and pepper. And as easy as that, you have your lovely side of neeps.
Vegan and Gluten-Free Burns Supper: Gravy
Now perhaps, one of the most important ingredients! The gravy! Ties all of the ingredients together and makes it nice and moist.
Vegan and Gluten-Free Burns Supper: Whisky Sauce
Although gravy is delicious, another option that we opted for was a vegan and gluten-free whisky sauce to accompany our haggis, neeps, and tatties. Super easy and truly delicious!  
Ingredients (Serves 4)
1 onion finely chopped 
2 tbsp of dairy-free butter
2 cups of unsweetened oat milk
2 tbsp of vegan cream cheese 
Salt and pepper (adjust to your taste)
splash of whisky to your liking
Method: 
Place 2 tbsp of dairy-free butter in a frying pan on low heat, cook onion for a couple of minutes. 
Add the rest of your ingredients and simmer until it has thickened. Serve!
Vegan and Gluten-free Burns Supper: Dessert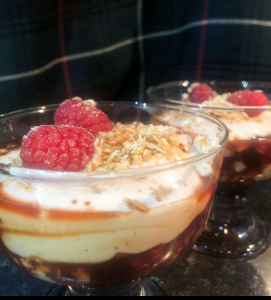 The best part of burns supper (in my opinion). A classic Scottish dessert. Vegan and Gluten-free Cranachan. This is traditionally made up of cream, toasted oats, raspberries, and whisky (optional).
Recipe for Vegan and Gluten-Free Cranachan (4 servings):
Ingredients:
For the oats:
90g of Gluten-Free Oats

2 tbsp of coconut sugar
For the raspberries:
340g of fresh raspberries

2 tbsp of maple syrup 

2 tbsp of coconut sugar
For the cream: 
200g chilled full-fat coconut cream

4 tbsp maple syrup

1 tsp of vanilla extract

2 tbsp of whisky (optional, you can add more or less)
Method:
Spread the oats on a frying pan, sprinkle over the coconut sugar evenly. Toast the oats, until they look brown and the coconut sugar has melted on the oats, creating nice clusters. You may need to give the oats a stir to ensure they are evenly toasted. 

Leave aside a couple of raspberries to garnish each individual cranachan. Use the remaining raspberries and the other ingredients and mash in a bowl with a fork, not fully but just so they are slightly mushed (no need to puree completely, leave some chunks.) Taste test to ensure it is sweet enough for your liking, if not add more coconut sugar or maple syrup. 

In a separate bowl, whisk the coconut cream until nice and fluffy. Add in the rest of the ingredients and briefly mix until incorporated. Minus about a tbsp of the toasted oats, add the rest into the cream mixture and fold softly with a spoon until combined. 

Get your two glasses to assemble the cranachan. Placing alternating layers of raspberries and the cream and oat layers, ensuring that cream will be the last layer at the top. Sprinkle with the remaining raspberries and oats. Serve straight away.
And there you go, you have everything you need for a complete and delicious Burns Supper!
More vegan and gluten-free recipes:
Know someone who would like this?
Share it with the links below
LiberEat's allergen and error detection technology provides an allergen safety blanket for food businesses to ensure that consumers are safe and healthy when eating at your restaurant or consuming your food products.
LiberEat offers a second line of defense for food businesses by detecting errors, allergens, and other harmful ingredients. Food businesses can apply this technology directly to identify errors in allergen communications, preventing the risk of injury. Get in touch with us today to learn more about our Allergen Detection Technology.
To find out how LiberEat Technology supports food businesses to detect allergens and errors, to protect consumers