The Best Lockdown Trends.
Gluten-free and Vegan baked oats, wrap folding hack, feta pasta bake (TikTok), banana bread and Dalgona coffee (whipped coffee)...
We simply had to dedicate a blog post to lockdown. Although it has dealt us some blows and lows, we have to appreciate some of the highs and for the foodies over at LiberEat HQ, we couldn't help but notice the foodie trends which have kept us busy in the kitchen and our bodies and minds content.
There have been trends in clever wrap folding, endless baked feta pasta, baked oats, whipped coffee, and of course, we simply could not write about lockdown foodie trends without putting the spotlight on banana bread. Lockdown has given us the opportunity to make the most of the time we are spending inside to make yummy, new foods.
This is the perfect opportunity to try a new pasta dish or learn a new skill in folding wraps, so why not do this with an at-home happy hour (or hours!). Make some homemade fresh cocktails or a whipped coffee (recipe below) to make with your gluten-free and vegan baked oats, and enjoy taking on new challenges!
LiberEat is here to give you all the latest lockdown trends from the past year but, of course, it's totally our bag to make these recipes vegan and gluten-free to support our community of people living a meat-free lifestyle or living with dietary requirements like allergies and food intolerances.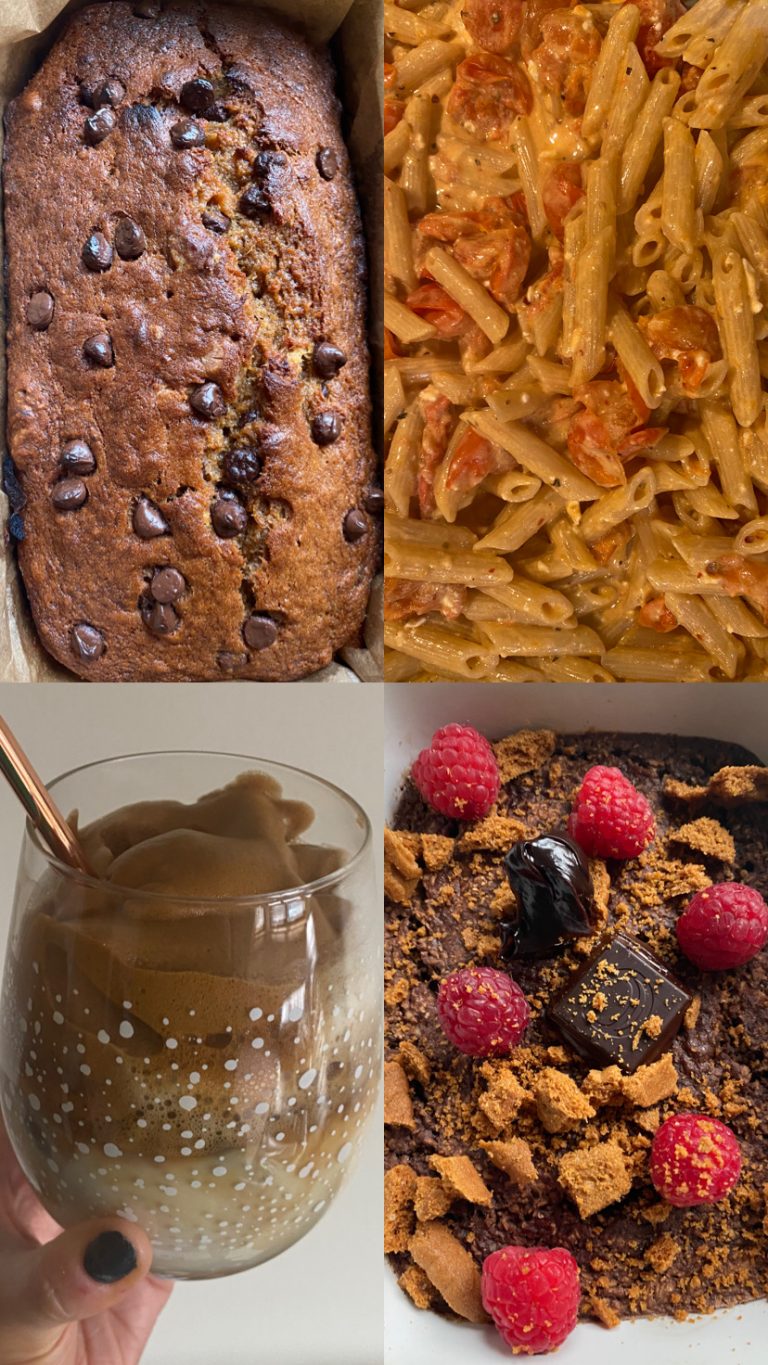 Gluten-Free and Vegan Baked Oats #bakedoats
So I think it's appropriate to start with a breakfast trend and (in fact) maybe… my favourite lockdown trend. Well, definitely the 'foodie lockdown trend' I have made the most. 
Baked oats.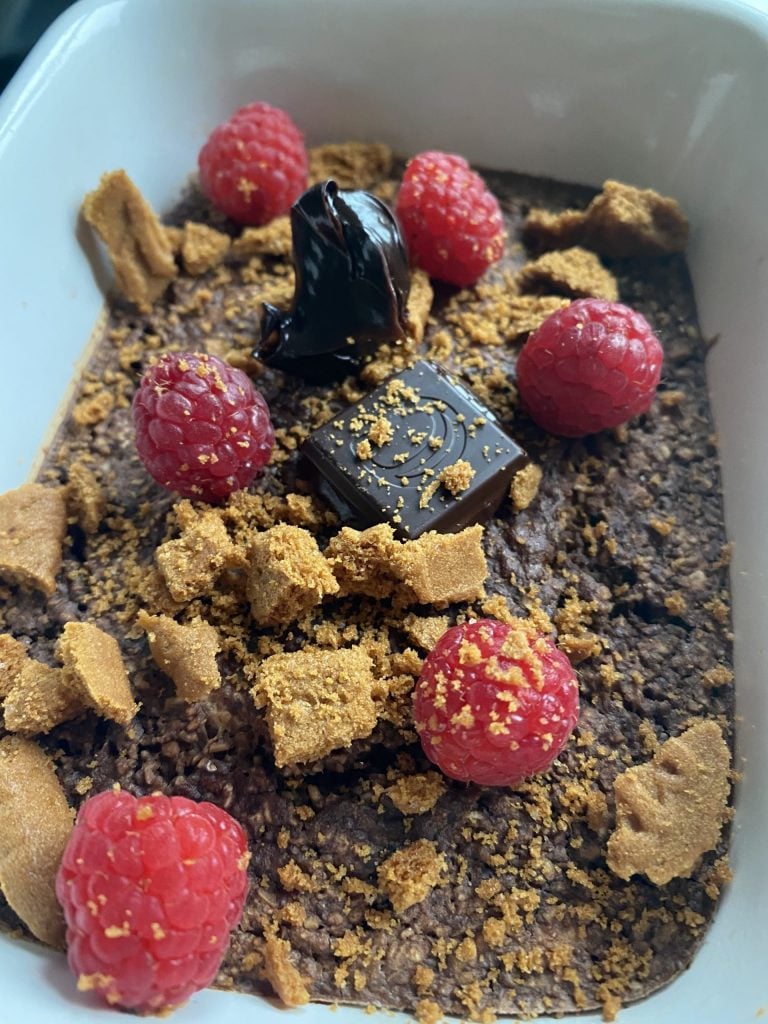 This trend is all over my TikTok, my Instagram explore feeds are full of different baked oats to try. 
These gluten-free and vegan baked oats are perfect for you if you have a sweet tooth, and if you ever feel like eating cake for breakfast (living the dream!) or as a healthy dessert/snack. The oats are packed full of fibre, and you can add some protein powder, so it's a really versatile recipe, easy to make and incredibly tasty. So far, I have made chocolate orange, milk chocolate and also white chocolate and raspberry.
You can put any toppings you like to suit your tastes. My favourites are: 
Low-calorie

vegan chocolate spread
Lotus Biscoff biscuit for an added crunch and vegan-friendly
Chopped vegan chocolate
Raspberries
You can literally add anything you like.
Sooooooo amazing, that my mouth is watering as I write this. 
The only bad thing about baked oats is waiting for them to cook in the oven and the sad feeling once you've finished eating them. The struggle is real. 
Recipe for Gluten-free and Vegan baked oats:
Recipe (makes 1): 
½ banana (mashed)

1/2 tsp cinammon

45g of gluten-free oats 

1 & ½ tbsp cacao powder

1 tbsp maple syrup

Dash salt

1 tsp baking powder
80ml plant-based milk (I used oat)
Method: 
Preheat oven to 180 Degrees C.

Mix all the ingredients and pour into an oven-safe dish, bake for 20-25 minutes.

Add toppings of your choice and enjoy!
Wrap folding hack: Gluten-free and vegan style #wraphack
I'm sure everyone has seen the new wrap folding hack. It is genius. Certainly the easiest way to fold a wrap to make sure nothing falls out. People have been trying out ingredient combinations you wouldn't even think would work, like noodles or marshmallows. But it has somewhat shaken up the internet, and people are trying new things and new trends. 
So if you haven't already tried this trend, now is the time. You can put anything you wish in it. All you have to do is make a cut to the middle from the bottom of a wrap, fill the quadrants with different fillings of your choice or whatever you have in the house. Then fold into a neat triangle; you can eat as it is or place it in a panini maker, under the grill, in a pan, or even in an Air Fryer or toastie bag until it is crispy. Super easy, tasty, and convenient as it stops the fillings from spilling!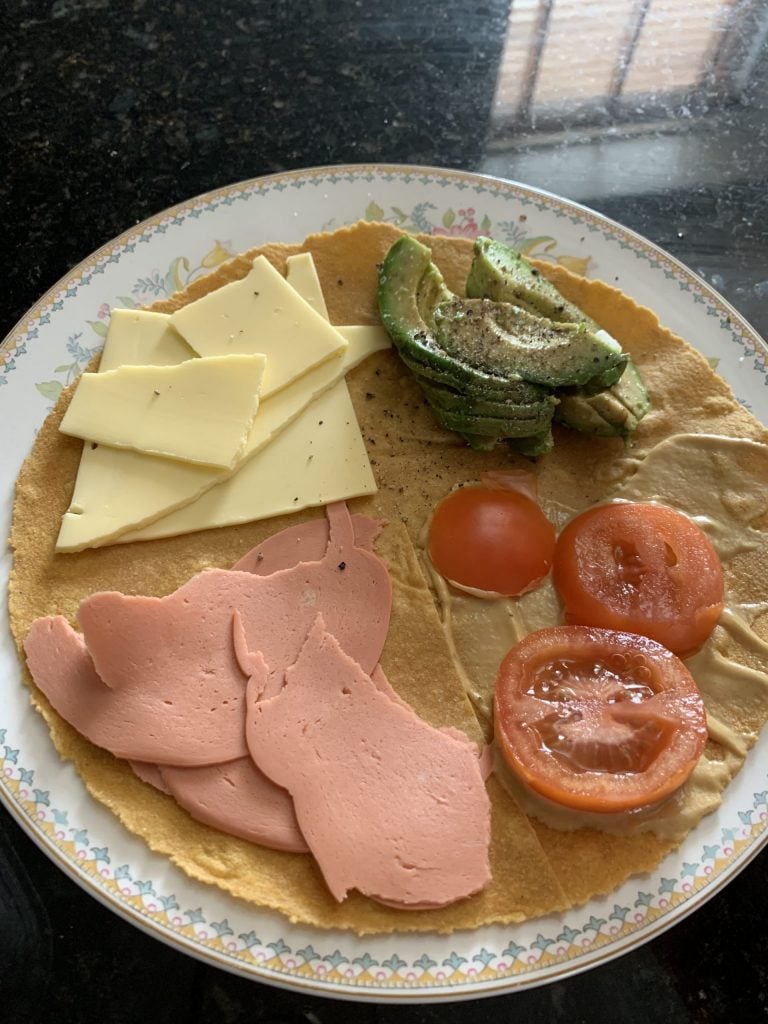 Some filling ideas:
Ham (picture above):
2 slices of vegan

ham (we used the Quorn vegan and gluten-free smoked ham)

Vegan cheese (violife)

Dijon mustard

Tomatoes, sliced

2 slices of vegan cheese (we used Violife Original Slices)

Avocado, sliced (Salt and pepper)
Smores:
Chocolate spread

Big vegan marshmallows (we used Dandies Vegan Vanilla Marshmallows)

Gluten-free Digestive biscuits: crumbled (we used Schar)

A handful of vegan chocolate buttons (we used the free from chocolate buttons, you can get similar from most large supermarkets)
Or… you could use any leftovers you have in the house: chilli, curry or anything in the freezer: vegetarian chicken nuggets or tofu. That is the excitement about this trend; you can put anything in it. Go wild and experiment with new combos!
Gluten-free and Vegan feta tomato pasta (from TikTok and Instagram) #fetapasta
Mmmm… now this trend is something I am here for. 
Pasta, yes. 
Vegan Feta, oh yes. 
Cheesy tomato pasta… yes, yes, yes!!
A combination that just can't go wrong. But we are making it vegan and gluten-free and again, it's super simple for you to try. 
Recipe for Gluten-free and vegan baked feta pasta:
Ingredients (serves 4):
Block of Vegan feta cheese (200g) (We used Violife Greek Block)

600g cherry tomatoes

60ml olive oil

4 cloves of garlic, peeled and left whole

1 tsp of oregano 

1 tsp dried chilli flakes

500g gluten-free pasta of your choice

Salt and pepper, to taste
Method:
Preheat oven to 200 Degrees Celcius 

In a large oven dish, add the tomatoes and place the vegan feta in the middle, at the bottom of the dish. Add the garlic cloves, drizzle the olive oil over the dish and sprinkle oregano and chilli flakes.

Bake for 20-25 minutes, by which time the tomatoes should be soft and the feta should have melted and be all oozy and delightful. 

Whilst the feta and tomato bake is cooking, boil the pasta aldente (follow the instructions on the pack), keep a cup of pasta water then drain when cooked. 

After 25 minutes, remove the tomato and feta bake from the oven, add in the cup of pasta water and mash the tomatoes and feta with a fork and mix in the pasta, add salt and pepper to taste. 
Gluten-free and Vegan Banana Bread
Here's a throwback to the first lockdown, where banana bread was going in every oven in every household. What better to do than make a fresh banana loaf when you are bored, and this recipe only uses one bowl.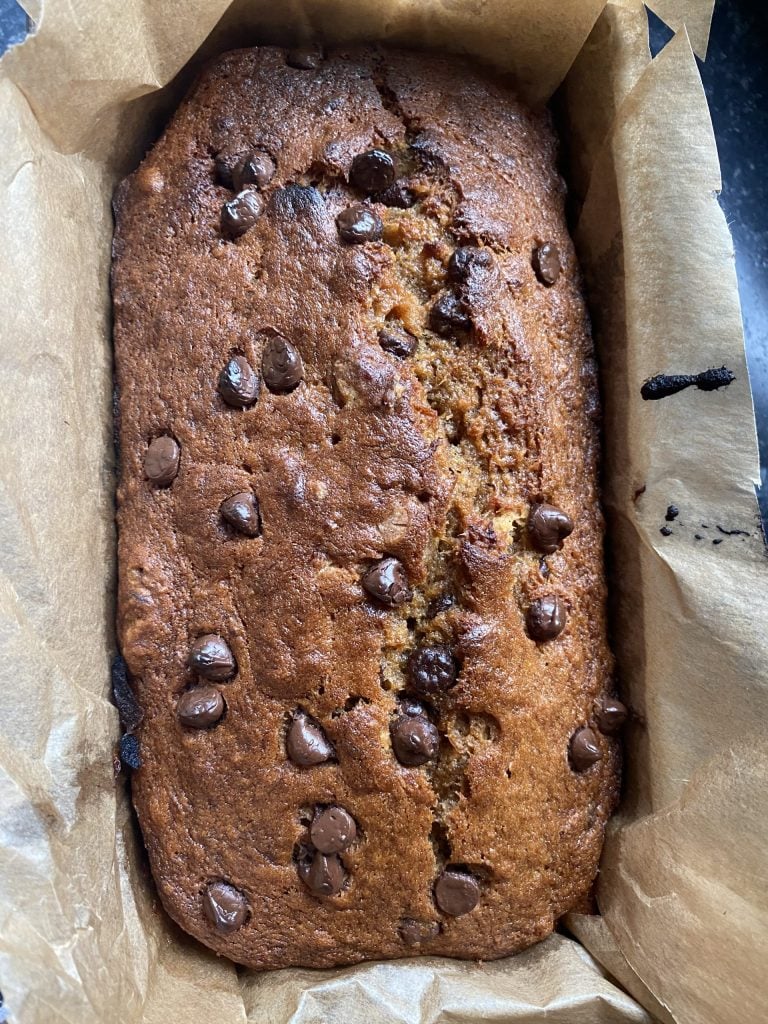 Recipe for Gluten-free and Vegan Banana Bread:
Ingredients:
3 ripe bananas, mashed 

110g vegan butter, softened (we used Vitalite Dairy Free Spread)

200g coconut sugar

1 tsp vanilla extract 

60 ml unsweetened almond milk (or your plant-based milk of choice)

1 tsp apple cider vinegar 

½ tsp salt 

¾ tsp baking soda

200g all-purpose gluten-free flour
Method: 
Preheat oven to 180 Degrees Celcius. Use a little bit of butter to line a loaf tin with baking paper. 

In a large mixing bowl, mash bananas with a fork, add softened butter, sugar, and vanilla. Whisk well, until combined and smooth. Add the rest of the ingredients and mix well until thoroughly combined. 

Pour the mixture into the loaf tin and bake for 55-60 minutes or until a toothpick comes out clean. 

Leave to cool before slicing.
Whipped Coffee Recipe (Dalgona Coffee)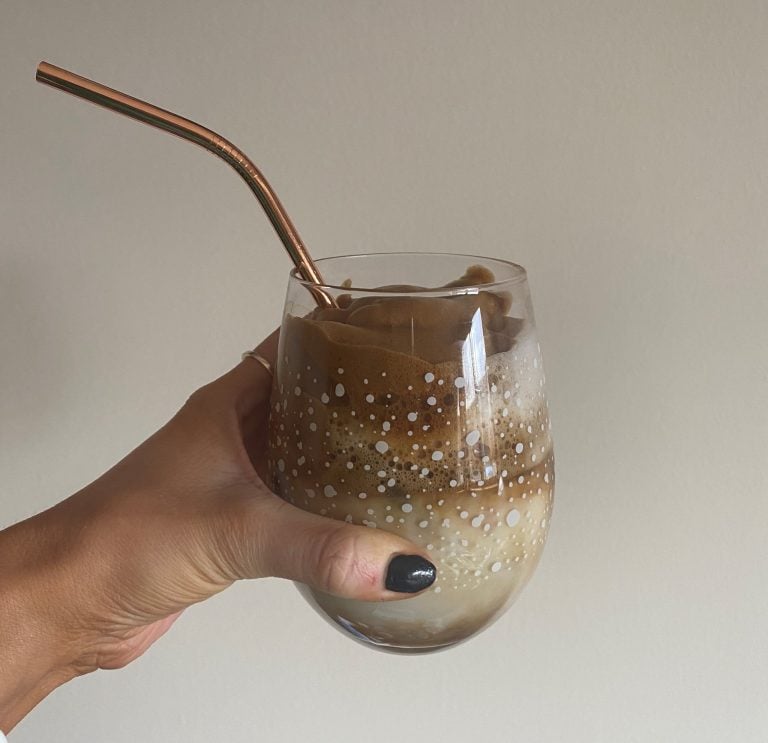 And while we are on the topic of trends, we might as well serve a drink with your baked oats, wrap, banana bread, or feta pasta! So I think this is the right time to include the whipped coffee or the proper name 'Dalgona Coffee', everyone has been raving about on our social feeds!
The Dalgona Coffee is made by whipping up equal amounts of instant coffee powder, sugar, and hot water until it becomes creamy and then adding it to hot or cold milk. This recipe became a sensation because of a viral TikTok video showing just how easy it was to make a fancy-looking coffee and the Instagram trend closely followed.
Ingredients (serves 1):
1 tablespoon instant coffee

1 tablespoon sugar

One tablespoon water (hot water works best) 

8oz plant-based milk, for serving
Method:
Put the instant coffee, sugar, and water in a bowl, whisk with a hand mixer or frother to combine. Please note –  this can take up to 15 minutes until it reaches a thick consistency and it will be a much lighter colour. 

Serve on top of your plant-based milk of choice: iced or hot.
Some of our other gluten-free and vegan blog posts:
Know someone who would like this?
Share it with the links below
LiberEat's allergen and error detection technology provides an allergen safety blanket for food businesses to ensure that consumers are safe and healthy when eating at your restaurant or consuming your food products.
LiberEat offers a second line of defense for food businesses by detecting errors, allergens, and other harmful ingredients. Food businesses can apply this technology directly to identify errors in allergen communications, preventing the risk of injury. Get in touch with us today to learn more about our Allergen Detection Technology.
To find out how LiberEat Technology supports food businesses to detect allergens and errors, to protect consumers