Today we have prepared these delicious vegan & gluten-free brownies using aquafaba. We really think that these are the best vegan brownies you will ever eat. They are fudgy, gooey and have that crisp, crinkly top that we think every brownie should have.
It can be tough to find vegan brownies that are gooey, and moist, in most cases they are dry or crumbly, whilst others can be too oily. This brownie sets really high standards for both vegan and non-vegan brownies.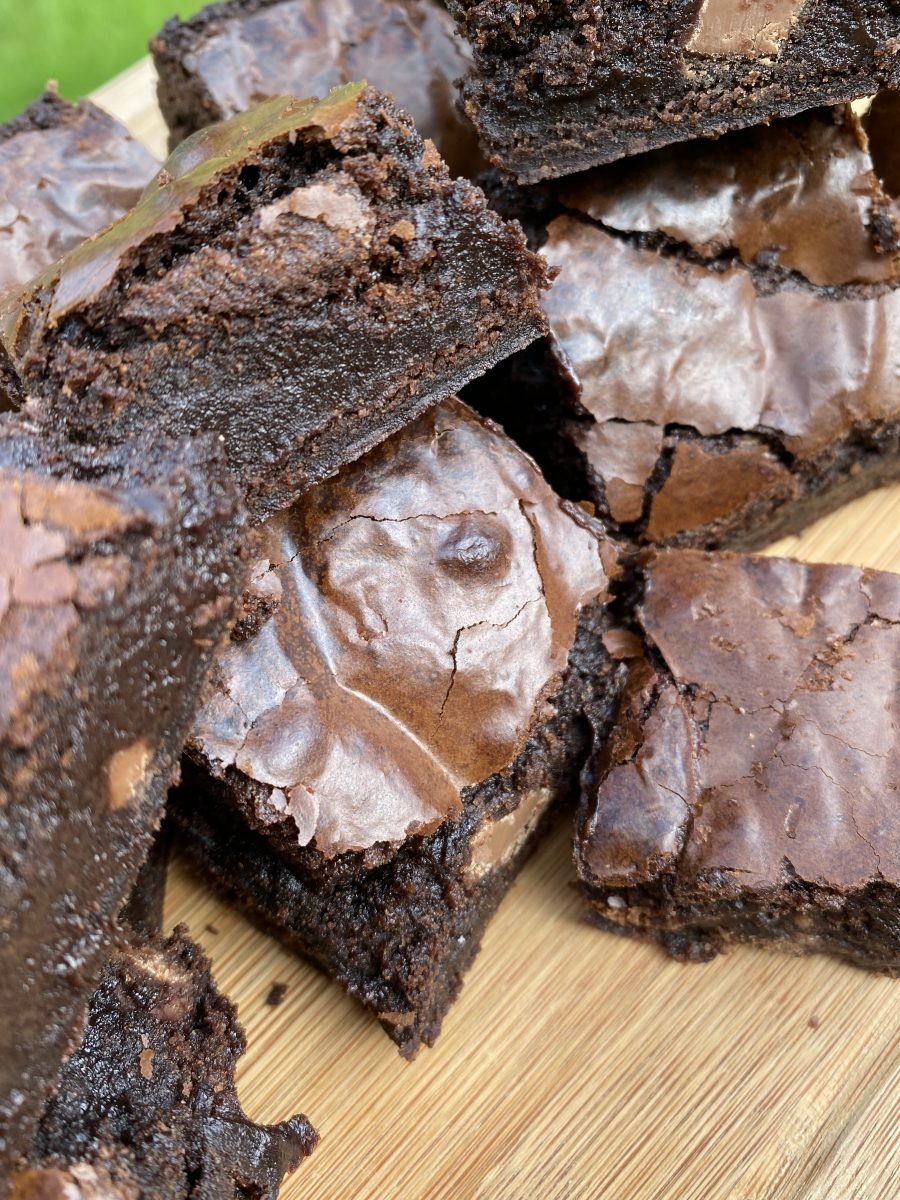 How to know when to take your brownies out?
You will know when you insert a toothpick and it comes out moist with a little bit of crumbs or thick batter. Please note that your Brownies will continue to bake once removed from the oven with the residual heat so you don't want the toothpick to come out completely clean. 
Check the brownies 5 minutes earlier than you think they would be ready, and note that every oven is different. Personally, I prefer my brownies moist and gooey, so I would rather they be slightly under baked.
If the toothpick comes out with a liquid batter, the brownies need some extra time in the oven; in our experience, around five more minutes, before you check them again.
Why does aquafaba make this brownie recipe the best?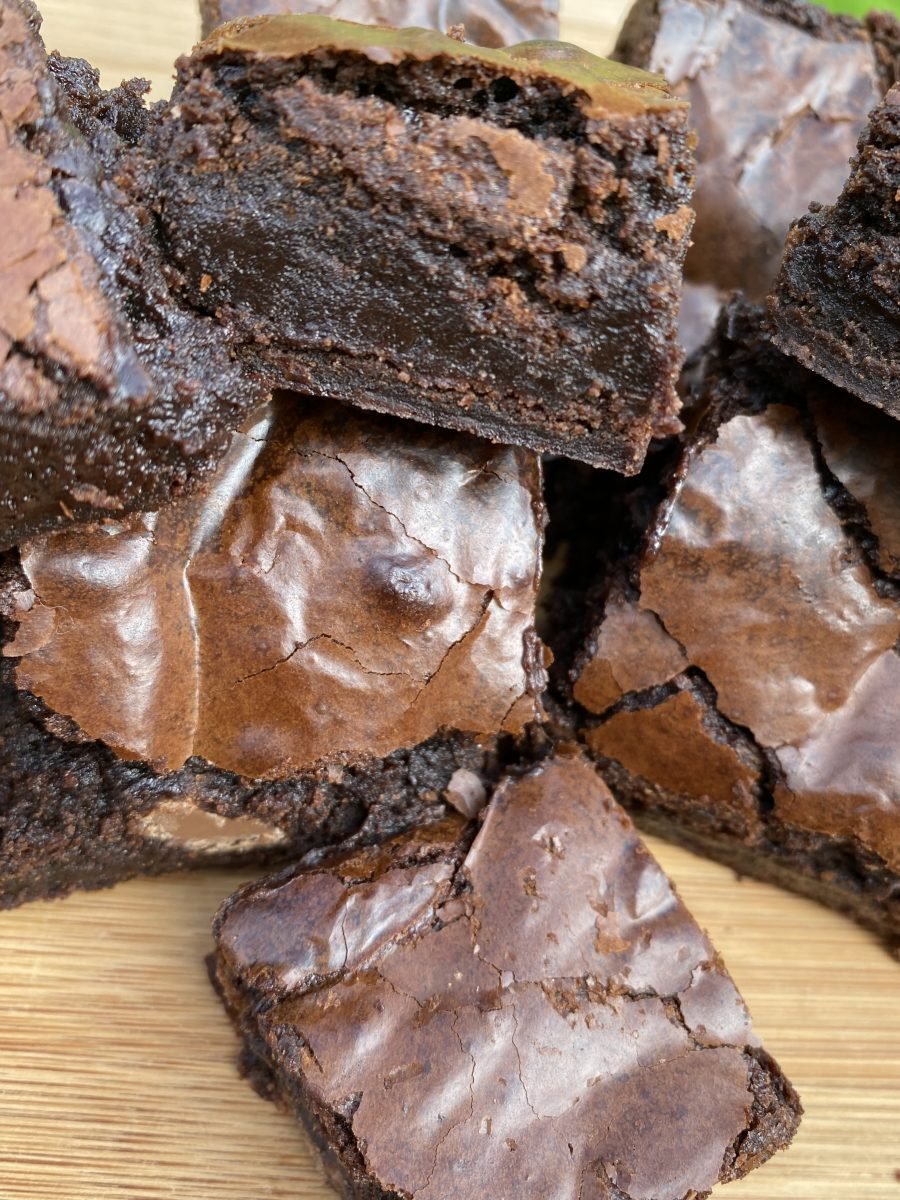 1. The ultimate shiny, crinkly top on the brownies
This can be really difficult to achieve on any brownies let alone vegan brownies, so to finally crack this vegan and gluten-free recipe that has the ultimate brownie top, it's one we had to share! 
It creates the best texture on top of the soft and fudgy brownie.
2. Fudgy and moist texture
Our aquafaba brownies create a fudgy, moist, chocolatey texture that is created without eggs and instead from the liquid from a can of chickpeas. It may be untraditional in brownies but works incredibly well. 
You can also try our vegan macaron recipe using aquafaba – it is one of our favourites!
3. Rich chocolate flavour
Use high-quality dark chocolate and cocoa powder. This will largely impact the texture and deep chocolate taste of your brownies. We also added one teaspoon of espresso/coffee powder, this intensifies the chocolate taste! 
Keep scrolling because you are guaranteed to love this recipe and our best ever vegan brownies using chickpea aquafaba juice!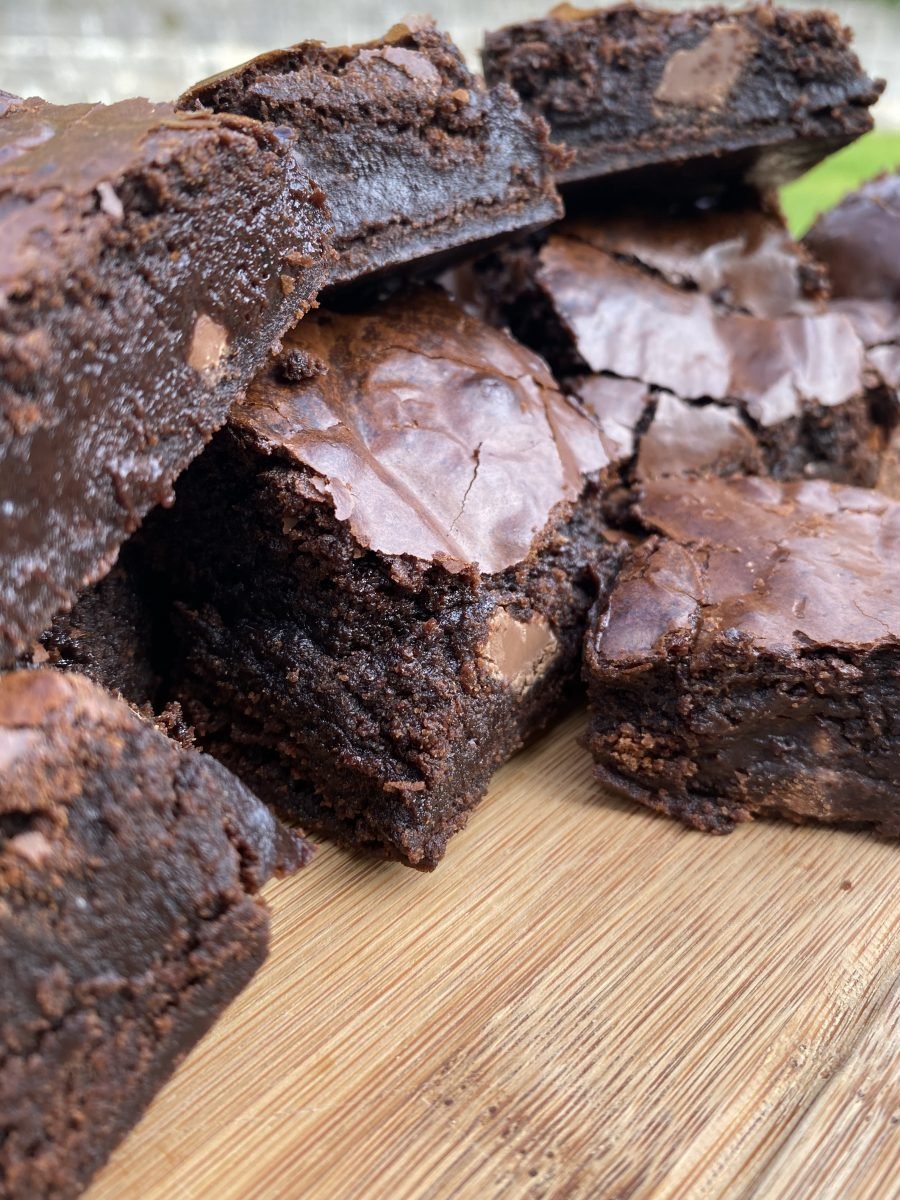 If you try and love this recipe or any of our others then please tag us on Instagram @Libereatapp and use the #LiberEat, so we can see and share your delicious brownies with our community of keen bakers and cooks!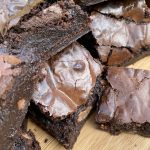 Print Recipe
Vegan & Gluten-Free Brownie recipe using aquafaba
Enjoy our recipe for the best fudgy and gooey vegan and gluten-free brownies using the liquid from a can of chickpeas called aquafaba, you need to try this recipe. It creates a rich, moist and fudgy vegan chocolate brownie.
Ingredients
180

g

gluten-free plain flour

40

g

vegan and gluten-free cocoa powder

120

ml

aquafaba

juice from chickpea can - unsalted chickpeas

290

g

coconut sugar

1/2

tsp

salt

1

tsp

vanilla extract

1

tsp

coffee powder

170

g

dairy-free dark chocolate

chopped

115

g

dairy-free butter

chopped into cubes

85

g

dairy-free chocolate chips
Instructions
Preheat the oven to 180 degrees celsius fan. Line an 8x8 tin with baking paper.

Sift the flour and cocoa powder into a medium bowl.

Add the aquafaba and sugar into a separate bowl and whisk with an electric whisk or a hand held whisk until thick and glossy.

Add the vanilla, salt and coffee to the bowl with the aquafaba and sugar. Fold with a spatula.

Place the chocolate and butter into a heatproof bowl that can be placed on top of a saucepan (make sure it does not touch the water but is just on top of the saucepan). Fill the saucepan with a little bit of water.

Add the chopped chocolate and butter into the bowl on top of the saucepan. Allow the chocolate and butter to melt until smooth. Remove from the heat once it is completely melted.

Add to the aquafaba mix and fold with a spatula.

Add the dry mixture into the wet mix, fold until it is completely combined. Add the chocolate chips. Pour into the lined tin.

Bake for 35-40 minutes or until a toothpick inserted in the middle of the brownie comes out almost clean.

Allow to cool for 30 mins to an hour before slicing.
If you enjoyed our Vegan and Gluten-Free Aquafaba Brownie recipe, you might enjoy more LiberEat recipes including recipes from The Vegan Society Trademark & lots of other amazing creators!
More than 400+ recipes to choose from to satisfy all your cravings!
Some of our other vegan/gluten-free recipes:
Know someone who would like this?
Share it with the links below
LiberEat's allergen and error detection technology provides an allergen safety blanket for food businesses to ensure that consumers are safe and healthy when eating at your restaurant or consuming your food products.
LiberEat offers a second line of defense for food businesses by detecting errors, allergens, and other harmful ingredients. Food businesses can apply this technology directly to identify errors in allergen communications, preventing the risk of injury. Get in touch with us today to learn more about our Allergen Detection Technology.
To find out how LiberEat Technology supports food businesses to detect allergens and errors, to protect consumers