How to make gluten-free and vegan scones
Scones are a classic bake! And have been for decades. If you are fed up with flat, rock-solid gluten-free scones and looking for easy, light, and fluffy, tasty gluten-free and vegan scones. You have come to the right place. This recipe makes buttery, soft, spongy scones that taste truly delicious. 
It can be challenging to find gluten-free and vegan scones when out and about. Even if you are at an afternoon tea, they don't always provide allergy-friendly options. So LiberEat is solving your scone cravings with this super simple recipe. 
Scones are easy to make whether they are gluten-free or not. You do not need any fancy mixer, just your hands, and some muscles.
Gluten-Free and Vegan Jam & Cream
I love scones. They are the perfect afternoon treat with some Stokes Strawberry or Raspberry Extra Jam which is recommended by The Vegan Society Trademark. 
Elmlea also does a Plant Double Vegan Alternative to Cream that is entirely plant-based and gluten-free. It is made from lentil protein and plant oils. So, for a quick alternative to cream, pick up this double cream and give it a good whisk until thick. If you can't find this in the shops, Oat Cream or Coconut Cream are great alternative options.
And… It is your choice whether you slather on jam or cream first. (Cream followed by jam is the only correct order in my opinion!) 🙂
How to make gluten-free scones rise?
Just because our scones are gluten-free and vegan doesn't mean that they should be any less tasty or puffy! Because trust me on this one, this recipe is so delicious, you wouldn't even know that it is gluten-free or vegan. If you don't want flat scones, that don't rise.
Here are our tips for you:
Scones don't naturally rise that much, so you want to ensure that you roll out the dough to be thick and tall. Then they will already be tall and get an extra little rise.

In some cases, it can be difficult to have a perfect rise when baking with gluten-free flours but by using gluten-free self-raising flour and gluten-free baking powder, both will help your scones have a perfect rise. Make sure the baking powder is in date as if the sell by date has passed this can be an agent which stops the rise of scones (or other bakes.)

Finally, do not overwork your dough, or roll it out continuously. This could also affect the rise.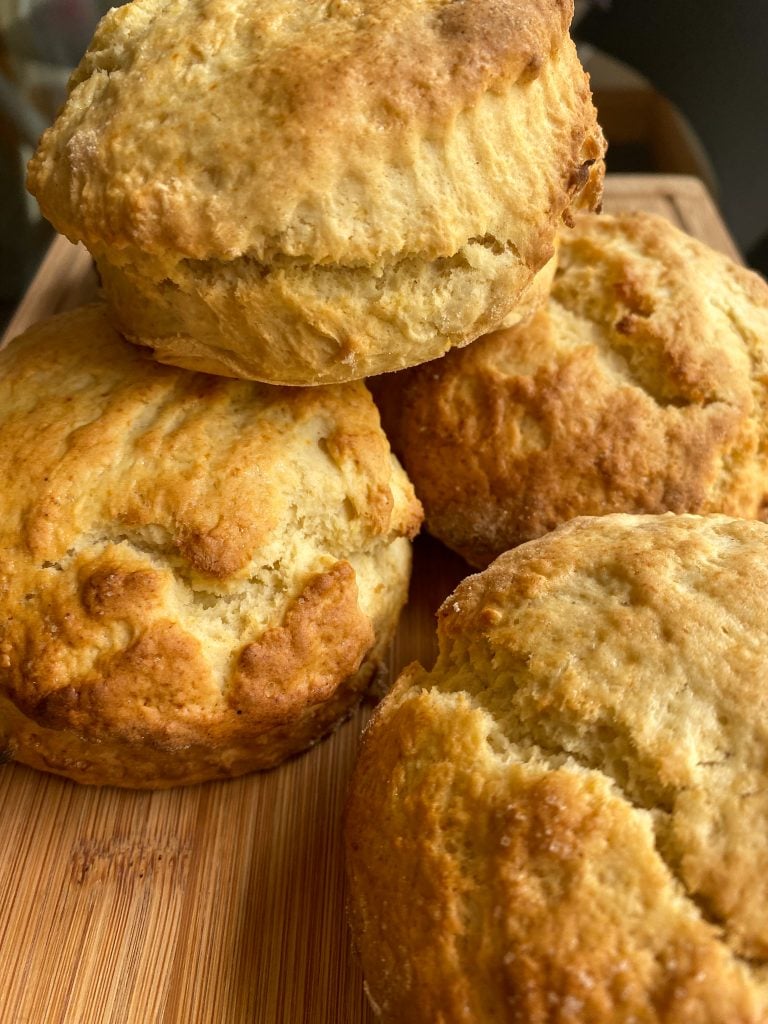 How to make gluten-free and vegan soft and spongy scones?
Follow the recipe below for the best allergy-friendly scones you will ever try. Best of all you can find all the ingredients in your local supermarket.
The best gluten-free and vegan scones recipe:
Makes 6 large scones: 
Ingredients: 
340g gluten-free self-raising flour (we used Doves) 

1 tsp gluten-free baking powder (we used Doves)

85g vegan Stork butter 

5 tbsp caster sugar 

180ml unsweetened almond milk (we used Alpro)

2 tsp lemon juice

1 tsp vanilla extract
Method: 
Preheat the oven to 200 degrees celsius (for a fan-assisted oven). Place parchment paper onto a tray. 

Sieve the gluten-free flour and baking powder into a large bowl. Chop the butter into cubes and place in the same bowl. Rub the butter and flour together to create a breadcrumb consistency. 

Add the caster sugar to the bowl and mix with a metal spoon.

Put the milk in the microwave for about 30 seconds, then add lemon juice and vanilla extract. Allow this to cool briefly before adding it to the flour mixture. Stir once again with a metal spoon to create a dough consistency.  

Sprinkle as much gluten-free flour onto a clean surface as you need. Place the dough onto the surface and fold a couple times to bring the dough together. Roll the dough to about 3-4cm thick. 

Using a cookie/biscuit cutter about 40-50mm wide, push it down into the dough to create your scone, place on the lined baking tray. Repeat until all the dough is finished. 

Brush almond milk over the top of each scone and place in the oven for 10-12 minutes until golden brown on top and the bottom.

Serve with jam and vegan butter or cream. ENJOY!
Please tag us on Instagram, or Facebook, or Twitter if you decide to try these out. 
Some of our other gluten-free and vegan recipes:
Know someone who would like this?
Share it with the links below
LiberEat's allergen and error detection technology provides an allergen safety blanket for food businesses to ensure that consumers are safe and healthy when eating at your restaurant or consuming your food products.
LiberEat offers a second line of defense for food businesses by detecting errors, allergens, and other harmful ingredients. Food businesses can apply this technology directly to identify errors in allergen communications, preventing the risk of injury. Get in touch with us today to learn more about our Allergen Detection Technology.
To find out how LiberEat Technology supports food businesses to detect allergens and errors, to protect consumers