Gluten-Free and Vegan Meatball Recipe
We present to you gluten-free and vegan meatballs made with nutritious ingredients and exciting flavours. They don't fall apart or become mushy. 
Our meatball recipe is unlike any other and will be sure to satisfy your meatball cravings. 
This recipe is so easy to make and consists of only a few ingredients, household staple spices and herbs.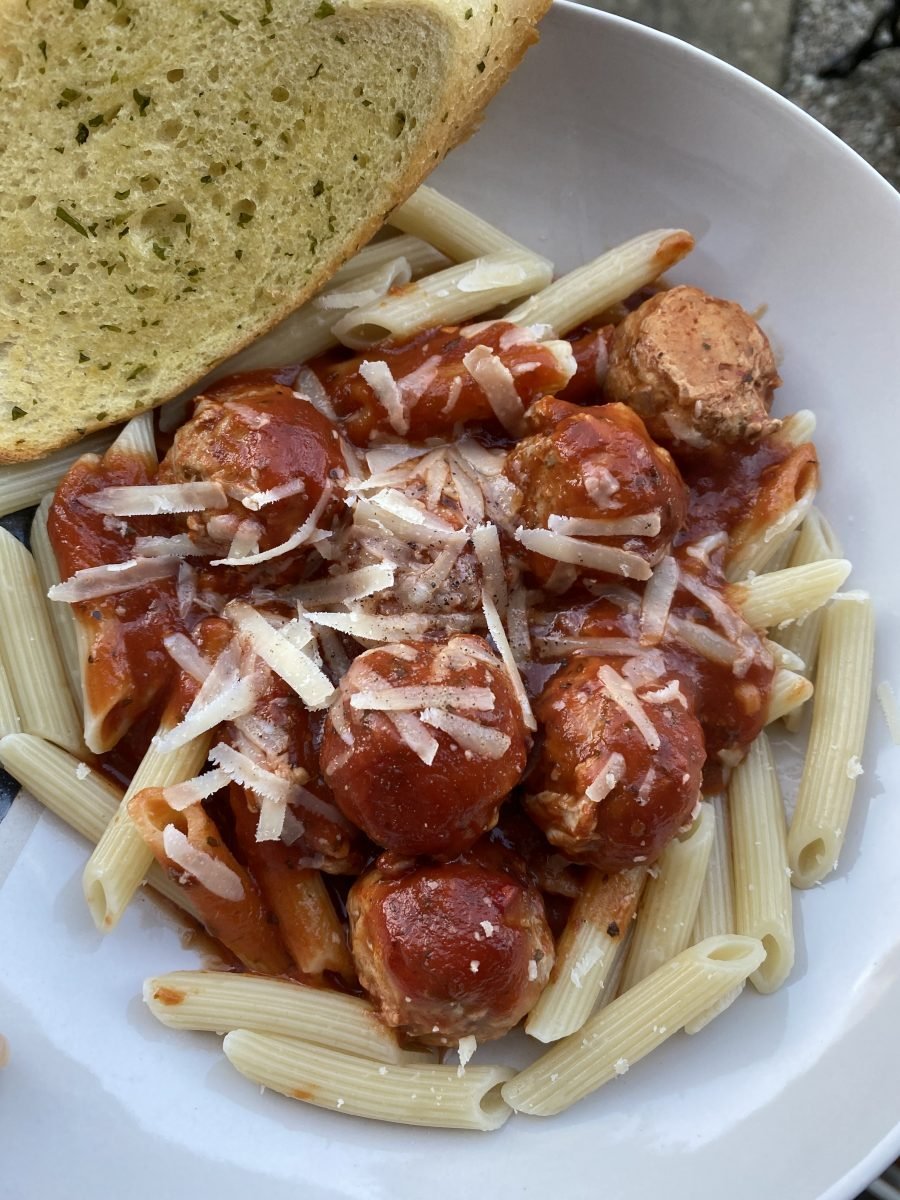 Pair with your favourite gluten-free pasta or spaghetti, add marinara sauce and vegan parmesan or nutritional yeast on top.
There you have it, the best vegan and gluten-free meatball dish of your dreams. 
If you don't want to make your own meatballs, no problem. Head over to your local supermarket and you can buy vegan meatball options.
Top 3 UK Vegan Meatball options you can find in your supermarket:
Birdseye Vegan Meatballs

Richmond Meat-Free Vegan No Beef Meatballs 

Aldi vegan meatballs: Plant Menu No Meat Meatballs
Vegan Recipes - No meat meatballs
There are many ways to make vegetarian/vegan meatballs by using beans, vegetables, grains and more creative ingredients and flavours.
But we have found the best plant-based meatball combination using black beans and quinoa. It creates a soft, authentic texture and flavour. Perfect for meal prep.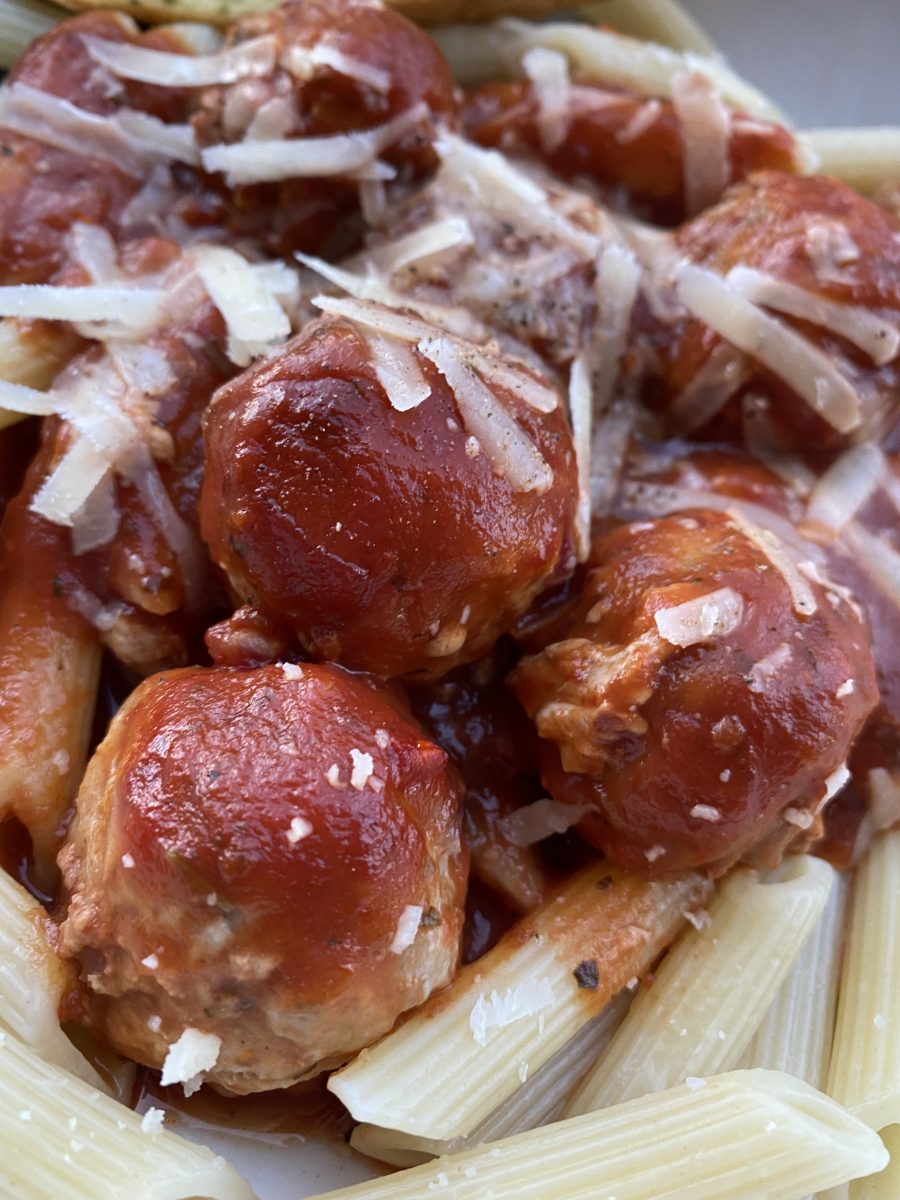 To make this into a vegan and gluten-free meatball pasta dish. Add your favourite gluten-free pasta or spaghetti. It works a treat, maybe a little messy to eat with the spaghetti but you are sure to love it.
Black Bean and Quinoa Meatball Recipe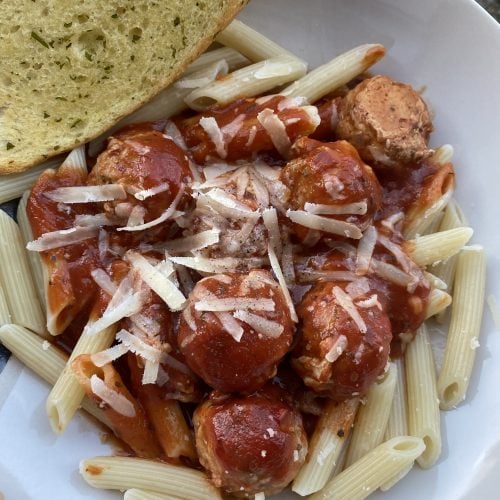 DIY Vegan & Gluten-Free Meatballs
Our authentic, full of flavour and homemade vegan and gluten-free meatballs recipe. Made with black beans and quinoa.
Ingredients
180

g

cooked quinoa

(cooked and completely cooled)

1

can

black beans

2

tbsp

vegetable oil

1

small onion

4

cloves minced garlic

salt and pepper

to taste

2

tsp

Italian seasoning

0.5

tsp

chilli flakes

0.5

tsp

fennel seeds

crushed

40

g

vegan parmesan cheese

30

g

tomato paste

1

tsp

fresh basil

1

tsp

parsley

20

ml

worcheshire sauce
Instructions
Prepare quinoa according to package instructions, allow to cool completely.

Preheat the oven to 180 degrees c. Line a baking tray with baking paper and place the rinsed and dried black beans on the paper. Place in the oven for 15 minutes until they look cracked and dry. Remove and increase the oven to 190 degrees c.

In a frying pan add the vegetable oil on medium heat. When hot, start pan frying the onion and add the garlic. Cook until soft (2-3 minutes) and remove from the heat.

Add all the black beans, garlic, onion, salt, Italian seasoning, chilli flakes and crushed fennel seeds to a food processor. Don't over mix, just until it becomes a loose breadcrumb texture. Add the rest of the ingredients including the quinoa. Blend again until a dough texture forms.

Taste and adjust flavours if need be.

Scoop out roughly 1½ tbsp of the dough and roll into small balls. Add to a plate and place in the fridge for 15-20 minutes.

In a frying pan over medium heat, add some oil and heat. Add the meatballs, and slightly brown on each side for a couple of minutes. Transfer the meatballs to an oven-safe dish in a single layer, bake for 30 minutes until dry and completely browned.

Add your favourite vegan meatball sauce: mine is marinara tomato sauce. Serve with pasta or mash and top with a sprinkle of vegan parmesan or nutritional yeast.
If you enjoyed this Homemade Vegan & Gluten-Free Meatballs recipe. You might enjoy more LiberEat recipes including recipes from The Vegan Society Trademark & lots of other amazing creators!
More than 400+ recipes to choose from to satisfy all your cravings!
Some of our other vegan and gluten-free recipes:
Know someone who would like this?
Share it with the links below
LiberEat's allergen and error detection technology provides an allergen safety blanket for food businesses to ensure that consumers are safe and healthy when eating at your restaurant or consuming your food products.
LiberEat offers a second line of defense for food businesses by detecting errors, allergens, and other harmful ingredients. Food businesses can apply this technology directly to identify errors in allergen communications, preventing the risk of injury. Get in touch with us today to learn more about our Allergen Detection Technology.
To find out how LiberEat Technology supports food businesses to detect allergens and errors, to protect consumers