UK Vegan Cereal in your local supermarkets
I'm one of those people that finds something I like and will stick with it until I'm bored. My favourite thing right now is cereal for breakfast, in particular Weetabix. I have it every morning and it never fails to perk up my morning. 
However, I am on the search for a new cereal that I can be just as obsessed with or even a few that I can go in between for some variety. It can be a challenge to find vegan cereals that are suitable for your diet and vegan lifestyle. 
Researching this article I have found so many cereals out there which are vegan and delicious and I wanted to share them with fellow vegans and those trying to eat a more plant-based diet.
At LiberEat, our mission is to make it safe, easy, and fun to find foods suitable for your dietary requirements and the ingredients you avoid. This guide will take you through the best vegan cereal options, some were even accidental that you might not expect to be vegan… score!
Do you know someone who would love this? 
Feel free to share with the links below.
Some ingredients to look out for in cereal are honey, milk, and vitamin D3. Honey is not vegan, so we try to avoid cereals that contain Honey. 
Vitamin D is lacking in a lot of people's diets, so brands include it in foods such as cereal. However, something to be aware of is that there are two types of vitamin D, the first being vitamin D2 which comes from plants so therefore suitable for vegans.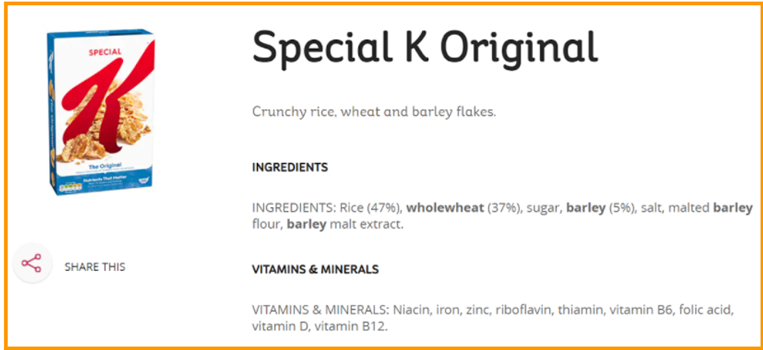 Vitamin D3 usually comes from animals, more precisely from sheep's wool, known as lanolin. Something you'll want to keep an eye out for on the packaging.
Unfortunately, there is no way of knowing whether the Vitamin D in cereals is Vitamin D2 or D3, so some vegans may choose to strictly avoid any cereals including Vitamin D. Special K has Vitamin D in it so this is something to be aware of. We haven't included it in our top ten for this reason.
Plant-based milk for cereal
LiberEat has created an ultimate plant-based milk guide, this will help you discover which milk is best for cereal, tea, or your coffee. Head over now to see which plant-based milk option is best for you, this also includes the nutritional information of each option.
I have had multiple phases in my life of being addicted to Weetabix. I love adding the dairy-free Alpro Yoghurt, berries and maple syrup with milk to my Weetabix serving. It is scrumptious and adds sweetness that I think Weetabix needs but I do have a real sweet tooth so that could just be me.
Weetabix is a whole-wheat breakfast cereal shaped like a rounded rectangle. They are high in fibre and perfect hot or cold. This is one of my favorite breakfast cereals and I am so grateful that Weetabix is vegan-friendly.
The following are all vegan: 
Weetabix Original 
Organic
Banana 
Weetabix Chocolate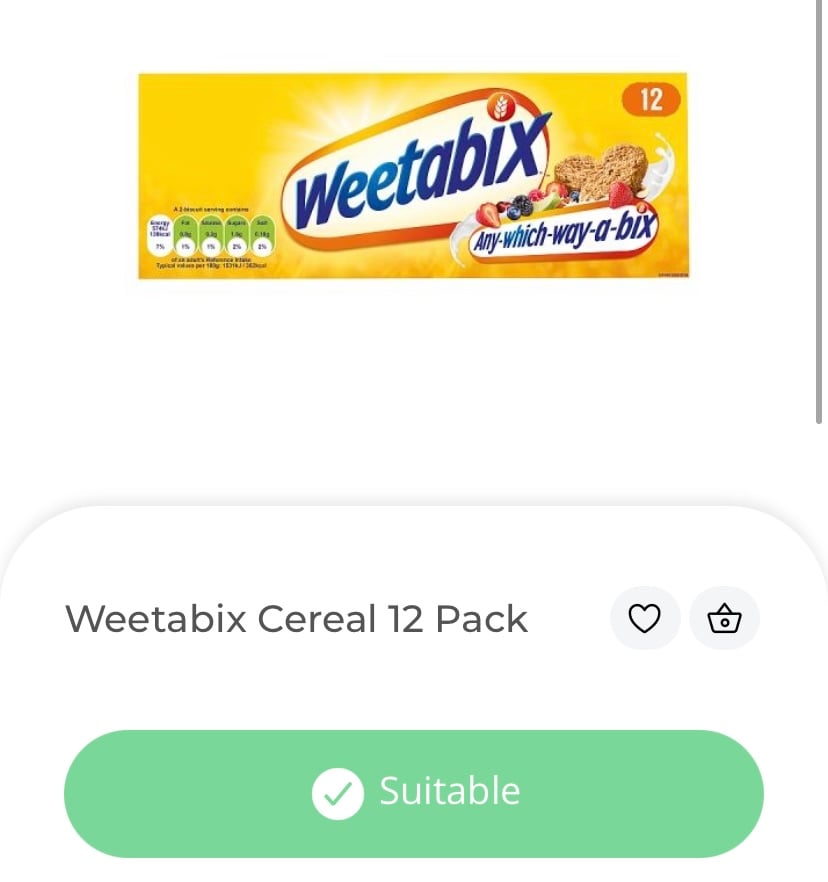 Shreddies are approved by our friends at The Vegan Society Trademark. If you haven't had Shreddies before, they are small squares of weaved whole-grain wheat, they are the perfect breakfast option. They are lovely with oat milk and have a fantastic crunch. 
Great news – Chocolate Shreddies are also vegan!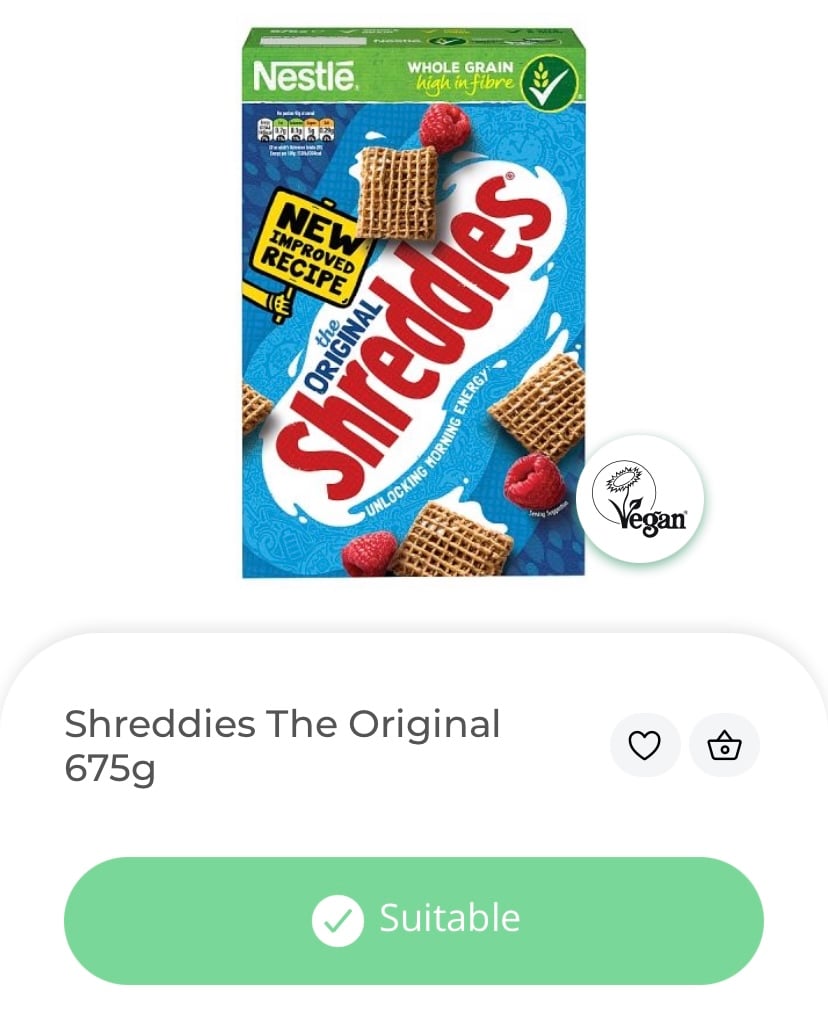 3. Cheerios Oat Low Sugar
Sadly, the majority of Cheerios are not vegan-friendly. There is one exception; Cheerios Oat Low Sugar. These are crunchy low sugar O-shaped cereal which is delicious and perfect for the whole family, especially if you are trying to lower your family's sugar intake.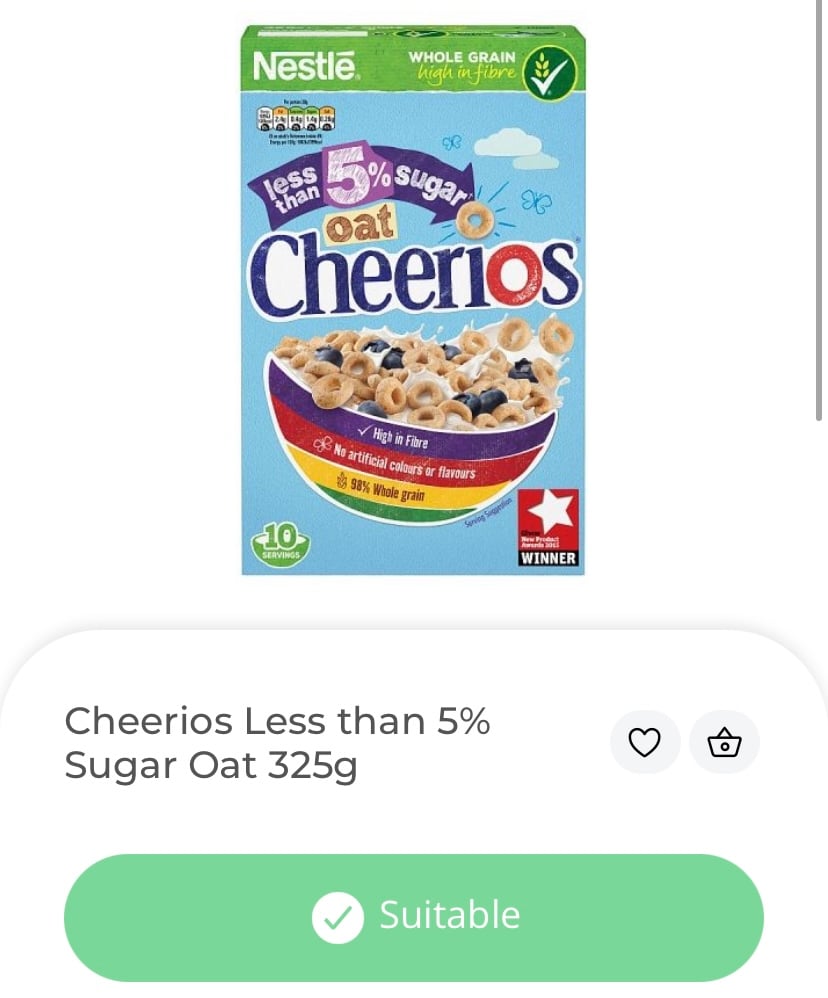 4. Jordan's Strawberry Country Crisp
Jordan's have created crunchy cereal clusters made from the best whole grain British oats. This can be used as granola or cereal; either way, you will be seriously satisfied by the crunch. They are also high in fibre.
The following are also suitable for vegans:
Country Crisp Chunky Nuts
Country Crisp Raisin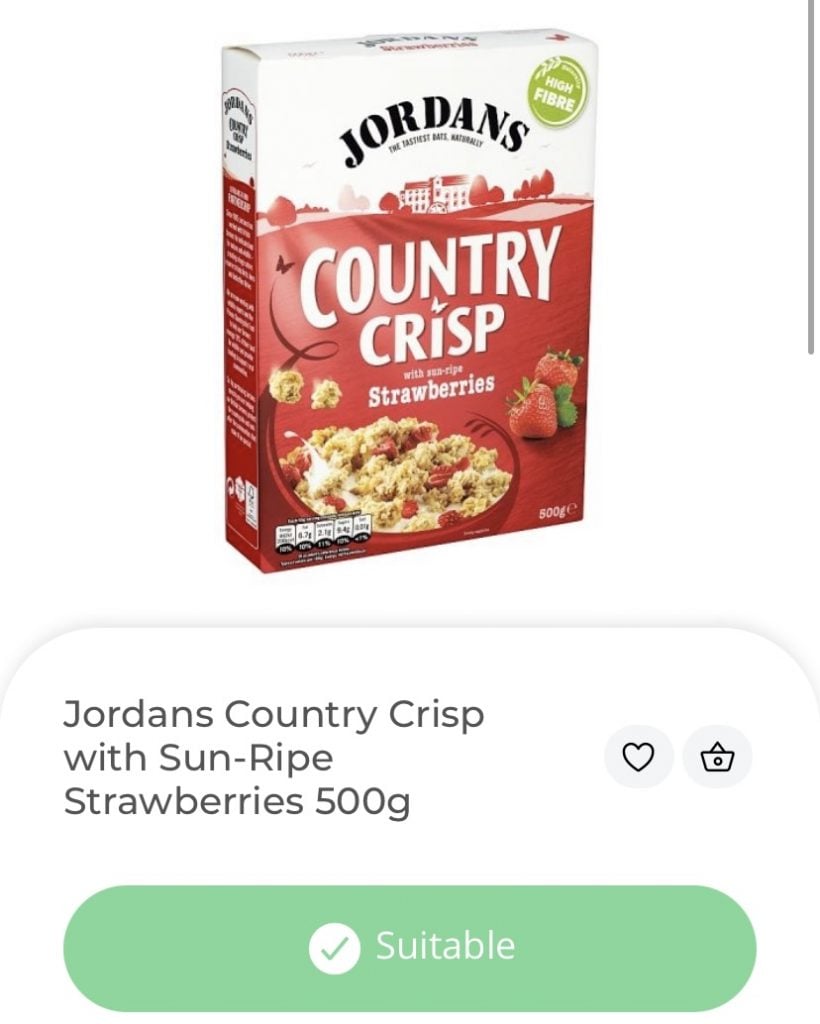 Quaker Oats produce porridge packs or boxes and are vegan. A wholesome and warm breakfast for champions and on cold mornings, you cannot go wrong. Most of their instant oat flavours are vegan except from 'Honey and Vanilla' or 'Maple Pecan'. 
These are all safe vegan options:
So Simple Original
So Simple Golden Syrup
Quaker Rolled Oats
 So Simple Chocolate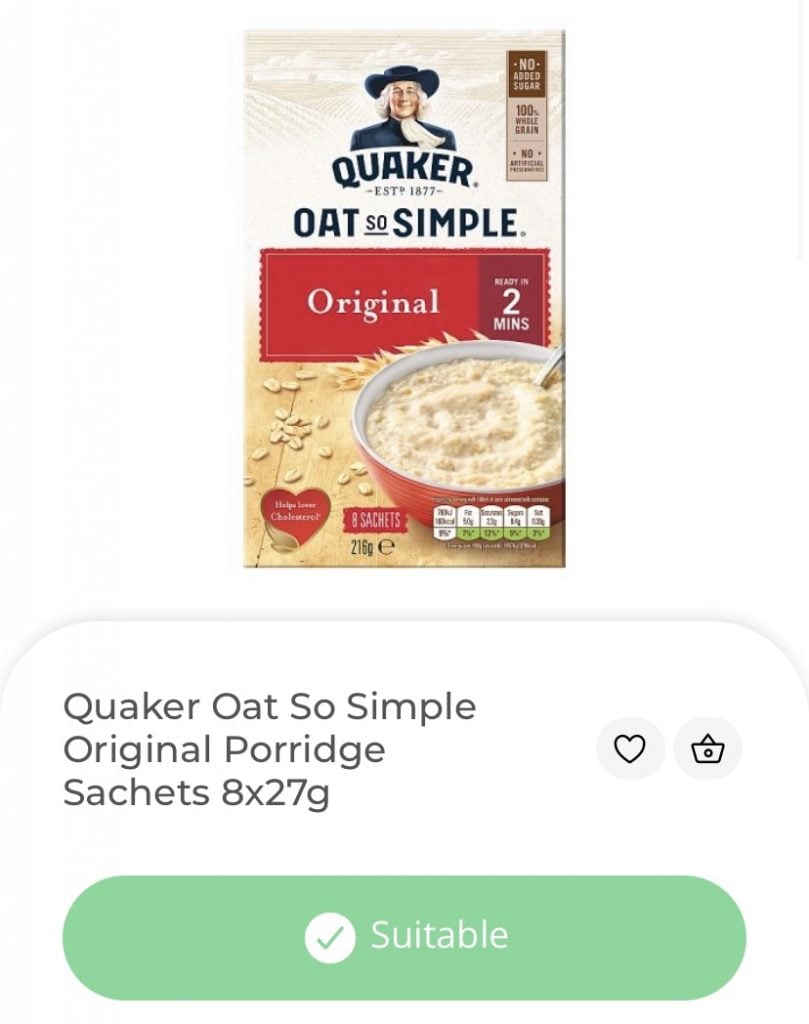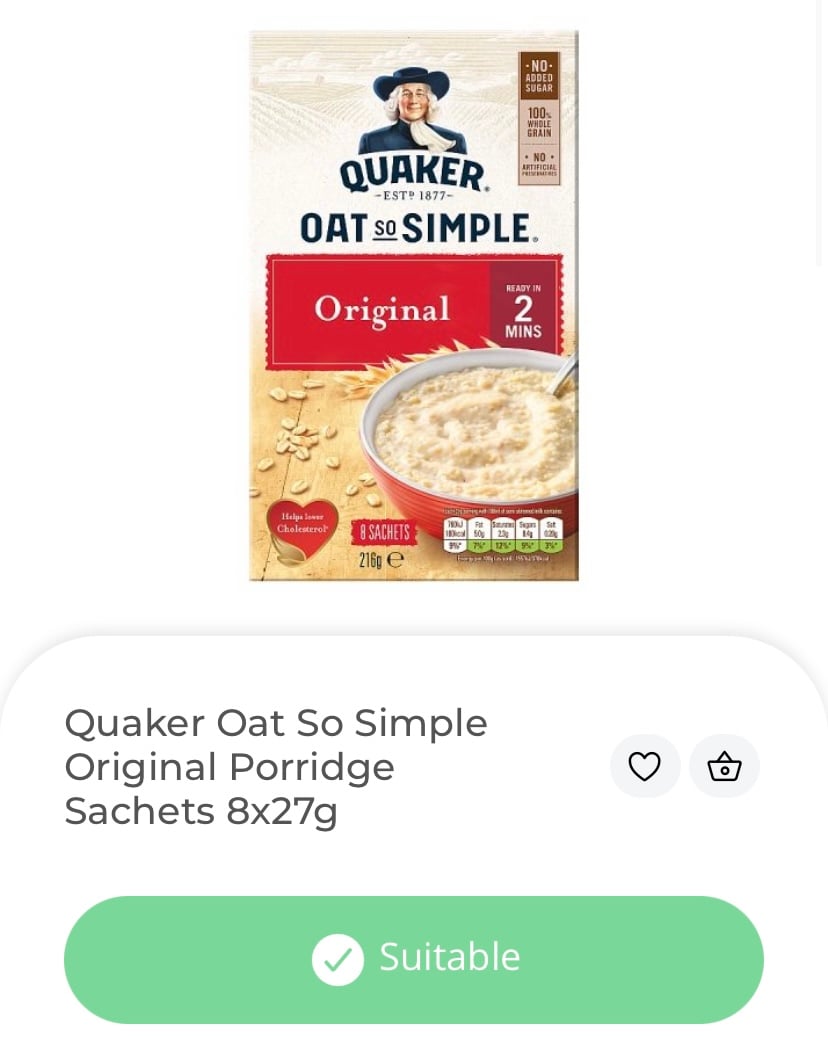 Shredded Wheat breakfast cereal is pillow-shaped, delicious, and made from whole wheat. Certified by The Vegan Society Trademark so a perfect vegan-friendly breakfast to enjoy with hot or cold plant-based milk. In winter, it's absolutely perfect with some warmed oat milk and a sprinkle of cinnamon.
Shredded Wheat cereal comes in three sizes: bite-size, original, and miniature. The two smaller sizes come with a frosted option which is coated in sugar and usually contains gelatin (which, of course, is not vegan) so you may want to avoid the frosted options.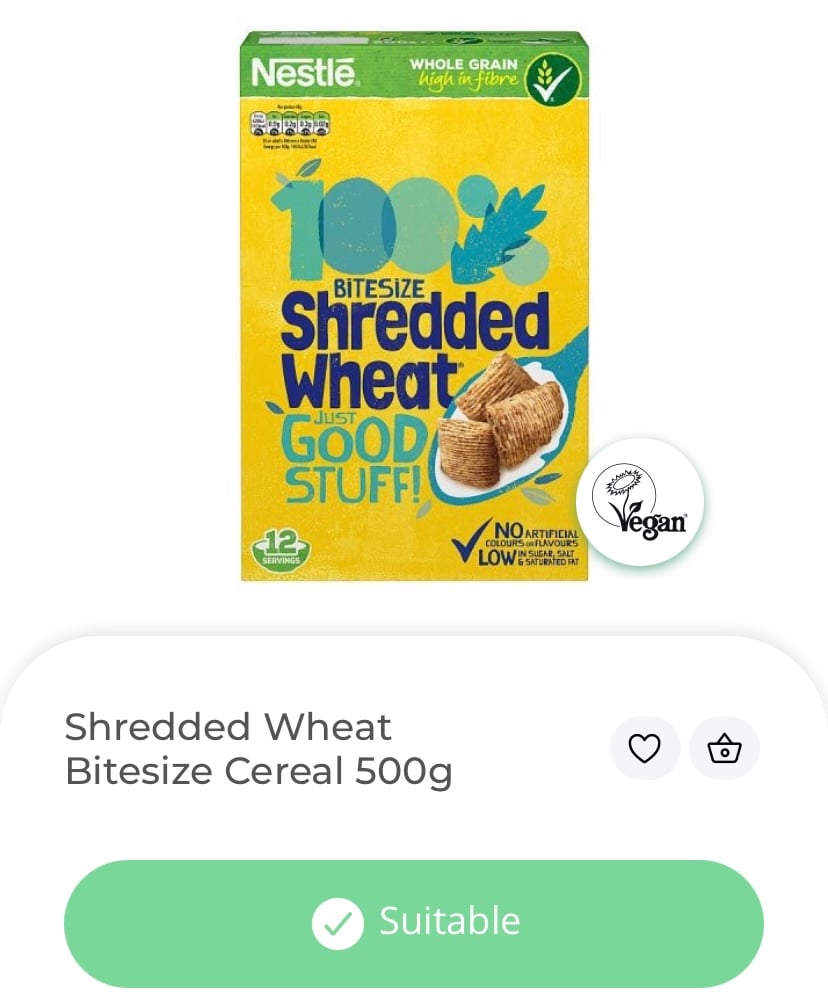 Unfortunately Kellogg's Special K and Bran Flakes are not vegan but we have an alternative and again it is approved by our friends at The Vegan Society Trademark, these Asda own-brand Bran Flakes are the best way to kick start your day as they are full of iron, high in fibre and lots of other vitamins.
Serve with your favourite plant-based milk.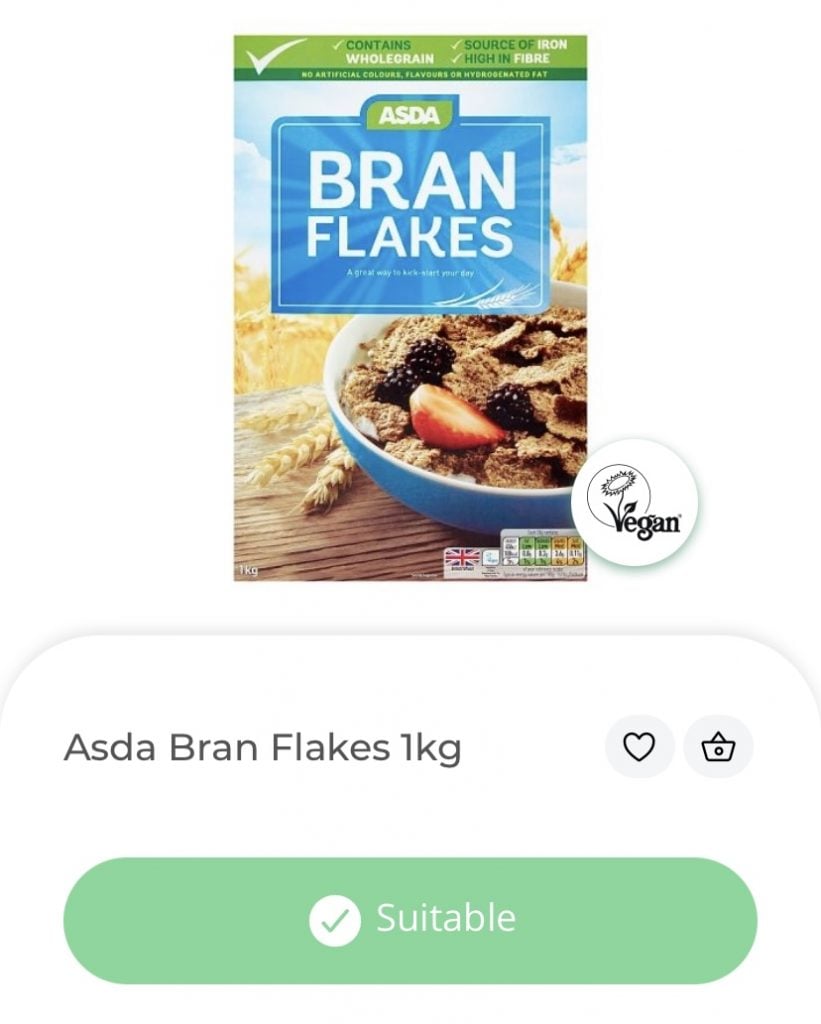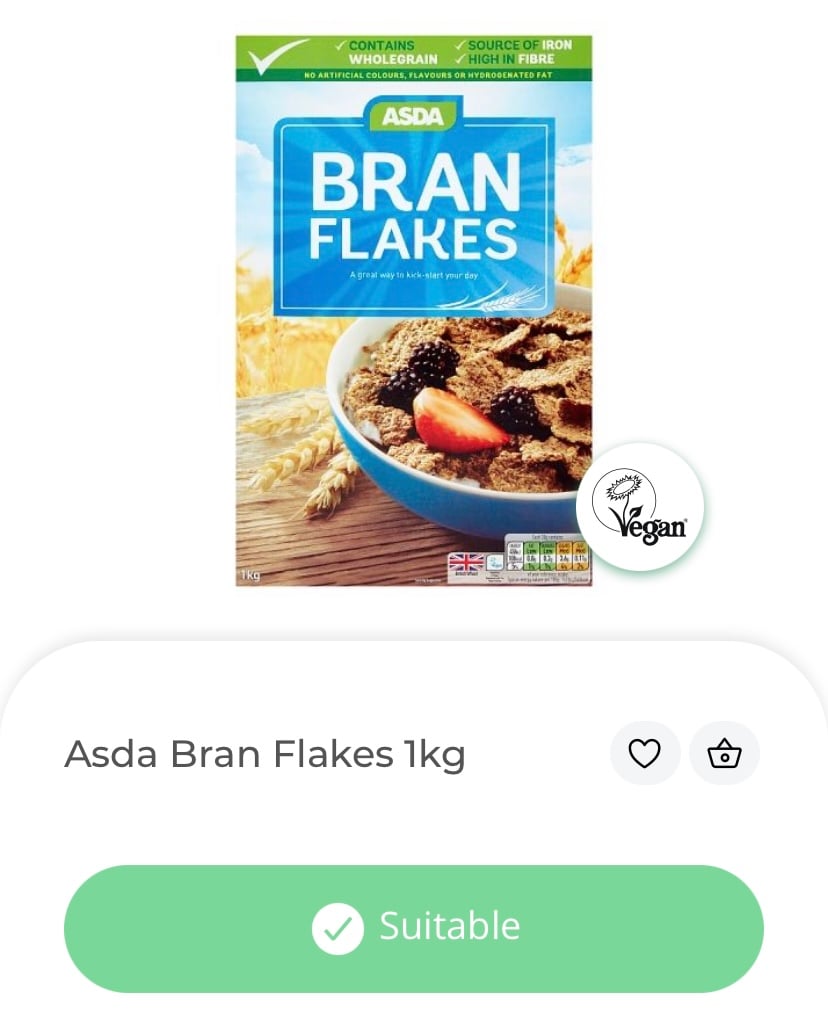 Dorset Cereals have lots of vegan options, they manufacture granola, porridge, and muesli in a variety of different flavours for everyone to enjoy.
Below is just a few vegan options:
Bircher Muesli Mix Raspberry & Blackcurrant
Simply Fruity Muesli 
Gloriously Roasted Nut Muesli 
Fantastically Fruity Muesli 
Simply Nutty Muesli 
Luscious Berry & Cherry Muesli 
Simply Delicious Muesli 
Our Lovely Organic Muesli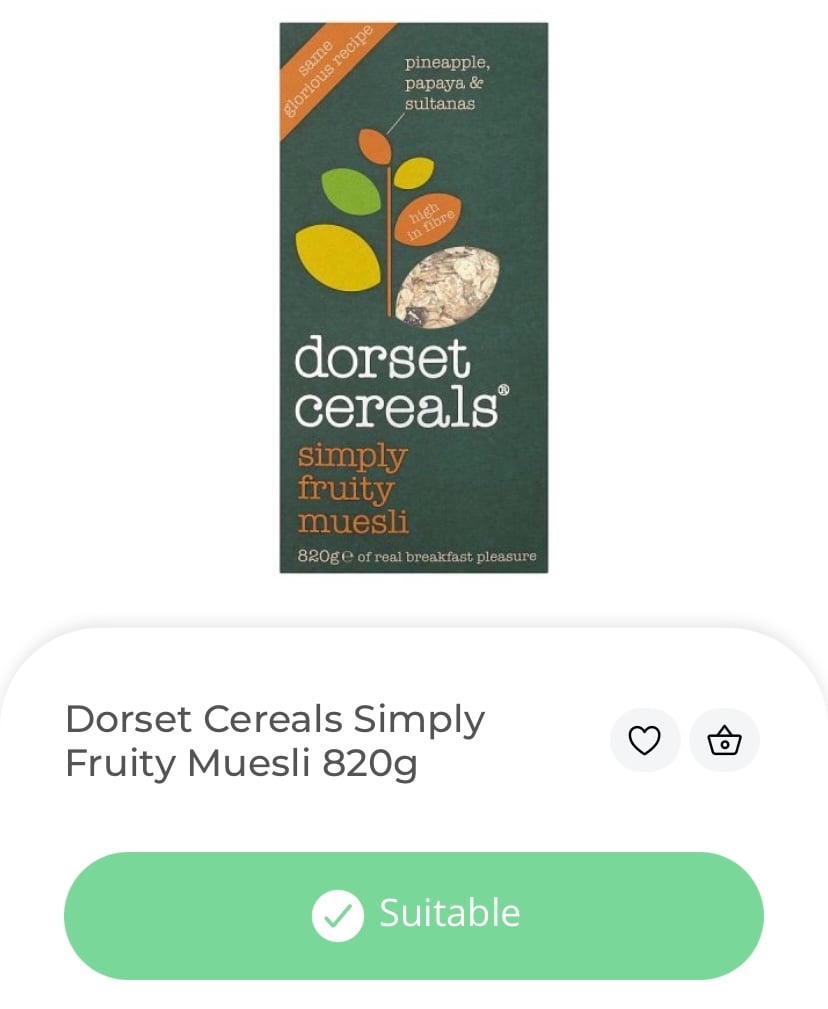 9. Kellogg's Plant Protein Crunch
Kellogg's Plant Protein Crunch is a mixed puffed cereal made with four whole grains including oats, spelt, barley and rice. Perfect for savouring, baked to perfection with a snappy crunch. 
These are a source of plant protein, palm oil-free, tasty flavours and high in fibre! 
Vegan-friendly options include:
Kellogg's No Added Sugar Granola ('Coconut, Cashew & Almond'/' Raspberry, Apple & Carrot'/ 'Simply Granola')
Plant Protein Crunch 'Dark Chocolate & Coconut' & 'Original'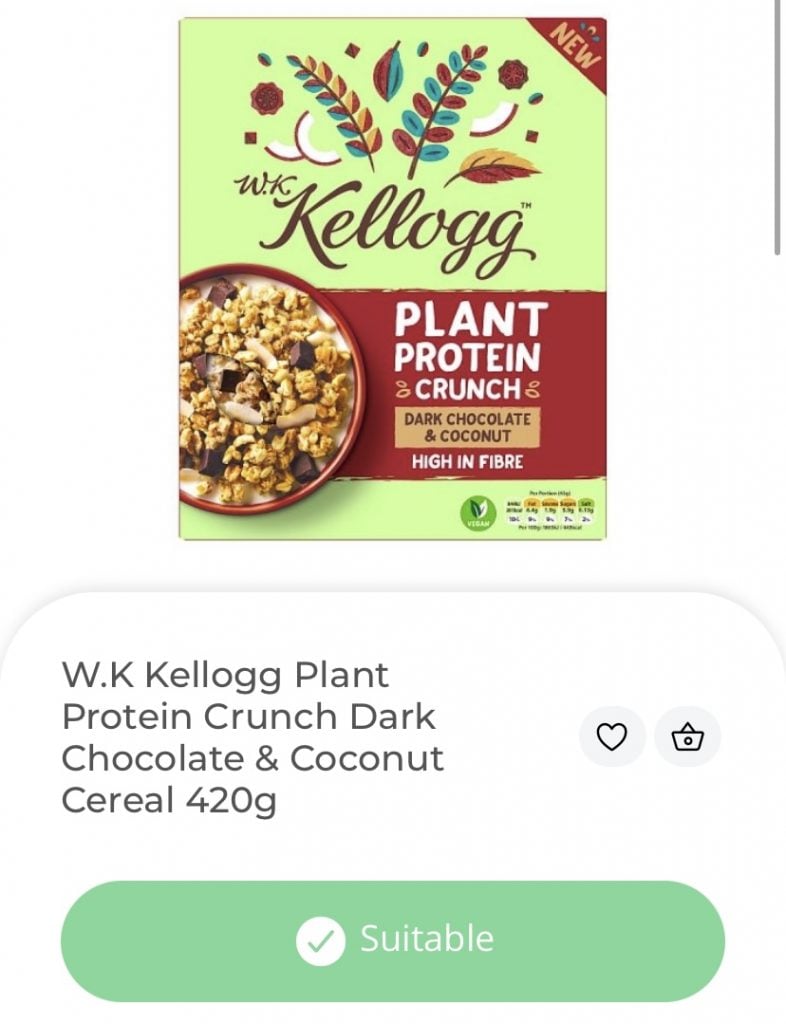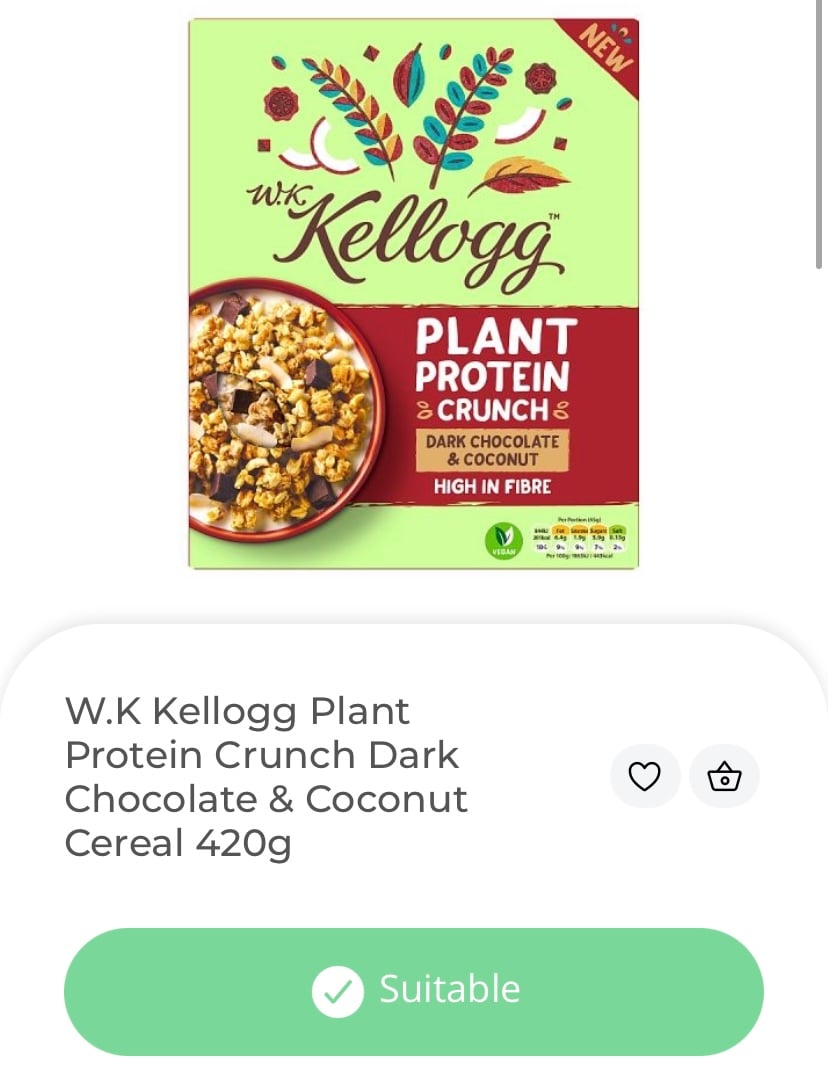 Unfortunately, Kellogg's Coco Pops are not vegan-friendly, but Asda offers a fantastic alternative: Choco Balls. The perfect breakfast cereal to curb your chocolate cravings in the morning, afternoon, or evening – no judgement here. Who needs Coco pops after all… 
We have done our research to discover the best vegan cereals for you to try. Please let us know if we have missed out on any of your favourite vegan cereals and we will make sure to add them in to share with the LiberEat community. 
Do you know someone who would love this? 
Feel free to share with the links below.
LiberEat's allergen and error detection technology provides an allergen safety blanket for food businesses to ensure that consumers are safe and healthy when eating at your restaurant or consuming your food products.
LiberEat offers a second line of defense for food businesses by detecting errors, allergens, and other harmful ingredients. Food businesses can apply this technology directly to identify errors in allergen communications, preventing the risk of injury. Get in touch with us today to learn more about our Allergen Detection Technology.
To find out how LiberEat Technology supports food businesses to detect allergens and errors, to protect consumers