Hannah from @letstalkfoodallergies tells Team LiberEat about living with nut and other food allergies​
Today we hear from one of our amazing LiberEat Creators. Our Creator Community contributes hints, tips and recipes for those who also avoid certain ingredients, whether that is due to allergies, intolerances or lifestyle choices. We are so grateful to have Hannah from @Letstalkfoodallergies on board to share her journey so far. If you would like to share your story or recipes with our community, please drop us a line at [email protected]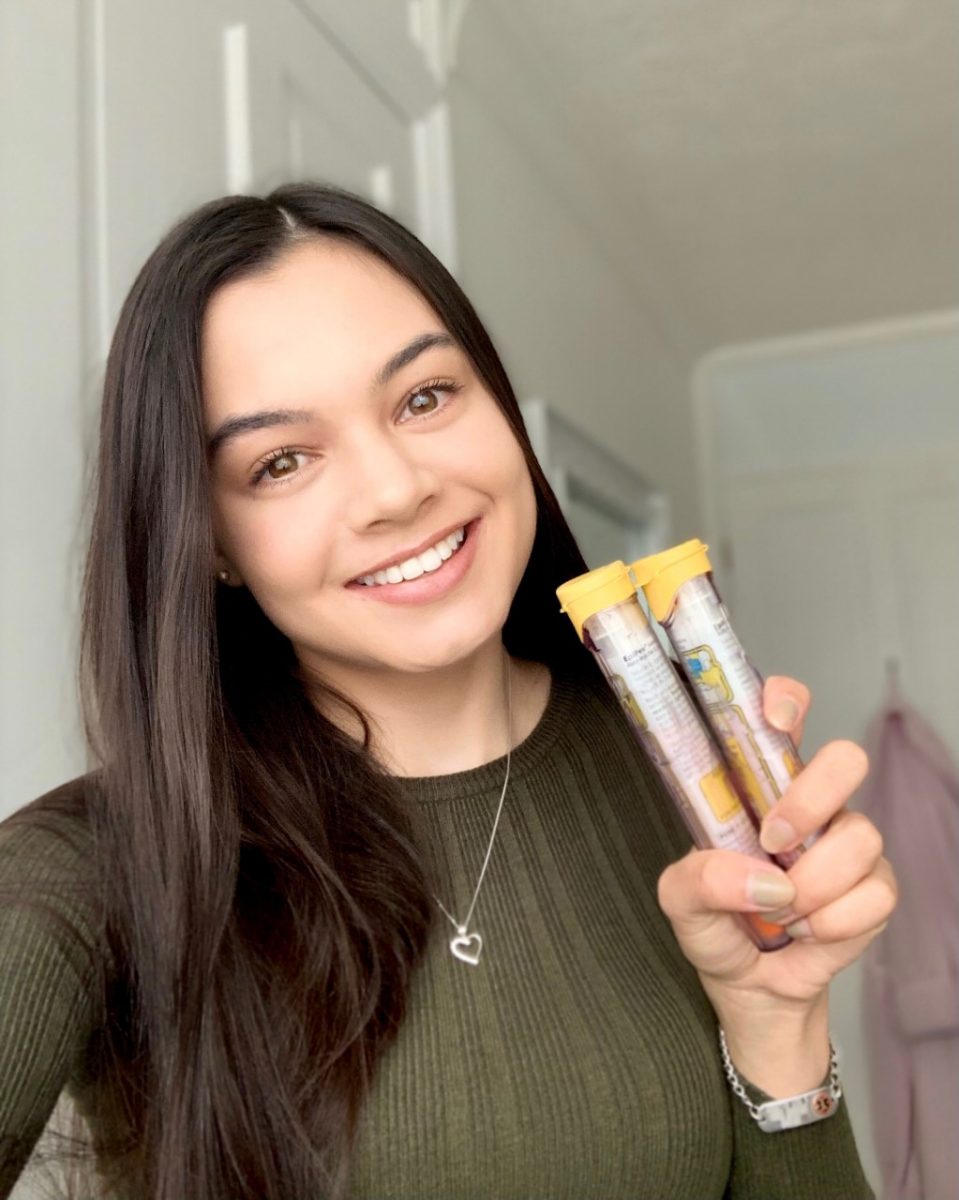 Tell us all about you, Hannah! ​
Hi, my name is Hannah, I'm 21 years old and I'm a student from Hertfordshire. I created the Instagram page @LetsTalkFoodAllergies to help raise awareness for allergies, to connect with other people affected by allergies, and to hopefully help others by sharing my experiences and tips for managing allergies in different situations from school to travelling to dating and more! I have multiple severe food allergies myself, and I also have oral allergy syndrome which restricts the fruits/veg that I'm able to eat raw.
How did you discover your food allergies and dietary requirements? ​
I experienced my first allergic reaction when I was very young. I was given peanut butter to try but I came out in a bad rash, so my parents avoided giving me peanuts from then on. Then when I was a toddler I reacted badly to peas. There was definitely less awareness surrounding food allergies and the process of diagnosis back then so I didn't get properly tested and diagnosed until after I had experienced another more severe reaction when I was five. This time I reacted to a sesame seed roll. I then had blood tests and skin prick tests (as shown in the photo) done, and got properly diagnosed. Now my diet is free from peanuts, tree nuts, sesame, peas, beans, lentils, lupin, and fenugreek. Since my diagnosis, I've lived very cautiously and have been lucky enough not to have experienced a reaction since!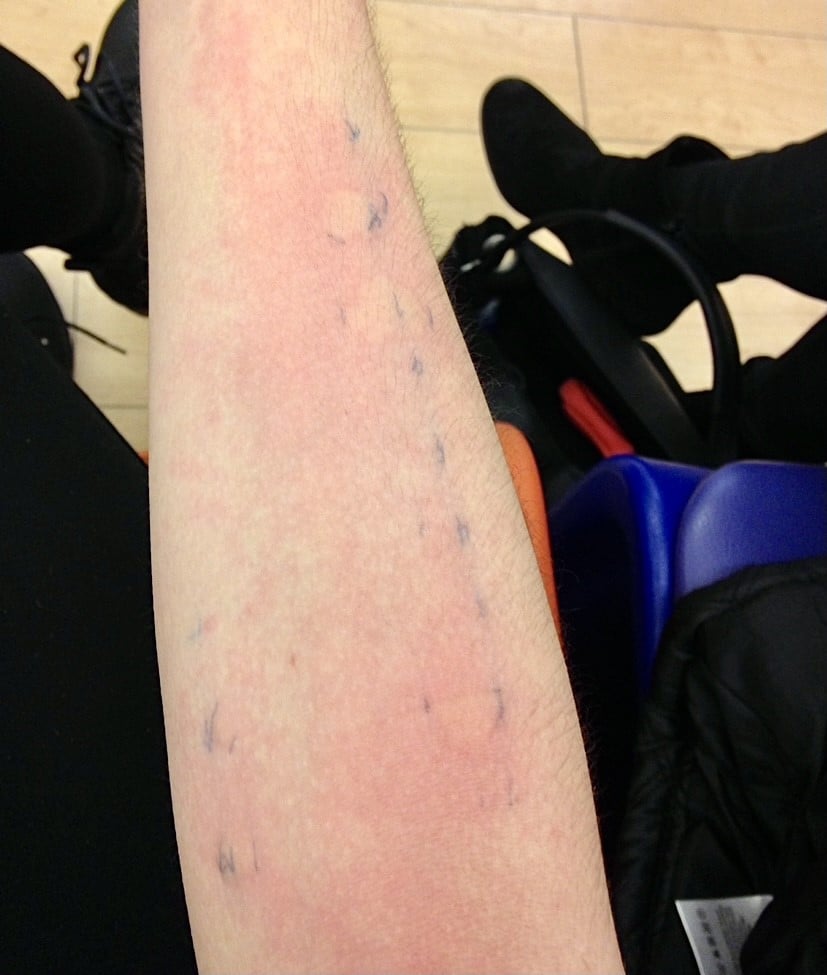 Is there anything you enjoy about living with your dietary requirement?​
Living with dietary restrictions is challenging, but there have definitely been some positives that have come from it. I undoubtedly eat a lot healthier than I think I would have if I didn't have allergies because I'm more aware of what I'm putting into my body. I'm probably a better cook than I would've been as well, and I know that it definitely saved me a lot of money at university when my flatmates would get takeaways regularly and I'd cook instead!
What were the biggest challenges that you faced?​
One challenge people with allergies (like me) face is finding ways to make allergy-friendly equivalents of foods that we'd otherwise be unable to try. For example, I really wanted to try pesto but pine nuts (and sometimes other nuts too!) which I'm allergic to are a key ingredient in most pesto sauce recipes, so it was a challenge to find one that I could try. 
I think another challenge that people with dietary restrictions often face is the feeling of missing out. I know as a child this was definitely something that bothered me more than it does now as I remember often struggling to see other people eating things that I couldn't, or doing things that I couldn't do like going to restaurants or getting takeaways.
What is the biggest misunderstanding someone has had about your dietary requirements?​
I think the biggest misconception that people have when it comes to allergies is that they believe that small amounts of an allergen won't cause a reaction. A small trace of an allergen can still cause a severe reaction for me, and I've had to explain before that simply picking out the nuts in a meal would not then make the meal safe for me to eat.
Who inspires you on your allergy journey?​
There are so many amazing allergy awareness accounts on Instagram and it's those that really inspire me to continue creating and sharing content on my account so that we as a community can collectively raise more awareness. I've been able to speak with so many people who have allergies themselves or care for someone who has allergies, and these conversations motivate me to want to continue sharing my experiences and tips to help others because so many people are affected by allergies nowadays. 
Hannah's two favourite allergy awareness accounts on Instagram are:
@Allergieswithayah 
@The.allergytable 
For more recipe inspiration visit Lindiwe's Blog and to read more about her experiences about living with food allergies check out Ayah's Blog.
What has been your best 'free from' find?​
My favourite free-from product is probably NOMO chocolate – it's free from dairy, gluten, egg and nuts!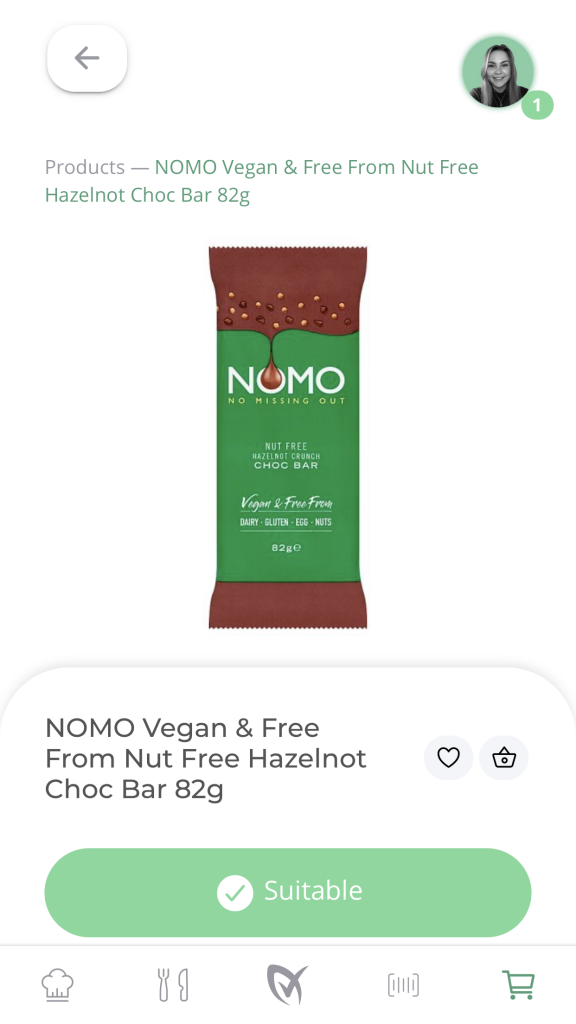 What are your top tips for someone starting out an allergy-friendly diet?​
Read the ingredient labels every time you buy a product even if you've bought it before. Recipes can change! Remember that refusing food that you aren't sure is safe doesn't make you a burden.
Don't think that a certain meal that you want to cook is off limits just because most recipes use your allergen! There are lots of alternatives/substitutes that can be used in the recipe to make the dish safe.
Thank you Hannah for sharing these inspiring experiences and for joining us on our mission to make food safe and easy for everyone.
You can follow Hannah via Instagram: @letstalkfoodallergies
Some of our other favourite allergy friendly blog posts:
LiberEat's allergen and error detection technology provides an allergen safety blanket for food businesses to ensure that consumers are safe and healthy when eating at your restaurant or consuming your food products.
LiberEat offers a second line of defense for food businesses by detecting errors, allergens, and other harmful ingredients. Food businesses can apply this technology directly to identify errors in allergen communications, preventing the risk of injury. Get in touch with us today to learn more about our Allergen Detection Technology.
To find out how LiberEat Technology supports food businesses to detect allergens and errors, to protect consumers