Delicious, homemade, and Vegan Katsu Curry. There's no need for a takeaway when you can make this fantastic 'fakeaway'. This dish takes care of all your curry cravings and will leave you (or your family and friends) asking for more.
We've managed to make this recipe, so it is suitable for people avoiding gluten and products derived from animals – or people who just love to cook with plant products.
Katsu Curry has to be one of my favourite meals. If you haven't tried the Vegan Katsu Curry at Wagamama, you're missing out big time. Either way, you can try our Vegan Tofu Katsu Curry here – easier on your purse strings but with no sacrifice on flavour!
Our Katsu Curry sauce is super simple, requiring just a few staple household ingredients and spices. 
This sauce is the key to the katsu tofu curry dish and if you are one to like a lot of sauce you may want to double the quantity, to make it super saucy. Can you ever have too much sauce? Especially when it tastes this amazing. 
Gluten-Free Breaded Tofu Recipe
You will want to use extra-firm tofu, I used a UK brand for this recipe called Tofoo Extra Firm Tofu.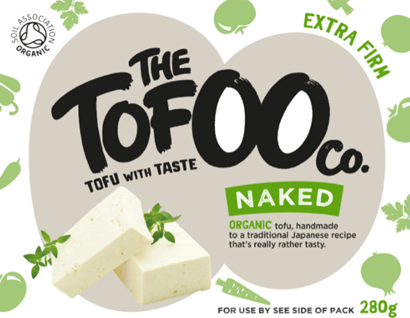 First of all, we will want to squeeze as much water out of the tofu as possible with a tofu press or if you do not own a tofu press:
Use a clean tea towel and wrap it around the tofu. 
Place a chopping board on top and then add heavy items such as a saucepan filled with jars for example. 
Leave for 30 minutes or so and up to 100ml of water can be removed from the tofu.
This part can be a little bit fiddly. You need to fill three separate bowls with cornflour, plant-based milk, and breadcrumbs.
You will add each slice of tofu to the cornflour first, then milk, and finally gluten-free breadcrumbs. If you can't get hold of gluten-free breadcrumbs, you can use gluten-free and vegan corn flakes crushed up. Ensuring that the tofu is fully coated, you can repeat a couple of times.
Quorn Vegan Nugget Katsu Curry
If you do not have time or don't have tofu in and you are really craving a Katsu Curry. You can use Quorn Vegan 'chicken' nuggets instead of tofu and it still works like a treat. Worth flagging here that these are not gluten-free.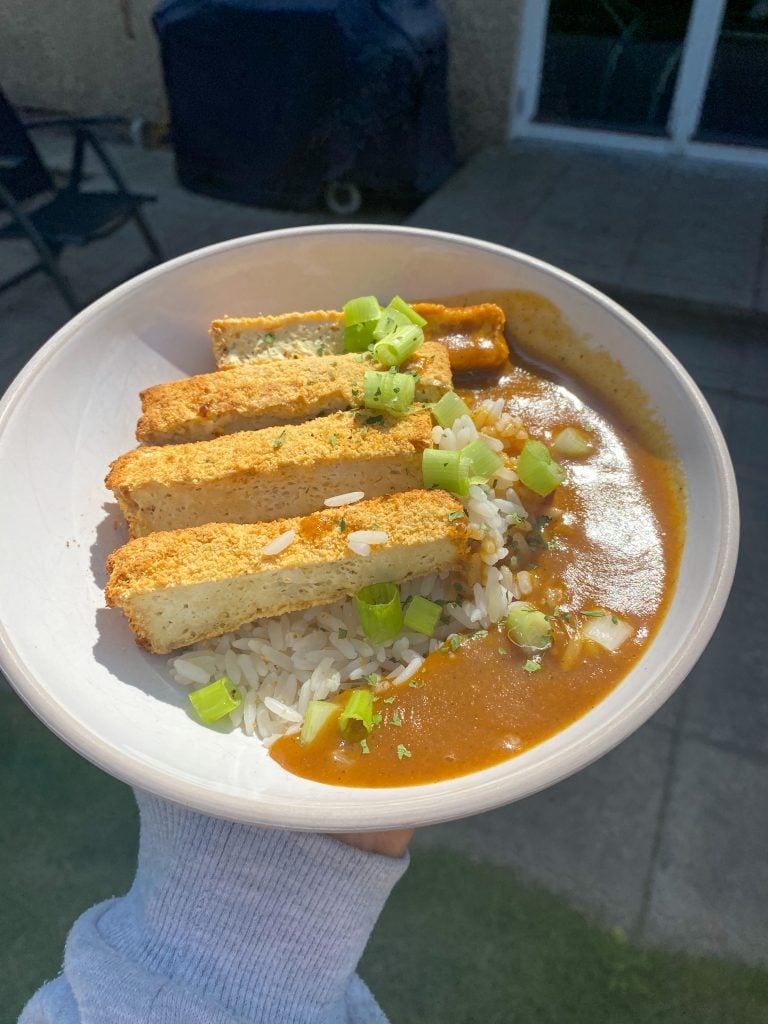 Gluten-Free and Vegan Tofu Katsu Curry Recipe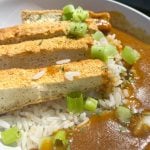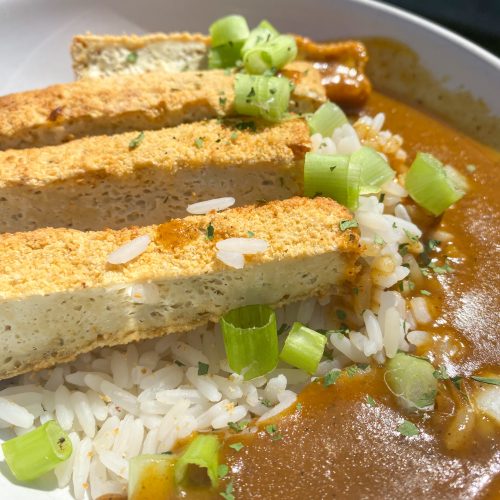 Print Recipe
Vegan Tofu Katsu Curry Recipe
No need to order from Wagamama when you can make a homemade Vegan Tofu Katsu curry, nutritious and delicious!
Ingredients
For the Katsu Sauce
1

onion

2

cloves

garlic

1

pinch

ginger

1

tbsp

curry powder

1/2

tsp

turmeric

1/2

tsp

chinese five spice

salt and pepper

to taste

15

g

gluten-free plain flour

500

ml

vegetable stock

1

tbsp

maple syrup

1

tbsp

tomato puree
For the tofu
1

pack

extra firm tofu

2

tbsp

cornflour

40

g

gluten-free panko breadcrumbs

50

ml

unsweetened almond milk

or any other plant-based milk

salt and pepper
To serve
Rice of choice

sushi, basmati, brown

2

spring onions

1

tsp

freshly chopped coriander
Instructions
For the Katsu Sauce
Heat a tbsp of oil in a saucepan, add the onion and cook for a couple minutes or until soft. Add the garlic and ginger and fry for a couple more minutes.

Take off the heat and add the curry powder, turmeric, chinese five spice and season with salt and pepper. Put back on heat and cook for 1 minute. Add the gluten-free plain flour and then gradually add in the vegetable stock.

Add the tomato puree and maple syrup, let simmer for 10-15 minutes, stirring occasionally.

Remove from the heat and blend until smooth. You can return to the pan to keep warm.
For the tofu
In three separate bowls, place the cornflour, milk and breadcrumbs. Season the GF breadcrumbs with salt and pepper.

Cut the tofu into 6 even slices, use a kitchen roll sheet to pat these dry.

Place the tofu into the cornflour, milk, then breadcrumbs, ensuring they are all thoroughly coated.

Add to the airfryer or on a baking tray in your oven and cook on 200 degrees for 15-20 minutes or until lightly golden brown.
To serve
Cook rice according to package instructions. Warm the sauce. Chop the spring onions. Cut the Tofu slices in half.

Divide the rice between bowls, top with tofu and pour the warm curry sauce over the top. Add the spring onions and coriander. Enjoy!
Try out more of our favourite vegan blog posts:
Know someone who would like this?
Share it with the links below. 
LiberEat's allergen and error detection technology provides an allergen safety blanket for food businesses to ensure that consumers are safe and healthy when eating at your restaurant or consuming your food products.
LiberEat offers a second line of defense for food businesses by detecting errors, allergens, and other harmful ingredients. Food businesses can apply this technology directly to identify errors in allergen communications, preventing the risk of injury. Get in touch with us today to learn more about our Allergen Detection Technology.
To find out how LiberEat Technology supports food businesses to detect allergens and errors, to protect consumers