Gluten-Free and Vegan Cauliflower Cheese UK
Introducing… THE BEST Vegan and Gluten-Free Cauliflower cheese recipe! Yes, I said the BEST! Now please try it out for yourself! If you love this as much as we do, then please tag LiberEat in your social media posts! 
The flavour is so cheesy, rich, and incredibly easy to make without any dairy or cheese! You will have everyone fooled by this vegan-friendly recipe. 
I would recommend serving this straight out of the oven. 
You might not be able to resist digging in right away because the smell is dangerously good. If you manage to wait you can heat any leftovers in the oven or even in the air fryer. 
You might not feel like sharing this one with family and friends, and that's OK too!
The Best Gluten-Free and Vegan Cauliflower Cheese Sauce
You can use this vegan cheese sauce for other recipes. Such as our vegan macaroni and cheese (keep reading for our cauliflower spin on this). Or over nachos or just as a yummy gooey dairy-free cheesy dip.
If you try our favourite vegan and gluten-free cauliflower cheese recipe let us know!
Leave a comment telling us how much you enjoyed, or tag us on Instagram, use #LiberEat to show us your creation!
The best cauliflower cheese recipe
So, if you are ready to impress your friends and family with the perfect and most delicious side dish. Whether it is for Christmas, a roast dinner, or just as a celebration of cauliflower on its own. 
Let's get on with the recipe!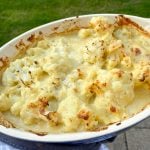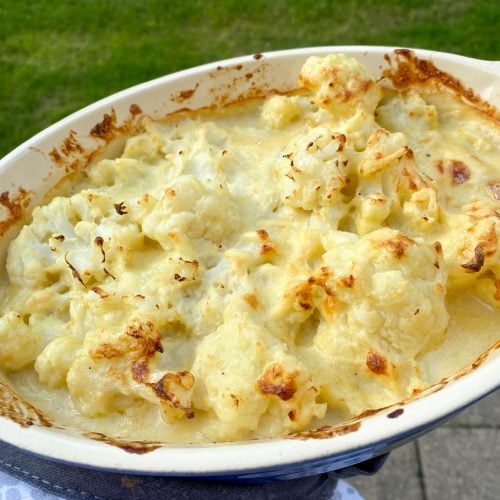 Print Recipe
The best vegan and gluten-free cauliflower cheese recipe
Ingredients
1

cauliflower head

around 500g

40

g

cashews

200

ml

plant-based milk

unsweetened almond milk

4

tbsp

nutritional yeast or parmesan cheese

1

tbsp

olive oil

1

tsp

dijon mustard

salt and pepper

to taste
Instructions
Preheat oven to 200 degrees C

Slice the cauliflower head into large florets.

Add the cauliflower into a large pan and boil for 5 minutes until they have softened a little.

In a separate pan, add the cashews to boiling water for 5 minutes and then drain. Add to a blender along with the milk, oil, nutritional yeast, mustard and salt and pepper. Blend until smooth.

Drain the cauliflower and place into a baking dish, pour over the creamy cheesy sauce and bake for 15-20 minutes until golden.
If you thought that was amazing, you might like our hack to turn this into a Vegan and Gluten-free Cauliflower Mac and Cheese! Yes, you heard us right.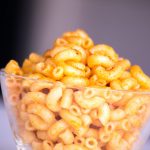 Print Recipe
The best vegan and gluten-free cauliflower Mac & Cheese recipe
Our favourite gluten-free and vegan mac & cheese! So gooey and cheesy that you will be amazed it is dairy and cheese free.
Ingredients
Further Ingredients:
150

g

Gluten-Free macaroni

We used Morrisons 'Free From' Macaroni Pasta, as it's gluten-free and vegan

1

pinch

salt

for the pasta

50

g

vegan cheese

we used Morrisons V Taste Red Leicester, a coconut oil alternative to Red Leicester

1

tbsp

nutritional yeast
Instructions
Follow all of the instructions above for our delicious cauliflower cheese but before step 4, pop your macaroni in a pan of hot salted water and cook 4 minutes less than the packet instructions.

When the cauliflower cheese has been in the oven for 10 minutes. Mix in the cooked macaroni with two tablespoons of pasta water. This helps to loosen up the sauce a little and to cover the macaroni.

Top with the grated vegan cheese and a sprinkling of nutritional yeast.

Bake until the cheese is golden on top with a little 'crunch' from the nutritional yeast.
Enjoy! This one is a total game changer!
Some of our other vegan and gluten-free recipes:
Know someone who would like this?
Share it with the links below. 
LiberEat's allergen and error detection technology provides an allergen safety blanket for food businesses to ensure that consumers are safe and healthy when eating at your restaurant or consuming your food products.
LiberEat offers a second line of defense for food businesses by detecting errors, allergens, and other harmful ingredients. Food businesses can apply this technology directly to identify errors in allergen communications, preventing the risk of injury. Get in touch with us today to learn more about our Allergen Detection Technology.
To find out how LiberEat Technology supports food businesses to detect allergens and errors, to protect consumers