Today we are looking into all things avocado!! You can add avocados to so many recipes for added nutrients and healthy fats. 
With Avocados being so versatile, you can incorporate them into your daily diet, or you can eat avocados as they are, a little bit of seasoning with rock salt and black pepper, and you have a delicious and healthy snack. That is the fantastic thing about avocados! You can use them for breakfast on toast, or a salad for lunch, dinner, or even as a dessert!
Top 10 ways to use an avocado (Avocado recipes: salad, avocado brownies, avocado smoothies)
We will take you through the Top 10 best ways to use an Avocado today! Whether you have an avocado in your kitchen that needs to be used, or if you would like to start adding some healthy fats and nutrients into your diet!
Before we get into the best ways to use an avocado, let's talk facts – so you can understand why we love avocados so much!
Here are just a few things that we love about avocados:
Half of an average-sized avocado has 4.6 grams of fibre 

An avocado has more potassium than bananas 

One medium avocado without its skin contains: 225 calories, 21 grams of fat, 9 grams of fibre, potassium, Vitamin E, Vitamin K, and carotenoids

Avos are an excellent source of monounsaturated fatty acids (specifically, oleic acid, which has been linked to

reducing inflammation

)

Adding avocados to your diet may help to increase nutrient absorption, specifically with vitamins A, D, E, and K, which are fat-soluble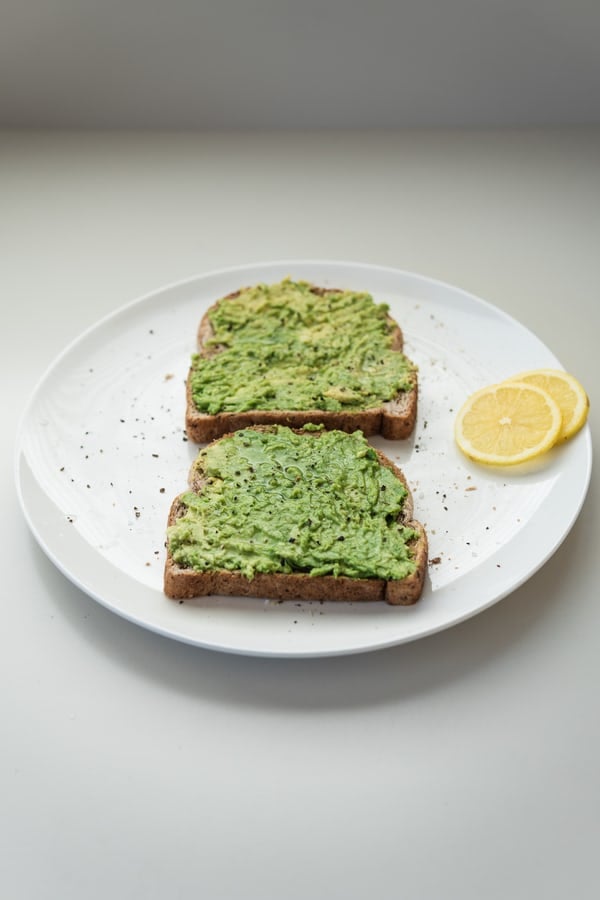 Probably the most popular way to use an avocado. Creamy sliced or mashed avocado on a slice of thick fresh bread is an easy and quick go-to breakfast, lunch, or dinner. It's so delicious and so quick which makes the joy of eating it even more enjoyable! 
All you need to do is mash an avocado in a bowl (with a fork) until smooth and creamy. Unless you like it sliced, that is also an option and just as delicious. I also like to add a little pinch of salt and black pepper.
The best thing about Avo Toast is you can customise it in so many different ways. I also like to add in lime and chilli flakes if I'm feeling adventurous. But you can add: sliced red onion, tomatoes, balsamic vinegar, sriracha sauce, garlic, poached eggs… the list goes on and on – make it how you like it or experiment with new combinations!
Famous as an accompaniment to most Mexican dishes and so easy for us to make at home. This guacamole recipe goes perfectly with tacos or just a dip with some nachos.
Ingredients (4 servings): 
3 avocado peeled, pitted and mashed 

1 lime, juiced (or a tbsp of lime juice)

1 tsp of salt

½ diced red onion 

2 plum tomatoes, diced

1 clove minced garlic 

3 tbsp chopped cilantro 

1 pinch cayenne pepper

1 pinch of smoked paprika
Method: 
Mash avocado, lime and salt in a bowl. Mix all the other ingredients into the bowl. And serve.
3. Avocado Chocolate Mousse
This vegan mousse using avocados with a dark chocolate flourish will satisfy your chocolate cravings. This recipe can be whipped up in under five minutes in a food processor and only has five ingredients! You can eat it as a dessert or even as a decadent breakfast!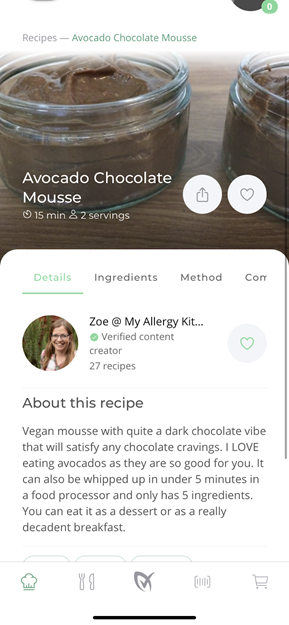 Avocados can add extra fats and fibres to salads which will keep you fuller for longer. As salads can be low in calories, avocados are the perfect addition to make it a more filling meal.
5. Avocado Breakfast Omelette (Kirsty @ LiberEat)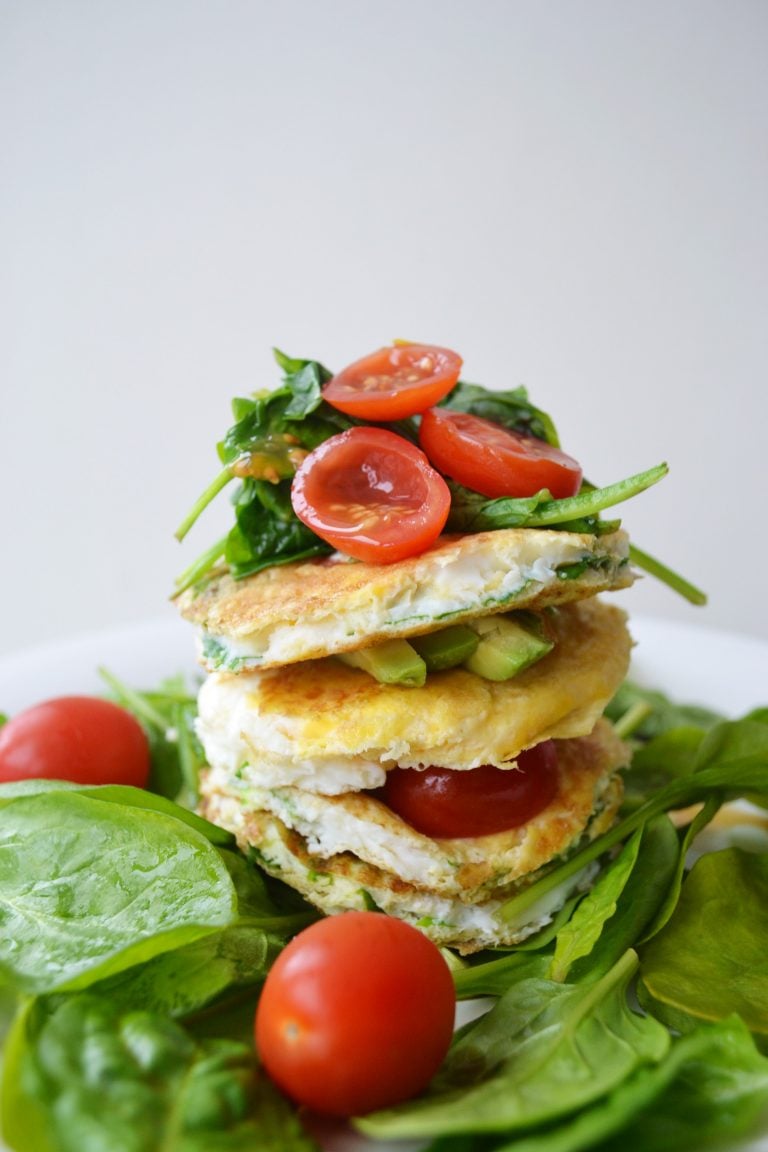 If you are a lover of a hot, easy, and filling breakfast, then this is definitely an option for you. This can also make for an awesome lunch! It's so easy to make with only four ingredients. 
Ingredients for two servings: 
3 large eggs 

100g Spinach Leaves 

4 Cherry Tomatoes 

1 Avocado

Olive Oil (or a low cal cooking spray)
Method: 
In a large mixing bowl, crack the eggs and mix with half the tomatoes and half the spinach. On low heat place a small amount of oil in a frying pan and then the egg mixture on top. 

Carefully flip the omelette when cooked on the bottom half. 

Prepare the rest of the spinach, avocados, and tomatoes and place them on a plate while the omelette cooks. 

When the omelette is cooked, serve on top of the spinach, tomatoes and avocado.
One of the best additions to sushi. If you are a lover of Sushi and Avocados and vegan and gluten-free: no worries! We have created a gluten-free and vegan Sushi recipe including avocados.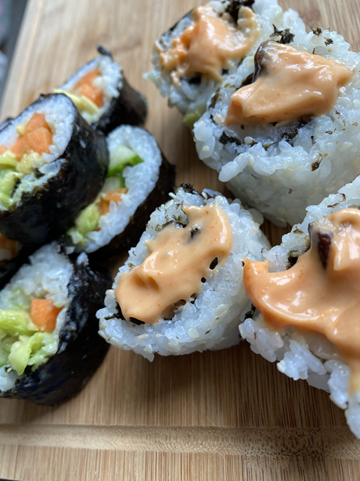 Smoothies can be a perfect snack and you can literally add anything into one. If you are using up fruits or vegetables, throw an avocado in and your smoothie will be nutritious and delicious!
Ingredients: 
2 tbsp Vanilla greek yoghurt (or Vanilla soy yoghurt, if vegan) 

6 large strawberries 

2 handfuls of blueberries 

1 handful of raspberries 

1 avocado, peeled and stoned 

Half a banana 

2 cups of water
Method: 
Blend all ingredients together in a blender until smooth and serve immediately. 
8. Vegan and GF Avocado Brownies
I have made avocado brownies sooo many times. They are definitely a house favourite. Once they are baked, they are gone within the day! Also perfect as a delicious gluten-free and vegan dessert, using avocado instead of butter or oil. Plus an extra dose of fibre and nutrients with every bite so you don't have to feel as guilty when eating these brownies. 
Healthy and guilt-free brownies? Yes, please!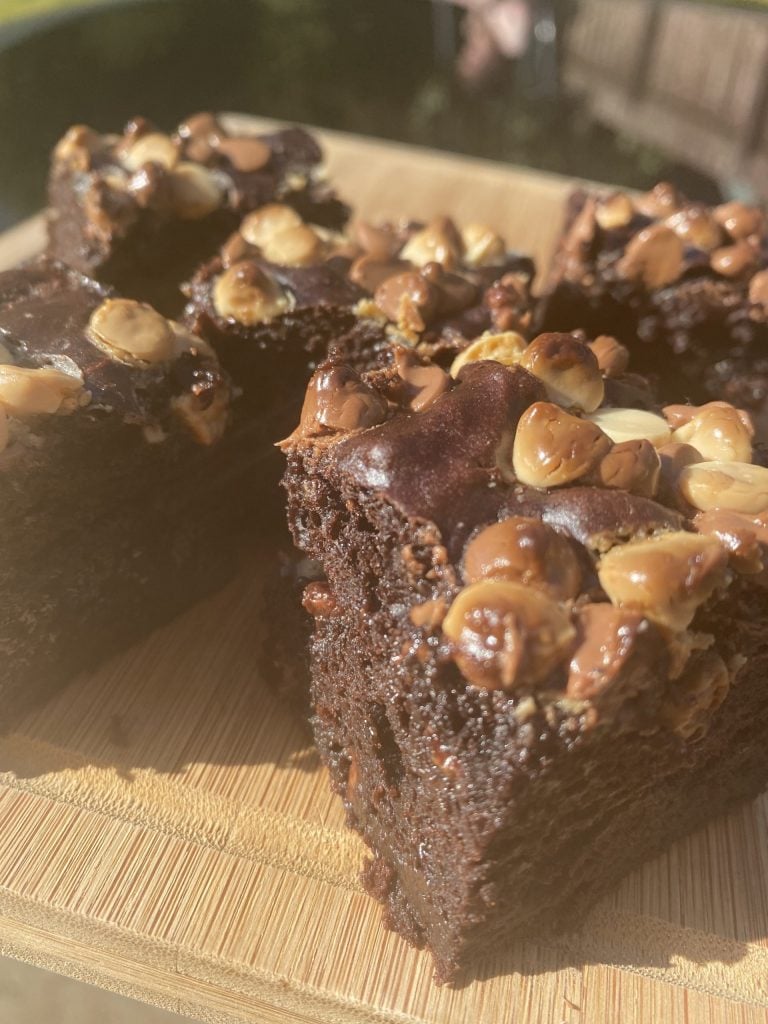 Ingredients (makes 12-16 brownies):
1 ripe mashed avocado 

250ml plant-based milk (we used almond)

1 teaspoon

vanilla extract

130g

coconut sugar

(or brown sugar)

130g GF Plain flour (or plain flour if not GF)

65g

cacao powder

(or cocoa powder)

1 teaspoon baking powder

1/4 teaspoon fine sea salt

80g

dark chocolate chips

(we used Tesco free from chocolate buttons)
Method: 
Preheat the oven to 170°C then lightly grease an 8 x 8″ tin.

In a blender, combine the avocado, milk, vanilla extract,  and coconut sugar. Blend for about 15-20 seconds, until smooth.

In a large bowl, combine the flour, cocoa powder, baking powder and salt then stir together. Pour the wet ingredients fromin the blender into the bowl with the dry. Add the chocolate chips and stir together until combined. Pour the mixture into your greased baking tray. Sprinkle a handful of chocolate chips on top of the mixture then bake in the oven for 25-30 minutes, until set. You should be able to stick a knife in the middle and have it come out clean. Allow to cool for at least 15 minutes before serving.
Avocado is a fab ingredient in a sandwich! You can mash it or just add it sliced with any other ingredients you have in your house and I guarantee you will have a tasty and filling sandwich!
Avocados can make a delicious pasta sauce that is creamy and delicious. Perfect for vegans. 
Also works well with vegetables like tomatoes, onions and sweetcorn.
Ingredients (Makes enough for 4:)
2 ripe

avocados, halved, seeded and peeled

2 tbsp fresh basil leaves

80ml of plant-based milk (we used almond)

2 cloves garlic

3 tsp of Tobasco sauce

2 tablespoons freshly squeezed lemon juice

salt and freshly ground black pepper, to taste

70ml olive oil
For the sauce all you need to do is combine avocados, basil, milk, garlic, Tabasco sauce, and lemon juice in a food processor and season with salt and pepper, to taste. With the motor running, add in some olive oil in a slow stream until emulsified; set aside. 
Serve with your favourite pasta, stirring so the pasta is covered with the lovely sauce then enjoy! (you will!)
If you try any of these recipes or would like to share your favourite way to use an avocado, please tag us on Instagram, or Facebook, or Twitter if you decide to try these out and have other avocado ideas – we'll love to see all of your creative inventions.
Some of our other blog posts:
Know someone who would like this?
Share it with the links below
LiberEat's allergen and error detection technology provides an allergen safety blanket for food businesses to ensure that consumers are safe and healthy when eating at your restaurant or consuming your food products.
LiberEat offers a second line of defense for food businesses by detecting errors, allergens, and other harmful ingredients. Food businesses can apply this technology directly to identify errors in allergen communications, preventing the risk of injury. Get in touch with us today to learn more about our Allergen Detection Technology.
To find out how LiberEat Technology supports food businesses to detect allergens and errors, to protect consumers