Vegan and Gluten-Free Pasta Chips
Pasta Chips are trending all over TikTok. So it was about time I gave them a go, and to be perfectly honest I wasn't expecting much but boy was I wrong! They are SO GOOD.
Pasta Chips are the perfect little snack in between meals or as a side dish. You can even create a massive bowl for friends or family coming around.
They are so easy to make and utterly delicious.
Seasoning for Air Fryer pasta chips
The best thing about pasta chips is that you can try so many different flavours, combinations and seasonings along with many different dip options.
My favourite is super easy and super tasty – italian seasoning – if you don't have this to hand you can combine garlic powder and mixed herbs, then I added some nutritional yeast for the cheesy flavour, paprika and salt! It was as easy as that to make a scrumptious cheesy vegan and GF snack.
This recipe turns pasta into a 100% vegan-friendly cheesy snack, almost like a crisp or a cheesy cracker. If you have any pasta in the house give it a go and you won't regret it.
We have just recently got our hands on the amazing air fryer and wow they are amazing. We have tried everything in the air fryer and no complaints so far! 
I am still eager to try a sweet dessert recipe in the air fryer and once I have ticked that box and executed it perfectly then I reckon it will be the best kitchen invention I have ever bought.
I used the air fryer for my pasta chips for 10-15 minutes, BUT only after it had been partly boiled. An air fryer does not complete the boiling section of this recipe. 
They turn out so crispy and crunchy with very little to no oil! 
The same rules apply. All you will have to do is preheat your oven to 200 degrees C and place it in the oven for 20 minutes or so until they are crispy and brown. 
Give them a shake on the oven tray to make sure they are all equally crispy.
If you try our favourite vegan and gluten-free air fryer pasta chips recipe, please let us know!
Leave a comment telling us how much you enjoyed making and eating these, or please tag us on Instagram, use #LiberEat to show us your creation!
Sharing gluten-free, vegan, or vegetarian snacks on your Insta-story? You can now use one of our 30 Insta-story GIF stickers to bring extra joy to your followers.
Vegan and Gluten-Free Pasta Chips Dip
The dip I used for this recipe is super simple. All you need is dairy-free plain yoghurt and some sriracha sauce. Just add as much hot sauce as you like until it is to the spice level you prefer. You could also add vegan mayonnaise instead of yoghurt.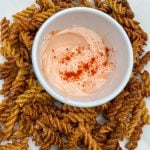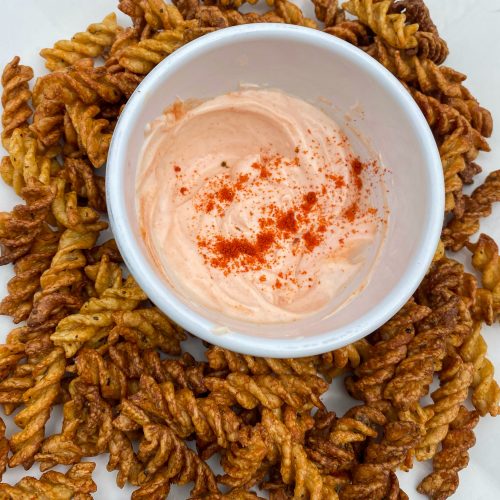 Print Recipe
Vegan and Gluten-Free Airfryer Pasta Chips Recipe
Crunchy, cheesy, air fryer vegan pasta chips! Wow, they are so good, the perfect little snack! Mix up the flavours with your favourite seasonings and dips!
Ingredients
200

g

pasta of choice

I like Fusilli the best, so we used gluten-free fusilli for this

1

tbsp

olive oil

1

tbsp

nutritional yeast

1

tsp

Italian seasoning

1

tsp

paprika

1/2

tsp

salt
Instructions
Cook pasta in boiling water for 8 minutes until halfway cooked, drain and toss in the rest of the ingredients.

Cook in the airfryer on 180 degrees for 10 minutes or in the oven at 200 degrees C for 20 minutes and DONE!
Some of our other vegan and gluten-free recipes:
Do you know someone who would love this? 
Feel free to share with the links below.
LiberEat's allergen and error detection technology provides an allergen safety blanket for food businesses to ensure that consumers are safe and healthy when eating at your restaurant or consuming your food products.
LiberEat offers a second line of defense for food businesses by detecting errors, allergens, and other harmful ingredients. Food businesses can apply this technology directly to identify errors in allergen communications, preventing the risk of injury. Get in touch with us today to learn more about our Allergen Detection Technology.
To find out how LiberEat Technology supports food businesses to detect allergens and errors, to protect consumers