Are you craving a homemade, delicious dessert but don't want to spend a lot of time making one? LiberEat has the answer for you! You can make this Vegan and gluten-free vanilla mug cake recipe in less than 10 minutes. 
We all need a sweet treat every so often. Whether that's every day for some (aka me!) or once every few weeks. Maybe you just need something to curb your chocolate craving.
Either way, you have come to the right place. Simply add Cocoa Powder to our recipe below to make this a vegan and gluten-free chocolate mug cake!
Does a microwave mug cake actually taste nice?
Absolutely yes! You will be surprised at how well your plant-based mug cake turns out. It tastes just like a cake you would bake in the oven.
But this cake in a mug reduces the time taken to prepare and bake. What is not to love?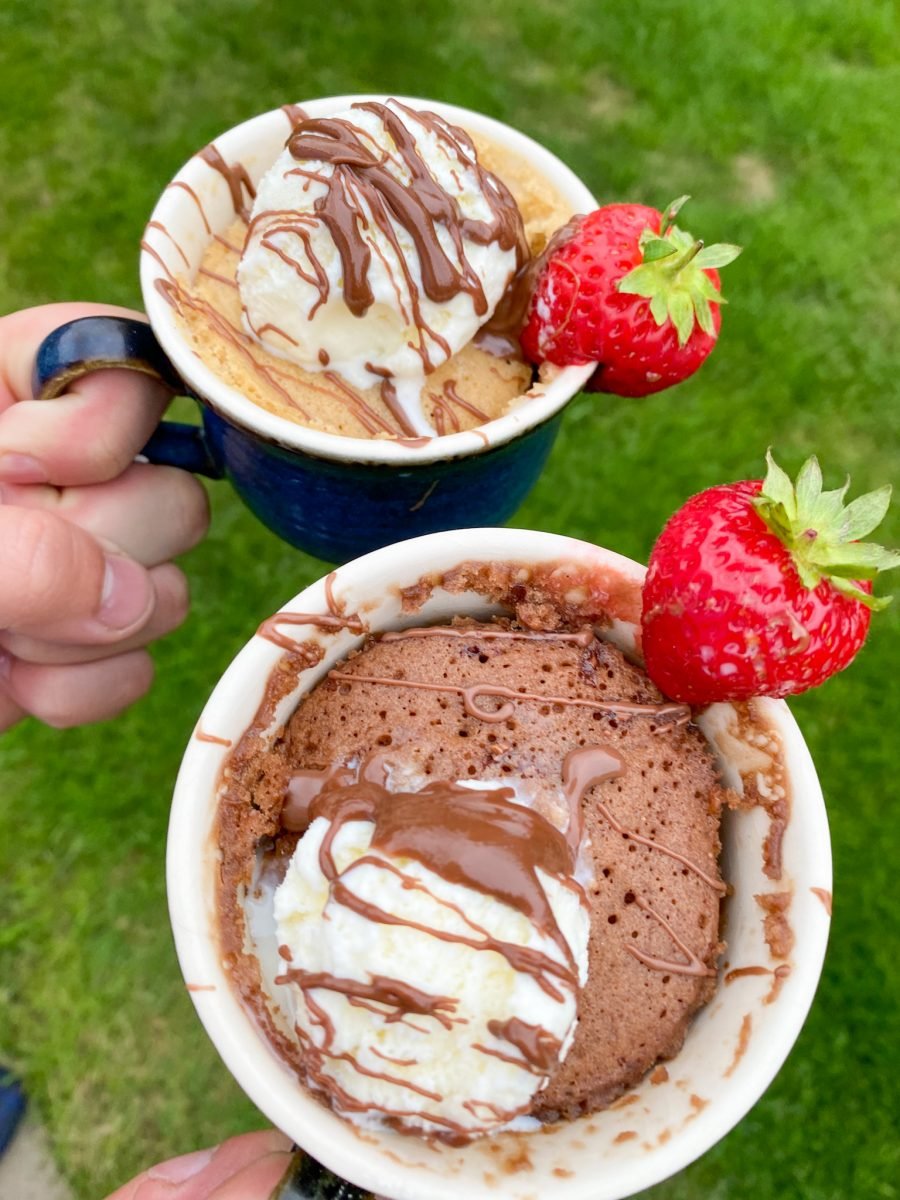 Mug Cake recipe with no egg
You can easily make this recipe with no eggs, all you need to do is add water, vinegar, and baking soda. This makes a delicious and fluffy, egg-free mug cake!
If you try our vegan and gluten-free mug cake then we would love to hear from you!
Please tag us on Instagram @Libereatapp and use the #LiberEat hashtag, so we can see and share your delicious bakes with our community of keen bakers and cooks!
One of the key features of this vegan and gluten-free mug cake recipe is that you can customise your cake batter using your favourite flavours or ingredients. 
Follow the recipe below but add the ingredients based on what you fancy:
Vanilla: Add vanilla extract 
Chocolate: Add 1-2 tbsp of Vegan and gluten-free Cocoa Powder
Banana: 1 mashed banana
Biscuits – Check out our top 10 vegan biscuits and add a couple to create a biscuit mug cake! Biscoff is my favourite to add! Yes, we have a bit of a Biscoff obsession at the moment. You can check out our other Biscoff recipes here: Vegan Biscoff Cheesecake & Vegan Biscoff Blondies.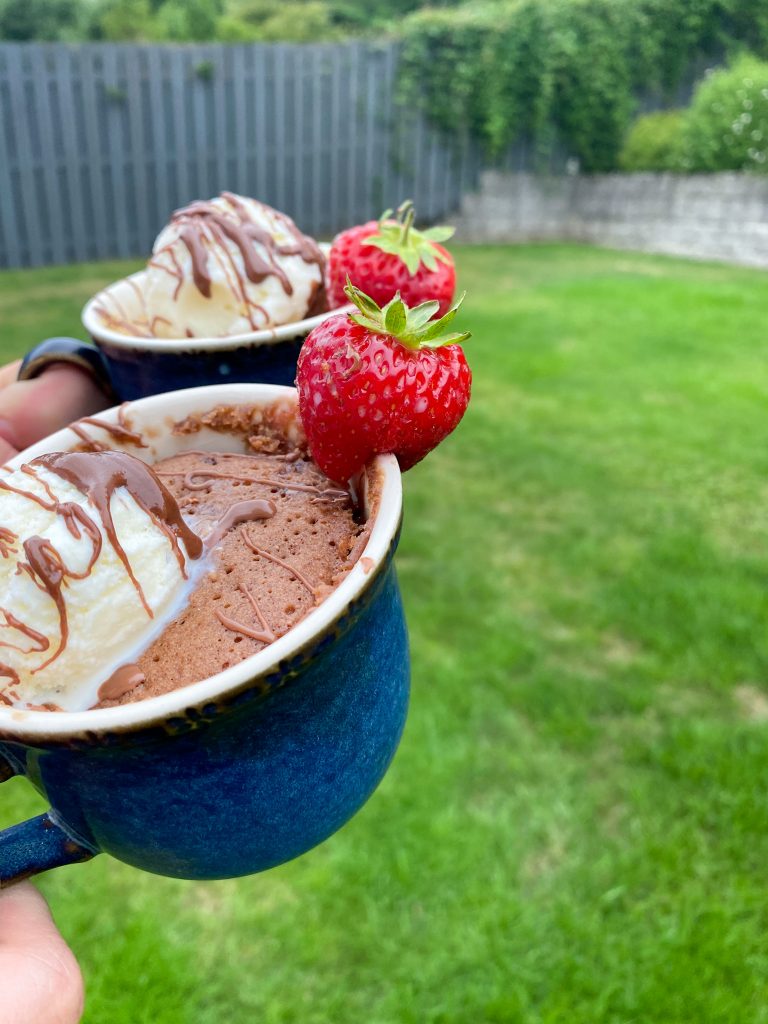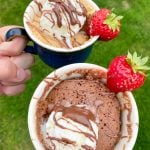 Print Recipe
Vegan & Gluten-Free Vanilla Mug Cake
One minute vegan mug cake.
Ingredients
2

tbsp

gluten-free plain flour

we used Doves Farm or you can use oat flour

2

tbsp

coconut sugar

we used The Groovy Food Company Organic Coconut Sugar

1

pinch

baking powder

1

tsp

vanilla

1

tsp

coconut oil

1/4

tsp

vinegar

3

tbsp

water

1

tbsp

dairy-free choc chips

we used ASDA Free From Choc Buttons
Instructions
In a small ramekin or mug, add the dry ingredients: flour, sugar and baking soda, mix with a teaspoon until combined.

Add the vanilla, coconut oil, vinegar and water. Stir again.

Add the chocolate chips on top of the batter.

Microwave for 1 minute. Longer if it doesn't seem ready (you may have to experiment, every microwave can be a little different)

Let cool slightly, top with dairy-free ice cream and enjoy!
Do you know someone who would love this? 
Feel free to share with the links below.
LiberEat's allergen and error detection technology provides an allergen safety blanket for food businesses to ensure that consumers are safe and healthy when eating at your restaurant or consuming your food products.
LiberEat offers a second line of defense for food businesses by detecting errors, allergens, and other harmful ingredients. Food businesses can apply this technology directly to identify errors in allergen communications, preventing the risk of injury. Get in touch with us today to learn more about our Allergen Detection Technology.
To find out how LiberEat Technology supports food businesses to detect allergens and errors, to protect consumers