Apple crumble is one of the most classic and delicious desserts you can get. You can make crumble with so many variations, with different toppings and fillings. So in this recipe, we are keeping it simple but, of course, gluten-free and vegan.
This recipe is perfect for a dinner party or even a party to serve it into smaller ramekins for smaller portions.
The best apples to use for crumbles
You can use store-bought apples as they work perfectly and are easy to get your hands on. Or if you are like me and have a genuine love and dedication to apple crumble, we have an apple tree that does the job for us –  as long as they are ready to be used.
My favourite apples to use are Granny Smith Apples; they work perfectly well for this recipe and crumble topping. 
Granny Smith apples tend to hold their shape better than other apples and have a great sweetness. Perfect for apple pies or crumbles.
Gluten-free crumble topping
There are so many varieties you can do with the crumble topping to make it gluten-free and vegan. You can add nuts such as walnuts and almonds, fruits such as raisins, or even oats like we have here. 
This recipe keeps it wholesome and simple with a mix of oats and almond flour to create the crisp crumble topping. 
You can also add a variety of spices to the crumble topping, which adds warmth and flavour to the crumble. My favourite spice to add is cinnamon.
What to serve with apple crumble?
This vegan and gluten-free apple crumble is best served with a big scoop of dairy-free ice cream.
Our favourite ice-cream accompaniment to this crumble is Oatly Ice Cream in Vanilla flavour. Oats in our crumble and oats in our ice cream – is there anything you can't make from oats?!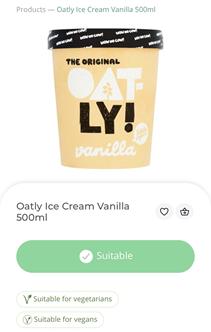 Different filling combinations
You can use the crumble topping on top of any filling. Some other options are: 
Rhubarb 

Apple and Blackberry 

Plum 
Check out our Apple and Cherry Crumble Recipe that is so tasty. 
You can customise the filling to your favourite flavours and combinations. Feel free to leave a comment or tag us in your crumble creations! We hope you love our simple crumble recipe below.
Gluten-Free and Vegan Apple Crumble Recipe: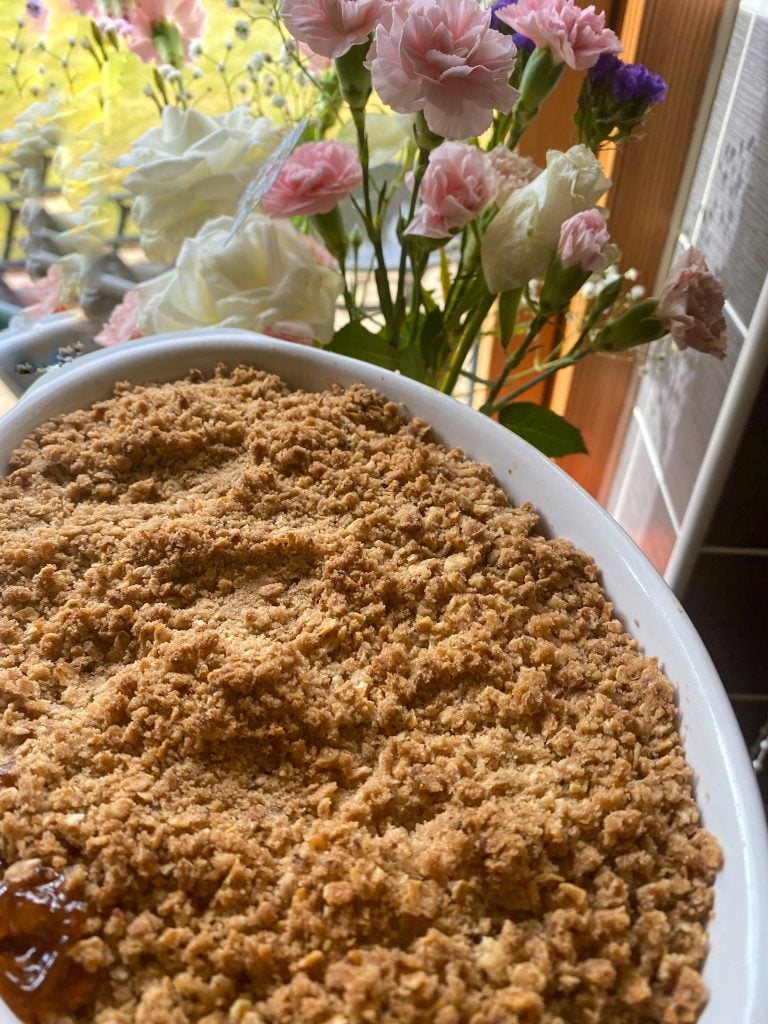 For Filling: 
6 medium to large cooking apples (we used Granny Smith)

60g coconut sugar (or brown sugar)

¼ tsp nutmeg

¼ tsp salt

2 tsp of cinnamon

1 tbsp lemon juice

½ tsp ginger
For crumble topping: 
100g almond flour 

100g brown sugar

Pinch of salt 

130g gluten-free rolled oats (we used Bob's Red Mill GF Rolled Oats)

1 tsp ground cinnamon

60g coconut oil (melted)

1 tsp vanilla extract
Method:
Preheat the oven to 180 degrees celsius. Grease a 9×13 inch dish with coconut oil.

Core, peel, and slice the apples. 

Combine all the apple (filling) ingredients in a large bowl, and mix. Place in a pan and heat on a medium heat until the apples turn soft. 

In a separate bowl, mix together all the crumble ingredients using a spatula or you can go in with your hands to ensure it is properly mixed. 

Once the apples are soft, place them in the bottom of the greased dish. Spread along the bottom and evenly distribute the crumble topping over the top. 

Bake for 45-50 minutes until light brown. Allow to cool slightly and then serve with vegan ice cream or vegan whipped cream.
Please tag us on Instagram,  Facebook, or Twitter if you decide to try our Apple Crumble. 
Some of our other gluten-free and vegan recipes:
Do you know someone who would love this? 
Feel free to share with the links below.
LiberEat's allergen and error detection technology provides an allergen safety blanket for food businesses to ensure that consumers are safe and healthy when eating at your restaurant or consuming your food products.
LiberEat offers a second line of defense for food businesses by detecting errors, allergens, and other harmful ingredients. Food businesses can apply this technology directly to identify errors in allergen communications, preventing the risk of injury. Get in touch with us today to learn more about our Allergen Detection Technology.
To find out how LiberEat Technology supports food businesses to detect allergens and errors, to protect consumers