Homemade Gluten-Free Sausage Rolls
Simple, golden gluten-free puff pastry sausage rolls. They are perfectly paired with an afternoon tea or as a savoury pastry snack. They are a classic comfort and today we are making miniature sausage rolls which are perfect for a buffet or party food that tastes so good.
It can be particularly hard to find gluten-free sausage rolls in bakeries or outlets, let alone ones that taste good and have that crispy and flaky pastry texture. 
But if that is what you are after, you have come to the right place, because today we are making flaky, gluten-free puff pastry sausage rolls.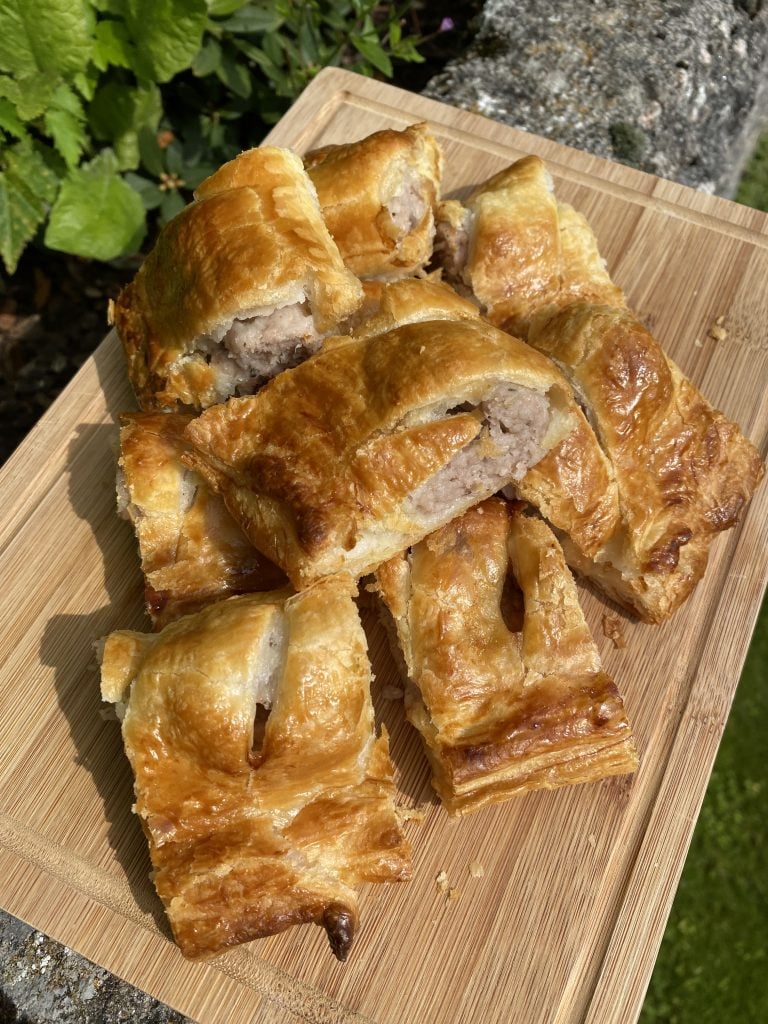 Gluten-Free Sausage Rolls
They are a staple to any birthday party, event, or celebration. Similarly a picnic, or a quick snack., Really any occasion calls for a sausage roll! 
We love to make a large batch and keep uncooked sausage rolls in the freezer to take out whenever we fancy warm and flaky sausage rolls.
Please always check the packaging of sausages or your chosen sausage meat or vegetarian and vegan sausages- as we have been caught out before!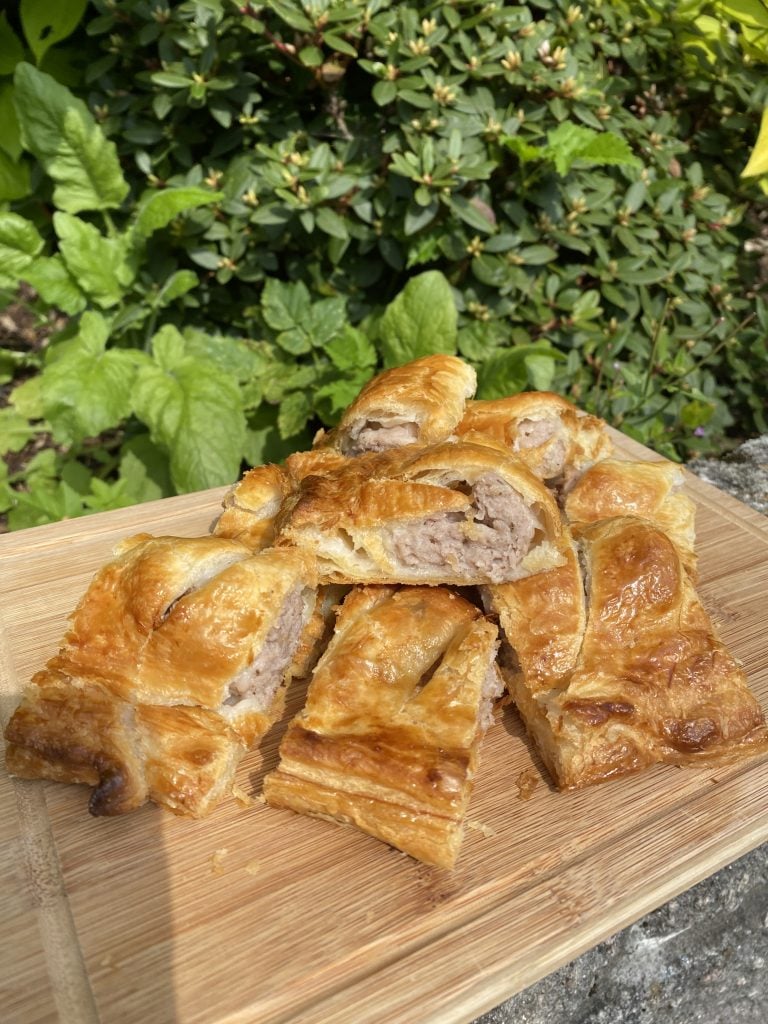 Jus-Rol Gluten-Free Sausage Rolls
You can make your own puff pastry, but because we wanted to make this recipe as easy and quick as possible, we are going to use Jus-Rol Gluten-free Puff Pastry. You can also find supermarkets' own gluten-free pastry. 
This will save you so much time for a quick snack and an irresistible treat to bring to a friend's house. 
If you do try and love it then tag us on Instagram @Libereatapp and use the #LiberEat. We would love to see and share your delicious pictures with our community of keen bakers and cooks!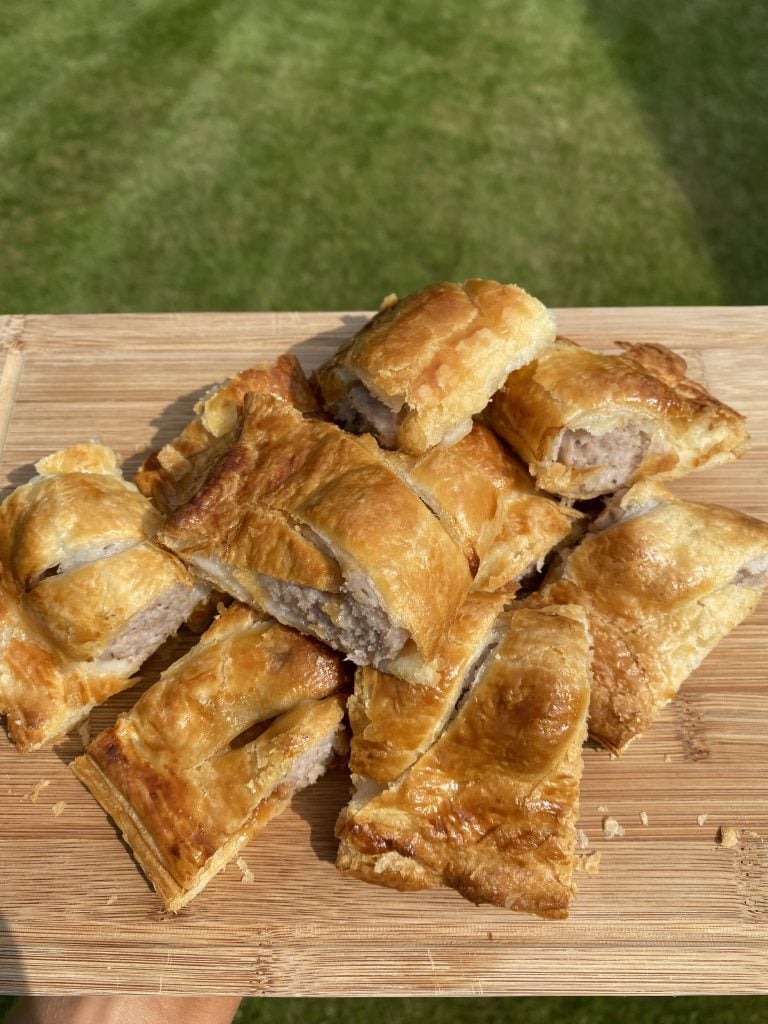 If you want to spice up your gluten-free sausage rolls, you can include chutney or chilli jam. You can even add cheese or mustard. Once we added a caramelised onion chutney to our sausage rolls and it was pretty dreamy. Again, check all packaging to ensure they don't contain gluten. 
Most pre-mixed mustards such as Colemans contain wheat flour. We tend to use Heinz Organic Yellow Mustard or any Dijon Mustard is a winner.
You can play around with flavourings if you wish, add herbs and spices depending on your preferences. Once made, we love to dunk our sausage rolls in ketchup.
The Easiest Gluten-Free Sausage Rolls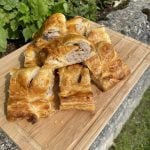 Print Recipe
Homemade Gluten-Free Sausage Roll recipe
Gluten-Free Sausage Rolls made with Jus-Rol puff pastry. Flaky and delicious. The perfect small snack, comfort food or party treat that everyone will love.
Ingredients
280

g

chilled gluten-free puff pastry (Jus-Rol)

350-400

g

gluten-free sausage meat or sausages

meat. vegetarian or vegan

1

medium egg
Instructions
Preheat the oven to a 200C fan and place baking paper on a large baking tray.

If you are using sausages, remove the skins by squeezing the sausage meat out into a bowl. Snip the top of the sausage off and it should be easy enough to squeeze out. If there are any lumps of meat, remove with a spoon until smooth. If you are using vegetarian or vegan sausages you can just mash them up with the 'skin' on.

Roll out the puff pastry sheet onto a clean work surface and cut the pastry in half length way.

Divide the sausage meat into two. Use a teaspoon to pack it onto the middle of the pastry, creating a line of long sausage meat lengthways along the centre of the pastry.

Crack the egg and whisk. If you don't eat eggs, you can use Crack'd (the no egg, egg). Using a pastry brush, brush along the edges of one side of the pastry with the beaten egg. Then seal the other side of the pastry to the egg wash side, the egg will help seal it together and keep the sausage filling inside. With your fingers press the edges.

Brush the top of the pastry with egg wash, this will create a nice brown puffed pastry. You can also add sesame seeds on top or score them using a fork.

Slice each roll into 8 equal-sized pieces and place them onto a lined baking tray. Put into the oven for 20 minutes or until they are golden and flaky. Enjoy!
Feel free to leave a comment down below or you can tag us on Instagram, Twitter , or Facebook. Use the #LiberEat hashtag to make sure we see it & share it!
Some more of our gluten-free blog posts:
Do you know someone who would love this? 
Feel free to share with the links below.
LiberEat's allergen and error detection technology provides an allergen safety blanket for food businesses to ensure that consumers are safe and healthy when eating at your restaurant or consuming your food products.
LiberEat offers a second line of defense for food businesses by detecting errors, allergens, and other harmful ingredients. Food businesses can apply this technology directly to identify errors in allergen communications, preventing the risk of injury. Get in touch with us today to learn more about our Allergen Detection Technology.
To find out how LiberEat Technology supports food businesses to detect allergens and errors, to protect consumers