With Veganuary taking place over January 2022, bigger and better than ever before, we've been treated to a wide range of new meat-free and plant-based alternative foods. Some are instant classics, and here at LiberEat, we've made a list of some of the most exciting new vegan products for you to enjoy.
Krispy Kreme Vegan Doughnuts



After the success of their vegan glazed doughnuts that launched in 2021, Krispy Kreme have three new flavours available for you to try–
Fudge Brownie Bliss

Caramel Choc Delight

Apple Custard Crumble
You can buy them from your local store or if you want to treat yourself, or order their selection boxes online as a gift. While the latter has been described as a "limited time only" deal on Krispy Kreme website/social media channels, the doughnuts themselves are here to stay, and hopefully Krispy Kreme will expand their range even further in the future.
Burger King Vegan Chicken Nuggets



Fast-food fans rejoice; Burger King has added Vegan Chicken Nuggets to their UK menu, ahead of their competitors such as McDonald's and KFC.
The new nuggets are made up of soy and plant proteins and early impressions seem pretty favourable. Many reviewers believe they taste identical to their traditional chicken counterparts. While others have stated you can tell they're not made of meat – the consensus is that they taste delicious, regardless. 
As part of Burger King's goal to reduce greenhouse gas emissions by 41%, they aim to make half their menu meat-free by 2030, so hopefully, we'll see a whole range of new vegan options in the coming years.
These plant-based nuggets join the Vegan Royale and Rebel Whopper on the Burger King vegan menu.
LoveRaw Vegan Chocolate Bars



Following on from our Vegan Chocolate recommendations released in January 2022, LoveRaw has expanded their range with three new flavours:
They're available across the UK and having tried them myself, I can confirm that they're absolutely delicious. As well as being gluten-free they also have no artificial ingredients or palm oil, so it's nice to support a company that's environmentally conscious.
LoveRaw's website also offers vegan peanut butter cups and wafer bars, and with their product catalogue going from strength to strength its no wonder LoveRaw are one of the fastest growing vegan chocolate companies.
Magnum Mini Hazelnut Crunch Ice Cream



Magnum has released an exciting new flavour as part of their non-dairy ice cream range, consisting of a hazelnut flavour mixed with salted caramel swirls and caramelised hazelnuts.
Their vegan option started with their Classic and Almond selections back in 2019. As part of Veganuary, all three ice creams have been released as mini bars to offer a smaller alternative to the standard size. Almond magnums have long been my favourite, and it's excellent to see new options for those of us that are lactose intolerant.
Parent company Unilever has been slowly releasing vegan foods across their brands for a many years now with their new Magnum range releasing alongside Ben & Jerry's non-dairy Bananas Foster flavour, and I'm looking forward to what future releases are in store for us.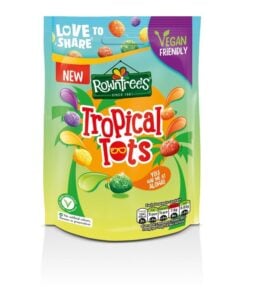 For those with a sweet tooth, Rowntree has expanded their vegan sweets range with a new product called Tropical Tots – an offshoot of Jelly Tots that come in five flavours:
Passion Fruit

Peach

Pineapple

Grapefruit

Mango
You may have assumed Jelly tots were always vegan, but until 2020, these contained gelatine to give them a chewy texture. Following its removal, Rowntree reworked the recipe to make the sweets slightly softer while retaining their taste and chewiness, and now we have a bunch of interesting new flavours to try out.
Overall, it's been a great Veganuary this year and seeing companies continuing to roll out new vegan products into February, March and beyond gives us faith that we'll have a lot more exciting new foods releasing this year.
We'll be back with more vegan recommendations soon. In the meantime let us know if there's any delicious new vegan foods entries we forgot to mention!
If you're up for cooking your own vegan foods or just want some more recommendations we have some great blog posts to recommend:
Know someone who would like this?
Share it with the links below
LiberEat's allergen and error detection technology provides an allergen safety blanket for food businesses to ensure that consumers are safe and healthy when eating at your restaurant or consuming your food products.
LiberEat offers a second line of defense for food businesses by detecting errors, allergens, and other harmful ingredients. Food businesses can apply this technology directly to identify errors in allergen communications, preventing the risk of injury. Get in touch with us today to learn more about our Allergen Detection Technology.
To find out how LiberEat Technology supports food businesses to detect allergens and errors, to protect consumers