Everyone should be able to enjoy chocolate and truffle creations made by amazing vegan and dairy-free brands, with no compromises. It is a vegan gift that every chocolate lover has to love, and it is the perfect valentine's day present to spoil your loved ones. 
If your loved one is dairy-free or vegan, no need to panic! LiberEat is happy to help. 
LiberEat has rounded up the top five ultimate and beautifully packaged treats to deliver this Valentine's Day, Birthday, Christmas, or any other celebration.
From NOMO chocolate caramel drops to luxurious truffles and chocllate batons from Hotel Chocolat and Booja-Booja. There are flavours and treats for everyone. You will be begging your partner to share with you this Valentine's Day, so start the sucking up now!!
Top 5 Vegan Chocolate Boxes UK
NOMO - Vegan Caramel Filled Chocolate Drops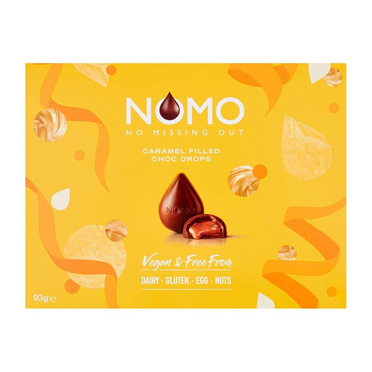 NOMO offers its non-dairy alternative to milk chocolate with a vegan caramel flavour centre. It receives a five-star all round, everything you could ask for in a dairy-free chocolate box: smooth, delicious, and gooey. One will not be enough from this box! 
Extra benefits include: 
Palm oil-free

Low salt

Gluten and nut-free
Price: £5.99
Hotel Chocolat - Vegan Sleekster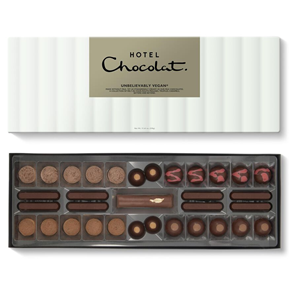 A collection of 33 melt-in-your-mouth pralines, truffles, caramels, batons, and more. Made with nut milk, it is creamy and unbelievably vegan chocolate. It's the perfect box for vegans, dark chocolate devotees, or those who just appreciate cocoa-rich, quality chocolate.
Their new Nutmilk innovation is made using finely milled hazelnuts instead of milk. LiberEat loves its creamy texture and subtly nutty undertones.
Their box of vegan chocolates includes:
Peanut Buche

Salted Caramel

Dark Raspberry

Pecan Praline

Dark Coconut

Gianduja

Hazelnut Batons

Orange Batons
Present this gift to any chocolate lover in your life and they'll adore every bit of their cocoa-filled gift. 
Price: £23.50
*They have smaller gift options too*
Rhythm 108 - Swiss Vegan Chocolate Truffle Selection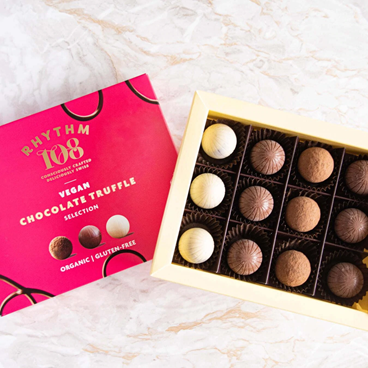 Rhythm 108 has the ultimate vegan chocolate gift. Chocolatiers make their handcrafted Swiss Vegan Truffles in the Swiss Alps; that is when you know it is good chocolate! They have three delicious flavours; Dark Orange, Hazelnut Praline and Noir et Blanc, a truffle to satisfy every palette. The perfect chocolate treat.
Benefits of Rhythm 108 Swiss Vegan Truffle box:
Organic

Gluten-Free

No Palm Oil

Source of Fibre

Handmade
Price: £11.99
Booja-Booja Organic Dairy Free Chocolate Truffles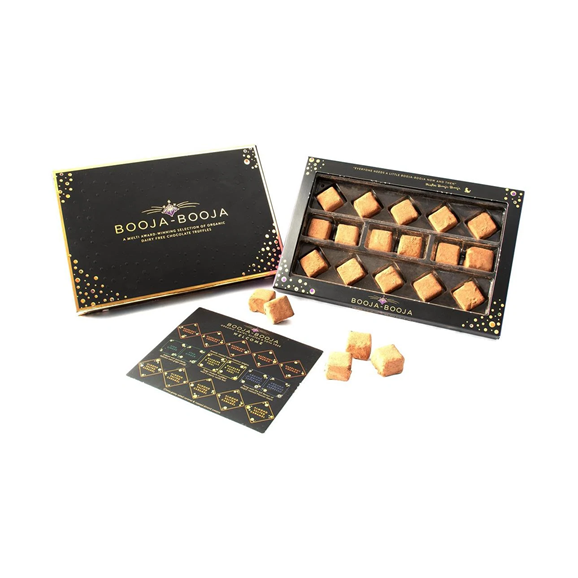 Booja-Booja chocolate boxes can be found in Asda and Amazon! This box has a selection of sixteen multi award-winning chocolate truffles that are guaranteed to bring smiles to chocolate lovers worldwide. Their chocolates are made from simple, carefully chosen, and organic ingredients.
Their recipes and factories are free from dairy, gluten and soya. They regularly test at an independent laboratory.
Their five flavours of truffles in this box include:
Almond Salted Caramel

Hazelnut Crunch

Rhubarb & Vanilla Fool

Stem Ginger

Around Midnight Espresso
Price: £9.99
Friars - KAKOA - Iconic Vegan Milk 15 Chocolate Box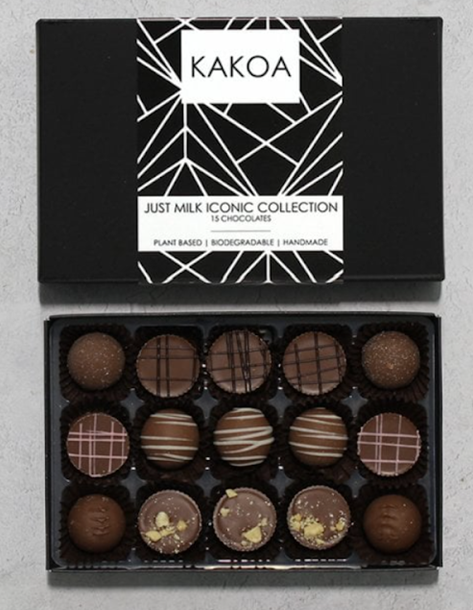 Kakoa chocolate is made from rice and oat milk as a dairy alternative. It is award-winning due to its extraordinary flavours and smooth texture. The flavours are truly delicious.
It's is the perfect valentine's day gift or birthday present. 
Flavours include:
Cherry Bomb

Divine Viennese

Ultimate Peanut Butter

Cheeky Gin

Legendary Salted Caramel

Lush Milk
Price: £17.50
Get your hands on our favourite vegan chocolate boxes for your loved ones. You will not regret it as they are sure to please. 
Let us know if we have missed out on other unique vegan chocolate brands on our social platforms or in the comments below. So we can add it to the list and share it with our vegan LiberEat community. 
You are sure to love more of our other vegan blog posts:
Know someone who would like this?
Share it with the links below
LiberEat's allergen and error detection technology provides an allergen safety blanket for food businesses to ensure that consumers are safe and healthy when eating at your restaurant or consuming your food products.
LiberEat offers a second line of defense for food businesses by detecting errors, allergens, and other harmful ingredients. Food businesses can apply this technology directly to identify errors in allergen communications, preventing the risk of injury. Get in touch with us today to learn more about our Allergen Detection Technology.
To find out how LiberEat Technology supports food businesses to detect allergens and errors, to protect consumers