Vegan Supermarket Pizzas UK
If you fancy a quick weekend dinner without the hassle of cooking, prepping or buying lots of ingredients, pizza comes to the rescue! Vegan pizza is always my go-to when I'm in a lazy, effortless weekend mood.
Surprisingly, some of the best vegan pizzas you'll find in a supermarket near you. Most costing less than £2, making pizza economical too!
It doesn't need to be difficult to have pizza night but it can be complicated to find pizza options that are dairy-free, meat-free and egg-free. Whilst also tasting really good.
Our below options are entirely plant-based and can be found in your local supermarket's freezer aisle. 
If you are looking for punchy, aromatic, crowd-pleasing plant-tastic pizzas. LiberEat will give you the low down with everything you need to know from Mushroom pizzas to vegan 'chicken' piece pizzas. There's something for all the family, or everyone in your friend group or household!
You can find vegan pizzas in most of your favourite supermarkets. LiberEat suggests our favourite plant-based pizzas from Tesco, Aldi, Asda, Sainsbury's, Lidl, M&S and Morrisons. 
Let us know which one you love the most!
Vegan Pizza Supermarket Options UK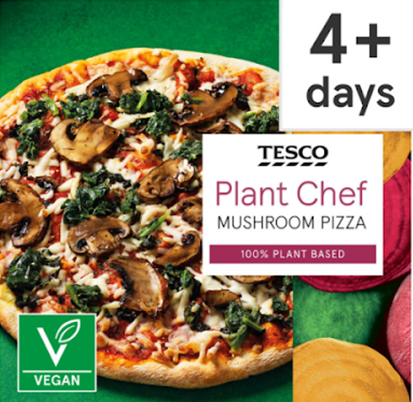 Tesco's Plant Chef Mushroom Pizza is the perfect pizza for vegan mushroom lovers. It has a thin base, is super crispy and deliciously flavourful. It is a 100% plant-based. A stonebaked pizza base topped with tomato sauce, coconut oil alternative to mozzarella cheese, garlic, spinach, garlic mushrooms, black pepper, oregano and parsley.
100% plant-based and 100% delicious!
Price: £2.50
Aldi has to be a vegan pizza lover's favourite shop. They have so many different and delicious types and flavours of pizza to choose from.
The Vegan Arrabbiata Pizza is definitely one of my personal favourites. It contains vegan-style chicken with grilled peppers and a tomato sauce, finished with vegan cheddar-style cheese. How yummy!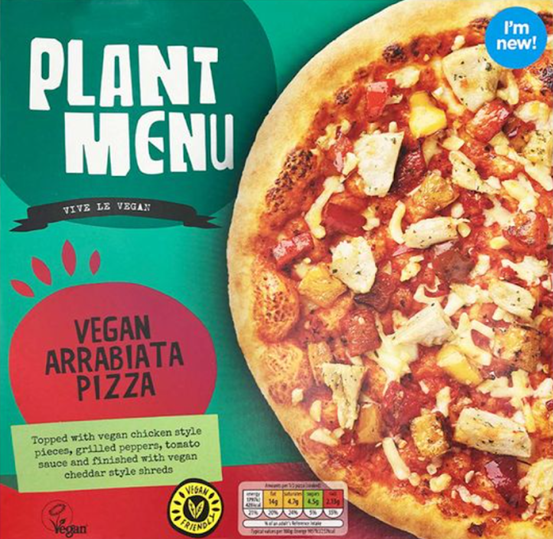 Their other flavour types include: 
BBQ Bacon Style Pieces & Mushroom Pizza

Plant Menu Stonebaked Spicy Cauliflower Pizza

BBQ Jackfruit Pizza
Price: £1.69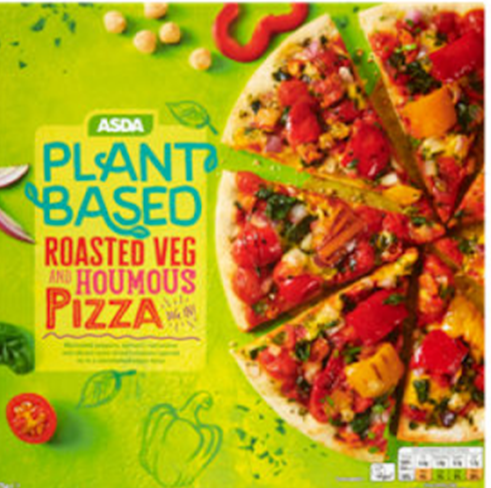 Asda's Roasted Veg and Houmous Pizza is bursting with flavours and definitely not shy of toppings. Topping include marinated peppers, spinach, red onions and vibrant semi-dried tomatoes layered onto a stone baked vegan base.
It is approved by our friends over at The Vegan Society Trademark.
Price: £1.75
Sainsbury's Free From Pizza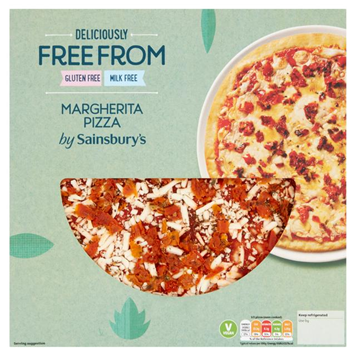 This is Sainsbury's spin on a classic Margherita pizza but those clever pizza chefs have made this gluten-free and vegan. Their gluten-free stonebaked pizza base is topped with tomato sauce, mozzarella-style coconut-based alternative vegan cheese, chopped marinated semi-dried tomatoes and dried basil. 
The ultimate free-from gluten and dairy-free Margherita pizza. 
Price: £3.50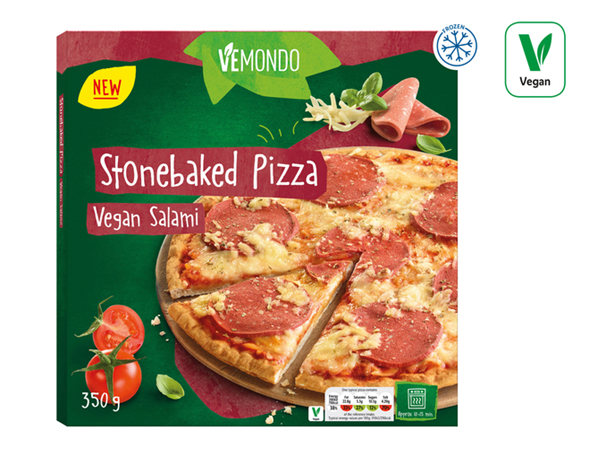 Lidl have a variety of Vemondo brand vegan pizzas in-store (January 2022) including:
Vegan Salami 

Tomato, Kale and Basil Puree 

Chargrilled Yellow Peppers, Garlic Mushrooms and Spinach
Price: £1.69
M&S Vegan Plant Kitchen Pizza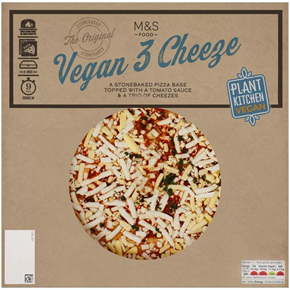 Marks and Spencer's Plant Kitchen 3 Cheese Stonebaked Pizza is topped with a tomato sauce with a blend of coconut oil-based, vegan mature cheese and not'zarella (the vegan take on mozzerella). 
This is one of the best vegan pizzas out there, with a crispy but not too crispy base, dairy-free cheese that does not turn to oil (as some can do). Plus tastes good. 
The only problem is, it is like gold dust, it sells out as fast as you can eat it. 
Price: £4.20
Please let us know on our social channels what is your favourite vegan pizza? and where you buy it from?
The LiberEat community would love to know the best vegan pizzas on the market. 
You are sure to love more of our other vegan blog posts:
LiberEat's allergen and error detection technology provides an allergen safety blanket for food businesses to ensure that consumers are safe and healthy when eating at your restaurant or consuming your food products.
LiberEat offers a second line of defense for food businesses by detecting errors, allergens, and other harmful ingredients. Food businesses can apply this technology directly to identify errors in allergen communications, preventing the risk of injury. Get in touch with us today to learn more about our Allergen Detection Technology.
To find out how LiberEat Technology supports food businesses to detect allergens and errors, to protect consumers