With Easter around the corner we have some tasty treats for you to enjoy like these delicious Vegan Cheesecake Bites!
The rich creaminess from the cashews make for a delectable dessert that some would argue is even better than the regular cheesecake. Well, the only way to really find out is for you to to give this recipe a try!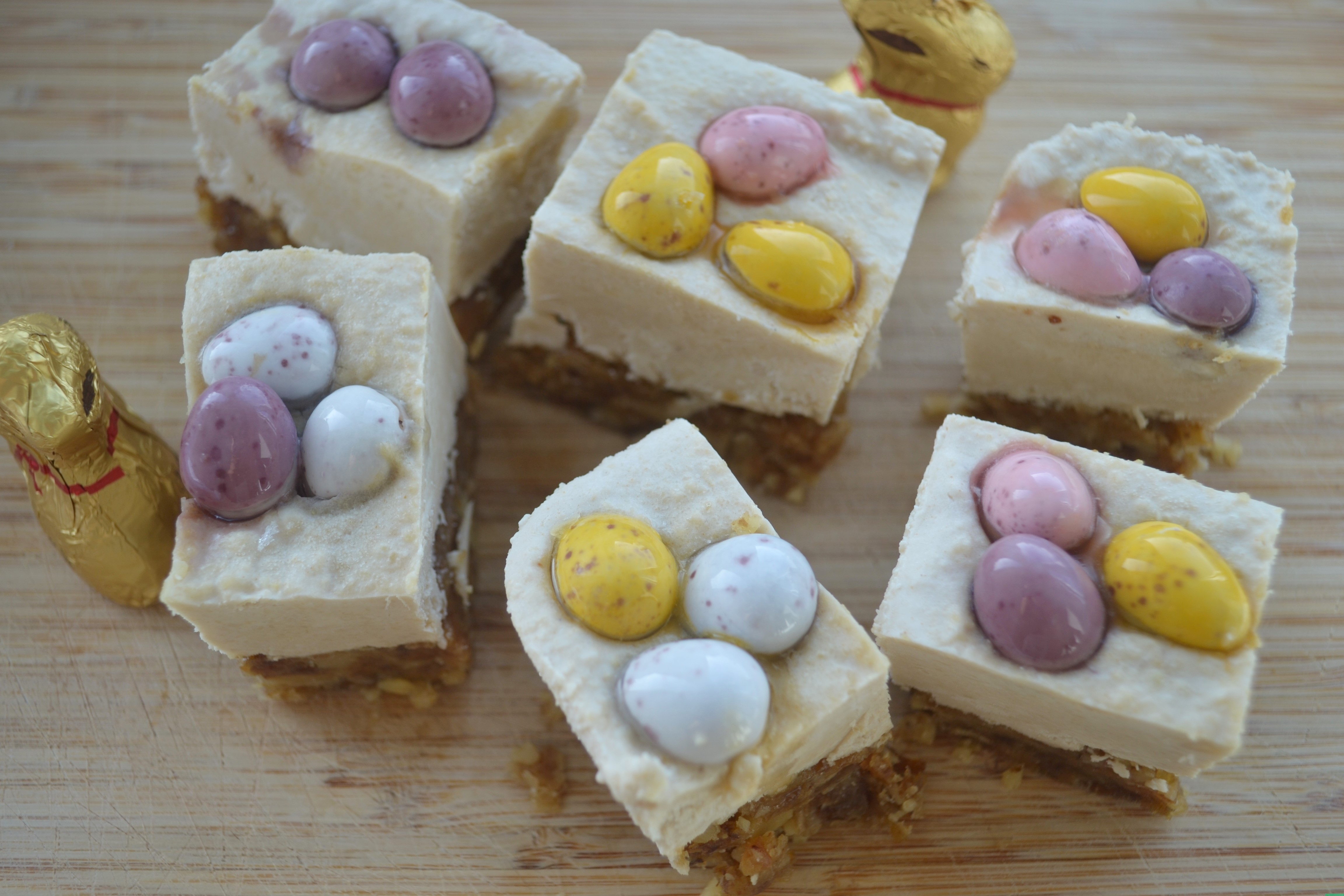 Ingredients: 
2 tablespoons vanilla essence
2 tablespoons peanut butter
1 small carton coconut cream
250g pitted dates
250g cashew nuts, soaked for 20 mins in water.
1.5 cups walnuts
2 tablespoons maca powder
3 tablespoons agave syrup
Method:
Add the walnuts to a food processor and blend until fine.
Next add the pitted dates, maca powder and peanut butter and give it a nice mix. Try and maintain a 'biscuity' texture and add water if needed to ensure the mixture sticks together. Remove this mixture from food processor and set aside.
Clean the food processor to make the cheesecake topping.
Add the cashews, coconut cream, agave, vanilla to the food processor and blend until it resembles a creamy 'cheesecake like' texture. Keep it aside.
Lightly grease a cake tin with coconut oil or dairy free spread. Add the walnut and date biscuit base along the bottom of the tin evenly.
Next add the cheesecake mixture on top evenly. You can add toppings of your choice: Mini Easter eggs, vegan treats, blueberries or desiccated coconut for example.
Freeze for a couple of hours to let it set well. Be careful when removing from the cake tin. Cut into small portions  and your Easter special Vegan Cheesecake bites are ready to be enjoyed with family.
 Also don't forget to try our other recipes like our Apple & Cherry Crumble recipe.
If you have any tips of your own, comment below to add your thoughts!
Don't forget to tag us in your recreations on Facebook and Instagram!
Enjoyed this recipe?
Share it with everyone you know
LiberEat's allergen and error detection technology provides an allergen safety blanket for food businesses to ensure that consumers are safe and healthy when eating at your restaurant or consuming your food products.
LiberEat offers a second line of defense for food businesses by detecting errors, allergens, and other harmful ingredients. Food businesses can apply this technology directly to identify errors in allergen communications, preventing the risk of injury. Get in touch with us today to learn more about our Allergen Detection Technology.
To find out how LiberEat Technology supports food businesses to detect allergens and errors, to protect consumers