With the cold weather slowly fading away, we are looking forward to sharing some recipes that can be enjoyed in the sunshine. Vegan, dairy free, gluten free banana ice cream!
Perfect for summer parties and a great swap for the traditional ice cream sundae. Now your lifestyle choices and requirements will not come in the way of you enjoying some frozen goodness!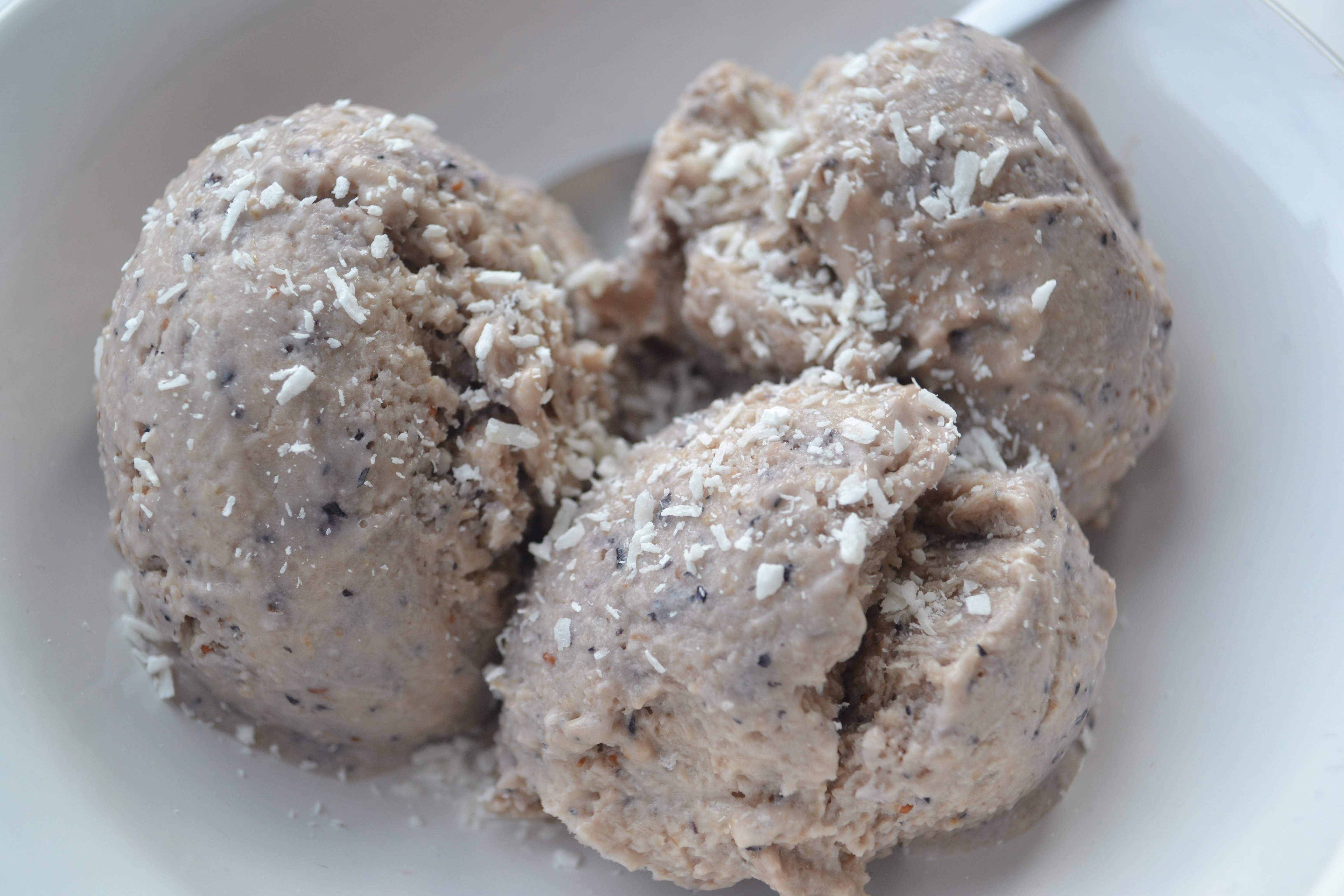 Ingredients:
2 ripe bananas
1 can of coconut milk
1 small cup of coconut Alpro Soya milk
3/4 cup of Quaker's Gluten Free Oats
2 scoops of vanilla protein powder
1 packet of blueberries (washed)
100g fat free natural yogurt
2 tbsp agave syrup
Method:
Mash up the bananas in a bowl.
In a large mixing bowl, add all the ingredients altogether, including the bananas and stir until mixture is as even as possible.
Take a blender and add the mixture carefully and blend until a smooth consistency. This may take two runs.
Empty the blended mixture into a lunchbox or storage tin and freeze overnight.
Remove from the freezer 20 mins before serving and then scoop into small bowls. Voila! your home-made vegan banana ice cream is ready. Serve it just as is or load up with some fresh cut fruits. 
Once you get the base right, you can also try mixing up the berries and even fruits of your choice.
Tip: You can cut fruits and nuts of your choice and add it in the mixture before you freeze. You can have your own personalised versions!
If you have any tips of your own, comment below to add your thoughts!
Don't forget to tag us in your recreations on Facebook and Instagram!
Enjoyed this recipe?
Share it with everyone you know
LiberEat's allergen and error detection technology provides an allergen safety blanket for food businesses to ensure that consumers are safe and healthy when eating at your restaurant or consuming your food products.
LiberEat offers a second line of defense for food businesses by detecting errors, allergens, and other harmful ingredients. Food businesses can apply this technology directly to identify errors in allergen communications, preventing the risk of injury. Get in touch with us today to learn more about our Allergen Detection Technology.
To find out how LiberEat Technology supports food businesses to detect allergens and errors, to protect consumers