This recipe was written by Kirsty, our Content Manager. She was diagnosed with Coeliac disease last year and quickly missed her childhood favourite: super noodles.
Here she shares how she has overcome her craving with a gluten free recipe for homemade super noodles with chunky chicken and mushroom pieces.
Coeliac disease = homemade super noodles?
Before my diagnosis with coeliac disease I loved a quick instant snack. Top of that list was what I called '9p noodles', supermarket own brand packets similar to Super Noodles, at the bargain price of, you guessed it, 9p.
I liked the convenience, the price, the slightly odd flavour. It was great when I was feeling tired as it was a quick hot dish.
As I got older, I tried to jazz it up by adding torn spinach and fried halloumi. When I was feeling lazy, they were still perfect on their own. My mum likes super noodles on toast.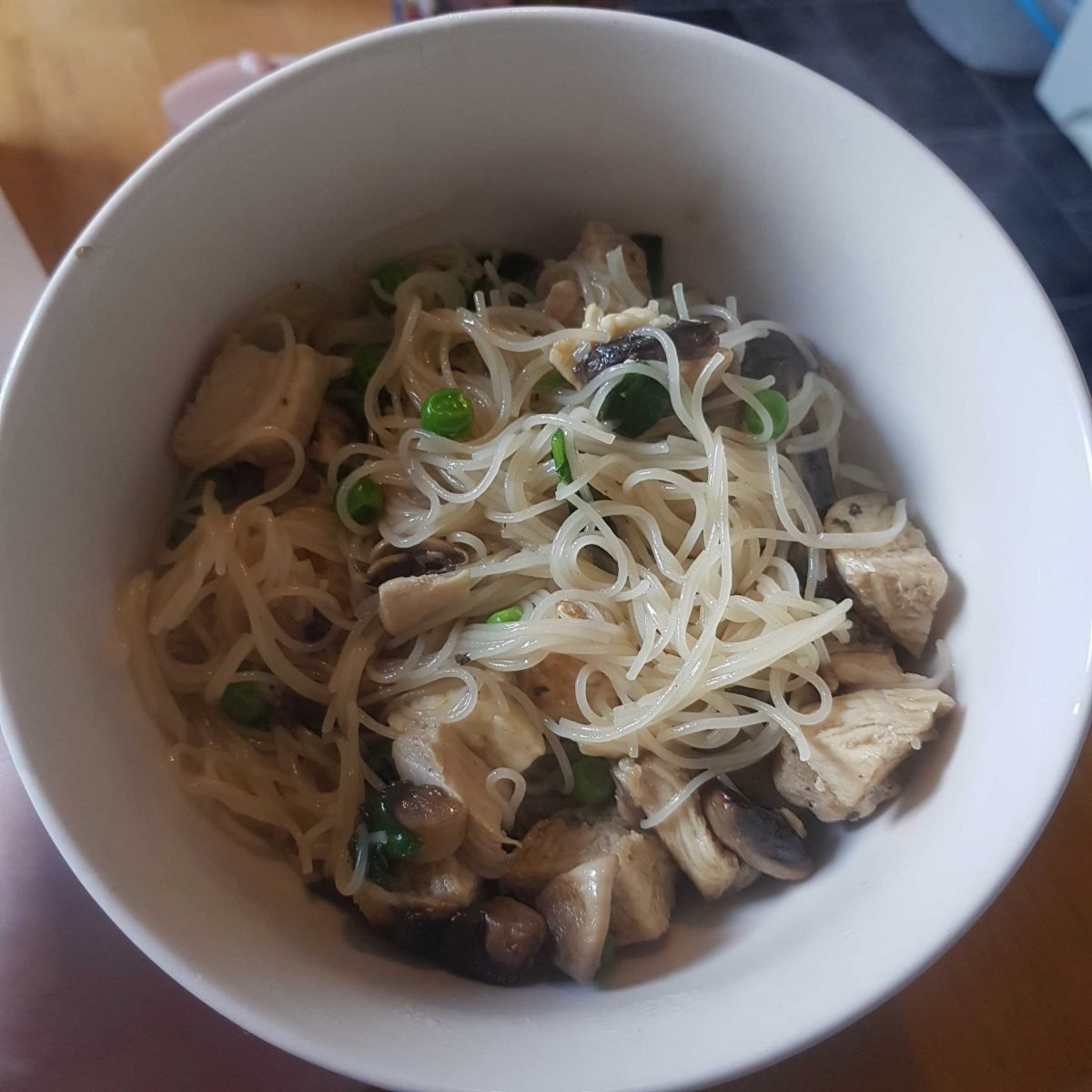 Writing my own recipe for gluten free super noodles
But with the diagnosis came the realisation that never again would I be able to grab a packet of cheap noodles at 15p (inflation increased prices during my student years 
) 
Upon research I learned that the seasoning sachets themselves are gluten free… but they are very difficult to get your hands on without also buying the wheat noodles and dealing with the obvious cross contamination issue, as the sachet is in the packet touching the noodles. Not easy.
So, I set out to look for a recipe. No dice! I have seen people on facebook say a stock cube is the same but I think this alone is too bitter, so I have worked out a combo where as well as ¼ of a stock cube, I use a splash of GF favourite Henderson's relish, some garlic, and dried parsley. And, while it is not exactly close to the original recipe, Chunky pieces of chicken and mushroom gave the homemade super noodles added flavour and texture. You can read more about some of the ingredients I used and other helpful tips in this blog I wrote about handy gluten free swaps.
I hope you try this recipe for gluten free super noodles and find it is as close to original super noodles as I can get. 
Gluten free super noodles - How to make them at home:
50g diced Chicken breast
25g chopped Mushrooms
1 chopped garlic glove
1/2 chicken stock cube
1 teaspoon dried parsley
1 teaspoon onion powder
0.5 teaspoon garlic powder
1 splash Henderson's relish
1 handful of torn spinach
2 blocks of rice noodles
Pinch of salt
1. Fry your chicken, mushroom and garlic in a splash of oil.
2. Once browned add the rice noodles along with 500mls of boiled water.
3. As the noodles soften, add your flavours: stock cube, henderson's relish, and onion and garlic powders.
4. Stir well to ensure the noodles cook through. Add more water as needed.
5. Once the noodles are cooked though and the water is mostly absorbed, plate up as you would with the OG gluteny variety.
6. EXTRA I like to add a handful of frozen peas, and fried halloumi to jazz it up a little, just as I did back in the day 😊 and serve on a bed of fresh torn spinach with a sprinkle of dried parsley.
Know someone who would like this recipe for homemade gluten free super noodles?
Share it with the links below
LiberEat's allergen and error detection technology provides an allergen safety blanket for food businesses to ensure that consumers are safe and healthy when eating at your restaurant or consuming your food products.
LiberEat offers a second line of defense for food businesses by detecting errors, allergens, and other harmful ingredients. Food businesses can apply this technology directly to identify errors in allergen communications, preventing the risk of injury. Get in touch with us today to learn more about our Allergen Detection Technology.
To find out how LiberEat Technology supports food businesses to detect allergens and errors, to protect consumers