Vegan Shepherds Pie Recipe
A shepherd's pie without the shepherd! The juicy filling of mushroom, chickpea, courgette and more topped with a crispy mash make for a satisfying vegan shepherds pie with no meat.  
This recipe makes for a great Sunday lunch to have with friends and family as it is hearty and filling.
It's vegan and gluten free and can be enjoyed by all. 
Delicious and Vegan Shepherds Pie Recipe
Ingredients: 
1kg potatoes
A splash of vegetable oil
500g mushrooms
2 large leeks, chopped
2 small onions, chopped
3 large carrots, chopped
1 sliced courgette
 Half a turnip, chopped
1 can chickpeas
1 can of peas
Handful of shredded spinach
1 vegetable stock cube
1 tsp garlic paste
1 tbsp tomato purée
Olive oil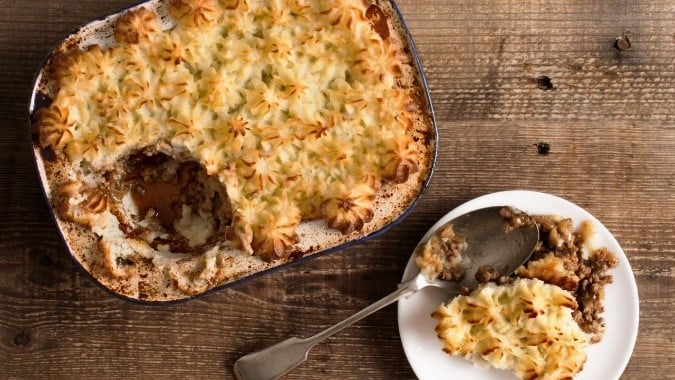 Prep time: 10 mins
Total cooking time: 90 minutes  
Method
Preheat the oven to 180 degrees C.
Peel the potatoes and boil in a large pan. Once cooked drain and leave to cool a little.
Meanwhile, heat the olive oil in a large pan and fry the onion, mushroom, carrot, leeks, and courgette with the garlic paste.
Add 100mls of water and add the turnip and stock cube.
Once the turnip has softened, add the tomato puree, which will give the sauce some flavour, and the can of drained chickepeas, peas, and spinach.
Simmer for 10 minutes, before removing from the heat and decanting into a deep ovenproof dish ready for baking.
Add a splash of olive oil to the potatoes and mash well. Season with salt and pepper
Layer the mash on top of the filling and bake in the oven for 40 minutes. The pie will be ready when it is heated through and the potato on top is crispy.
Serve this vegan shepherds pie with steamed broccoli and stuffing to complete a well balanced meal.
Also don't forget to try our Sunday roast Sweet Potato Mash recipe. If you have any tips, comment below to add your thoughts! Don't forget to tag us in your recreations on Facebook and Instagram!
Enjoyed this recipe?
Share it with everyone you know
LiberEat's allergen and error detection technology provides an allergen safety blanket for food businesses to ensure that consumers are safe and healthy when eating at your restaurant or consuming your food products.
LiberEat offers a second line of defense for food businesses by detecting errors, allergens, and other harmful ingredients. Food businesses can apply this technology directly to identify errors in allergen communications, preventing the risk of injury. Get in touch with us today to learn more about our Allergen Detection Technology.
To find out how LiberEat Technology supports food businesses to detect allergens and errors, to protect consumers