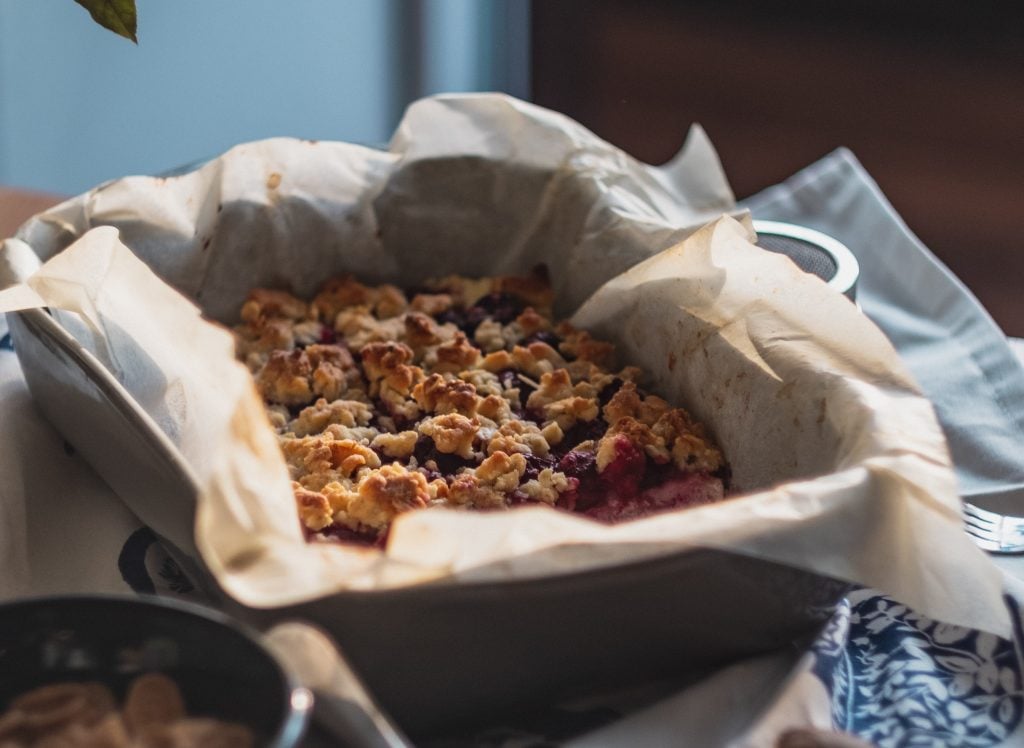 A crunchy and sweet dessert with juicy chunks of apple and bites of sweet cherry. This can be made in advance and baked while your guests are enjoying the first course so it is always perfectly cooked just when they need it.
Ingredients:
Medium cooking apples (peeled, cored, thickly sliced) 4
Cherries (De-stoned and sliced) 50.00 g
Gluten Free Plain Flour 90 g
Butter (Can swap for Dairy Free) 50g
Caster Sugar 50 g
Caster Sugar 1tbsp
Steps:
1. Place peeled, cored and chopped apples in a dish. Try to cover the entire base so that no crumble falls through. Sprikle over the chopped cherries, aiming to fill any gaps and spread equally.
2. Sprinkle 2 tbspns of sugar over the fruit to coat it.
3. In a seperate bowl place your flour and sugar. Slice in blocks of the butter and rub in. You want to aim for a slightly wet crumble texture.
4. With the gluten free crumble, I prefer a thinner layer of crumble as it can become powdery if too thick. As I prefer a crispy golden topping I like to make a thinner layer. If however this is not covering your base then make a greater quantity however I have found this ratio sufficient for a large shallow dish.
5. Spread the topping over the fruit evenly, followed by a tbsp of sugar. Place the dish in the oven for 30+ minutes. Before removing check that the topping is sufficiently golden brown and crispy.
Serve immediately with custard or ice cream. Enjoy!


To find tasty food whatever you or your loved one's dietary requirements are download our free app here from Google Play and the App Store