Easy Vegan Aubergine and Courgette Curry
What better way to start the week than with this one-pot vegan dish that is full of flavour and will satisfy all your spicy curry needs and cravings.
The perfect summer dish that will keep you feeling full and satisifed. 
Serve with your favourite Naan bread and rice and you have the vegetarian and vegan curry of dreams!
WHY WE LOVE THIS CURRY RECIPE:
Low cost
One pot dish
Easy to prepare
Suitable for nearly all dietary requirements: Vegan, dairy-free, gluten-free
The coconut milk gives the curry a creamy flavour
The courgette adds a delicious seasonal flavour
We hope you love our Courgette and Aubergine Curry as recipe as much as we do! It's a real winner. 
If you do try and love it then tag us on Instagram @Libereatapp and use the #LiberEat, so we can see and share your delicious pictures with our community of keen bakers and cooks!
Or download the LiberEat app for more delicious and allergy-friendly recipes.
This curry is perfect for catering to vegetarian, vegan or gluten-free family or guests. Full of veggies and spices, the best way to get your 5-a-day in!
You can create a huge batch of this curry and save it in the fridge for another day, to save you some time! All you will have to do is microwave it for a couple of minutes and it will be delicious as ever!
Easy, full of flavour, vegan aubergine and courgette curry recipe: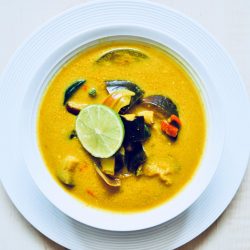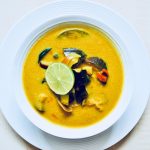 Print Recipe
Aubergine and Courgette Curry
Ingredients
1/2

sweet potato

chopped

1

courgette

chopped

1/2

aubergine

chopped

3

garlic cloves

2

tbsp

medium curry powder

2

tbsp

coconut yoghurt

100

ml

water

1

pinch

salt & pepper

1

tbsp

turmeric

2

red onions

chopped

2

red chillis

chopped

150

ml

coconut milk
Instructions
In a large saucepan, heat up some olive oil. Add the sweet potato and cook while stirring for 2 mins on a medium heat. Next add the chopped courgette, keep stirring.

Add the courgette and then the onions and chili. Using a garlic crusher, add the three cloves of garlic to the mixture, following this with the aubergine pieces.

Bringing the heat down the low, carefully add the water, coconut yogurt and milk to this saucepan along with the rest of the spices. Stir this mixture carefully and then place the lid on the curry mixture. Leave this to cook for around 15 mins on low heat, but stir regularly to ensure it does not burn.

When the veg is nice and tender in the pan, take off the heat, serve with fresh lime and enjoy!
If you enjoyed this Vegan Courgette and Aubergine Curry recipe, you might enjoy more LiberEat recipes on the LiberEat app including recipes from The Vegan Society Trademark & lots of other amazing creators! More than 400+ recipes to choose from to satisfy all your cravings!
Some of our other vegan recipes: