These decorative toasts are brilliant. With so many fruits being in season, the possibilities for toppings are endless. Check out some of our ideas below.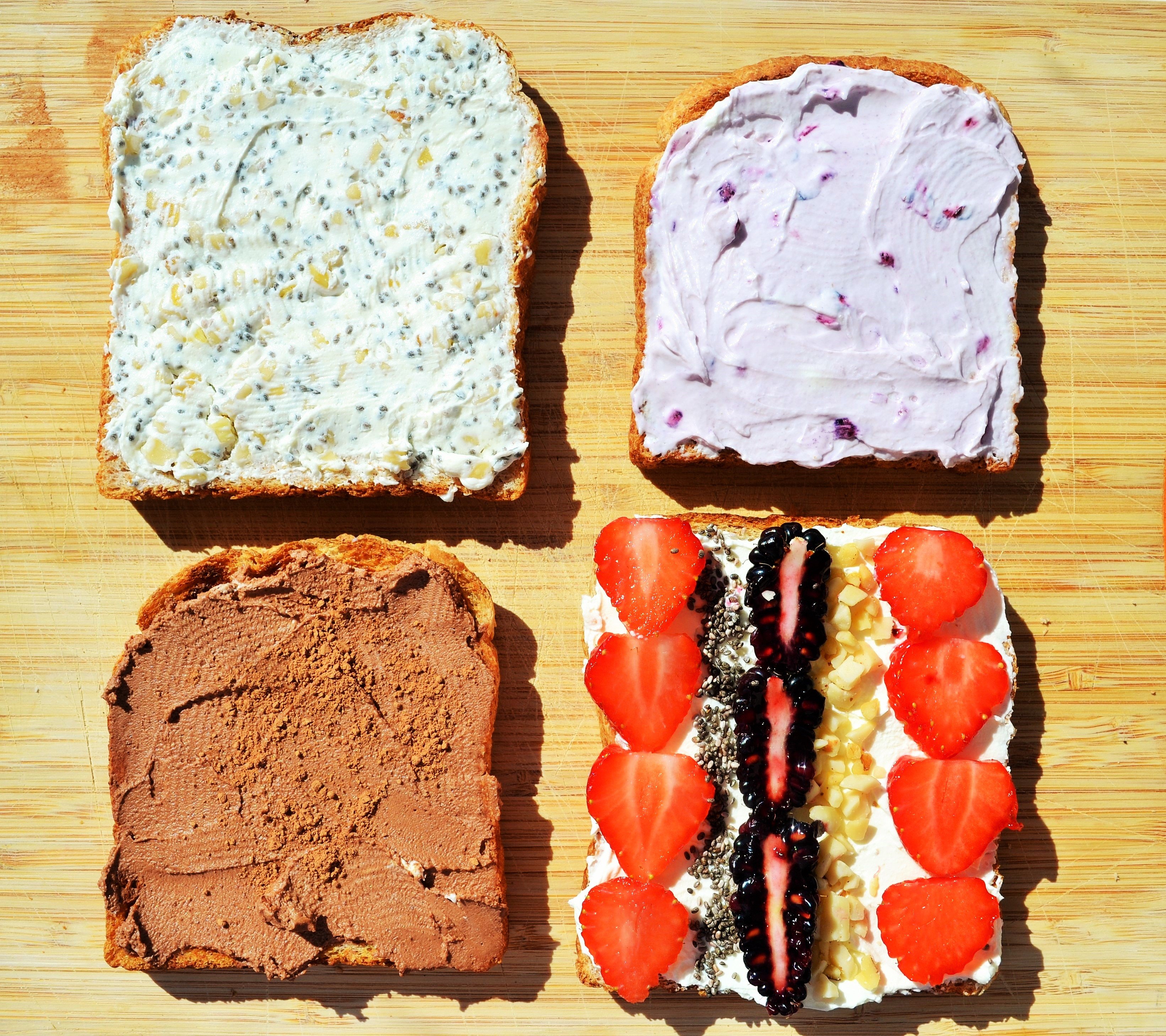 Ingredients:
4 slices of gluten free bread.
6 blackberries
1 tablespoon cacao powder
2 tablespoons stevia
6 tablespoons fresh mascarpone cheese
1 tablespoons chia seeds
1 tablespoon mixed chopped nuts
3 strawberries
1 teaspoon cinnamon
Method:
1) On a chopping board, chop the strawberries and 3/4 blackberries lengthways.
2) In a small mixing bowl, add a large tablespoon of the mascarpone cheese and 2 fresh blackberries. Crush the blackberries with the end of a wooden spoon (like a mortar and pestle), and mix this. Set aside.
3) In a separate bowl, add another large tablespoon of mascarpone cheese. Empty the cinnamon and cacao into this and 1 teaspoon stevia. Mix this evenly until it resembles a chocolate spread. Set aside.
4) In another mixing bowl, place one large tablespoon of mascarpone and add the nuts and half a tablespoon of chia seeds, as well as half a teaspoon of stevia. Mix this. Set aside.
5) Place the gluten free bread into a toaster and cook until golden brown.
6) Place aside and begin decorating the toasts.
7) Each toast is as follows:
the mixed nuts, chia seeds and stevia spread
The second is the blackberry and mascarpone spread
following this is the cacao and cinnamon spread
The last toast is simply mascarpone cheese decorated with the chopped strawberries, blackberries, chia seeds and nuts.
Serve and enjoy.
Know someone who would like this?
Share it with the links below
LiberEat's allergen and error detection technology provides an allergen safety blanket for food businesses to ensure that consumers are safe and healthy when eating at your restaurant or consuming your food products.
LiberEat offers a second line of defense for food businesses by detecting errors, allergens, and other harmful ingredients. Food businesses can apply this technology directly to identify errors in allergen communications, preventing the risk of injury. Get in touch with us today to learn more about our Allergen Detection Technology.
To find out how LiberEat Technology supports food businesses to detect allergens and errors, to protect consumers