Amy is a plant-based food blogger, recipe developer, content creator, food stylist and photographer, creating and sharing vegan recipes to nourish your soul and body, alongside inspirational messages.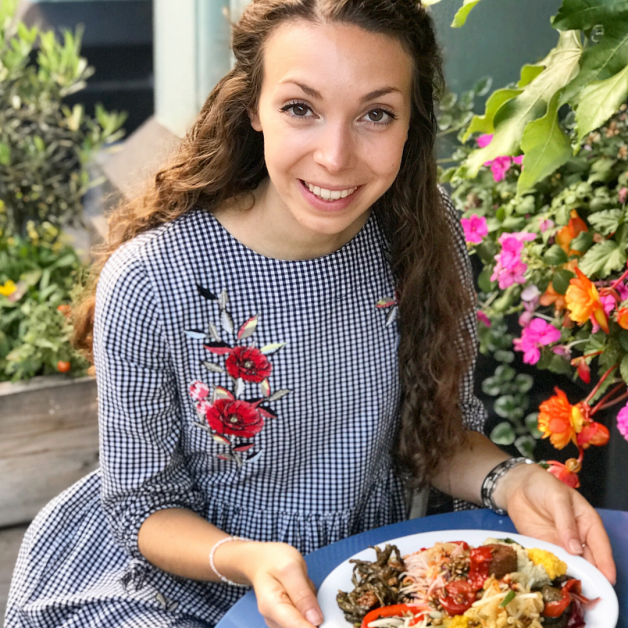 1. How long have you been a vegan for and what lead you to a vegan diet?
I've been plant-based for almost 3 years now although it did not happen overnight. Transitioning to a plant-based diet was something that happened very organically and naturally for me. As I became more and more interested in the food I was eating and the ingredients I could use, I chose to experiment with beans and legumes over meat. Similarly, I wanted to try almond milk because it was the new milk on the scene and was trendy. Gradually, I swapped out all non-vegan foods for vegan alternatives. The health benefits of the plant-based diet and the act of cooking innovative dishes initially led me to try out veganism but the environmental impacts, compassion for animals and general issues of sustainability are things that I am ever-increasingly passionate about.
2. What is the biggest misunderstanding someone says about veganism?
Some people think they couldn't possibly go vegan or that they have never eaten vegan food before. But most people have eaten an apple or a carrot and they are vegan. "Veganism" isn't something scary and it needn't be something that's black and white – I think the important thing is for people to make swaps where they can and try it out gradually. No-one needs to make the change overnight if that's not right for them, try out foods where possible and be open-minded.
3. What is the most annoying thing that someone says about your diet?
It used to frustrate me that people would think you can't get a balanced diet following a plant-based lifestyle. But just like a non-vegan can eat junk food, so can a vegan. It's all about balance and being educated about what you're eating and what to add in.
4. What has been your best free-from find?
I remember a couple of Christmases ago and found out that Jus Rol pastry was accidentally vegan and it definitely sped up the mince pie making process! I also love discovering old beauty favourites that are naturally vegan, too.
5. What is your favourite indulgence food or recipe?
My approach to food is all about balance so I try not to think of food as indulgences, but I listen to my body instead. That said, anything rich and chocolatey has my vote, like my Triple Chocolate Banana Bread. I am not big on junk food or cheese greasy food, so it would definitely be something sweet.
6. What top tips do you have for someone starting on a vegan diet?
Now more than ever is such a great time to explore veganism so three key tips I have are:
Be experimental! Don't suffer through veganism hating the food you are eating. Read food blogs, cookbooks and ask for advice on social media. For example, if you cannot stand soya milk, don't brush aside all plant-based milks, try a coconut milk latte instead. And try out new ingredients that you may not have tried before – you may like them.
Get your friends or family on board – be honesty with them about what you're doing and why you are doing it. Even better, ask them if they'd like to join you on your journey. The more support you have, the better. Plus, it makes it more fun to cook and eat with other people!
Have an open mind. Don't begin with a defeatist attitude that this will be difficult, you'll feel gross and have no energy (or lack protein!!) because there are millions of vegans flourishing by eating this way. Try not to be too hard on yourself if you slip up once, carry on and note it as a lesson learnt.
I also have lots more tips on my website in my Veganuary post here, my dairy hacks post 1 and 2, my egg replacement hack post, my vegan lifestyle post and my Veganuary 2020 post!
You can find more recipes from Amy on her website HERE. You can also follow her on Instagram HERE, but be warned looking at her photos will make you hungry and want to raid your fridge!
This year Amy also released her first eBook, Nourish Me, with recipes for delicious plant-based living. It features 12 new plant-based recipes to help you to add some more vegetables, fruit and wholesome treats into your everyday life. The recipes are simple to follow with easy-to-find ingredients. They are all naturally gluten-free or have gluten-free options to suit everyone.
Know someone who would like this?
Share it with the links below
LiberEat's allergen and error detection technology provides an allergen safety blanket for food businesses to ensure that consumers are safe and healthy when eating at your restaurant or consuming your food products.
LiberEat offers a second line of defense for food businesses by detecting errors, allergens, and other harmful ingredients. Food businesses can apply this technology directly to identify errors in allergen communications, preventing the risk of injury. Get in touch with us today to learn more about our Allergen Detection Technology.
To find out how LiberEat Technology supports food businesses to detect allergens and errors, to protect consumers