This Indian pulse curry is mild in spices, has a buttery taste and is a vegan and allergy friendly alternative to fill your Indian curry cravings. Rajma and steamed rice make for a winning combination and is considered as soul food by many (I am one of those!). The warmth of the dish will lift your spirits high on any gloomy day. While rice is recommended, you can also enjoy it with chapatis and naan.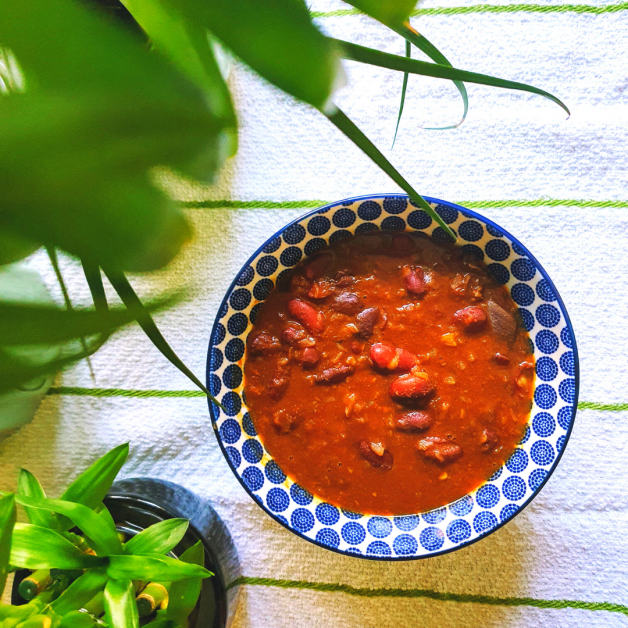 Preparation Time: 20 min
Cooking Time: 25-30 minutes
Serves: 4 people
Ingredients
1 can kidney beans aka Rajma,
1 tbsp ghee (clarified butter) you can use regular butter or any vegetable oil to make it vegan and dairy free
1 tsp cumin seeds
1 tbsp ginger and garlic paste or coarsely grounded
2 large onions, chopped
Salt to taste
1 tsp turmeric powder
1 tsp red chilli powder
1 tsp coriander powder
1 tsp garam masala
2 large tomatoes pureed
Method
Heat the oil or ghee in a pan, add cumin seeds and sauté for about 30 seconds.
Add coarsely ground ginger garlic and sauté till it's fragrant. Be careful to not burn them.
Add the chopped onions, mix well and sauté till they turn golden brown.
Once they onions are done, season the mixture with some salt to taste, turmeric powder, red chilli powder, coriander powder and garam masala and sauté for 3-4 minutes. Cook the mixture till the raw smell of the spices no longer lingers.
Add pureed tomatoes or canned tomato paste, mix well and cook till they start leaving their oil. Your masala is ready!
At this stage, add the kidney beans to the prepared masala and let it simmer on medium flame for about 5-7 minutes. Have a quick taste to check the salt and to see if all the flavours have combined well.
You can garnish with some fresh chopped coriander leaves and your vegan Kidney bean curry is ready to be served with steamed rice.
If you have any tips, comment below to add your thoughts! Don't forget to tag us in your recreations on Facebook and Instagram!
Know someone who would like this?
Share it with the links below
LiberEat's allergen and error detection technology provides an allergen safety blanket for food businesses to ensure that consumers are safe and healthy when eating at your restaurant or consuming your food products.
LiberEat offers a second line of defense for food businesses by detecting errors, allergens, and other harmful ingredients. Food businesses can apply this technology directly to identify errors in allergen communications, preventing the risk of injury. Get in touch with us today to learn more about our Allergen Detection Technology.
To find out how LiberEat Technology supports food businesses to detect allergens and errors, to protect consumers