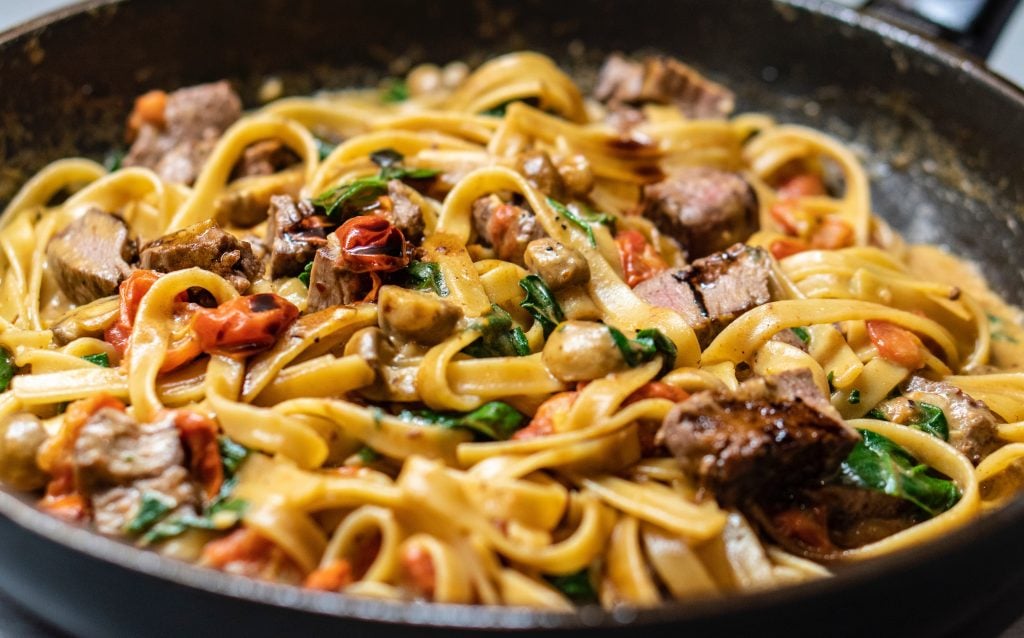 Steak chunks in a juicy tomato sauce served with linguine on a bed of spinach. Not only does this recipe for Steak & Tomato Linguine sound amazing but tastes even better!
It's also perfect for using left over roast beef or excess steak. More importantly, this recipe can be made vegan by removing the steak and mozzarella and serving as a tomato & veggie pasta! 
Ingredients:
Rump Steak 2 steaks
Cherry Tomatoes (halved) handful
Button Mushrooms (chopped/ halved) handful
Small Brown Onion (Sliced) 1
Garlic clove (crushed) 2
Small can of chickpeas (drained) 100 g
Tinned tomatoes 1
Tomato Purée 1 tbsp
Linguine (gluten free) 200 g
Henderson's Relish to taste
Mixed Herbs pinch
Spinach handful
Mozzarella Ball (Can use Dairy-Free cheese alternative) 1
Method:
1. Prepare pasta according to the packet instructions.
2. Using a large heavy bottomed frying pan, fry the steak according to taste. After 5 minutes, add the onions and mushrooms to the pan and brown them.
3. After another 5 minutes, turn the steak and add fresh tomatoes and garlic.
4. Once the steak is cooked to taste, remove and set it aside. Add the tinned tomatoes to the pan and continue cooking, mixing with the veg  as well as tomato puree.
5. Slice the steak in to bite-sized chunks. As the sauce thickens, add the chickpeas, Henderson's relish and mixed herbs. Mix it well.
6. Add the cooked pasta to the pan and coat it well with tomato sauce. Serve on a bed of spinach, with the steak and torn mozzarella on top.
The Steak & Tomato Linguine tastes best when served immediately.
Enjoyed this recipe? Also try our Classic Carbonara recipe. If you have any tips of your own, comment below to add your thoughts! Don't forget to tag us in your recreations on Facebook and Instagram!
Enjoyed this recipe?
Share it with everyone you know
LiberEat's allergen and error detection technology provides an allergen safety blanket for food businesses to ensure that consumers are safe and healthy when eating at your restaurant or consuming your food products.
LiberEat offers a second line of defense for food businesses by detecting errors, allergens, and other harmful ingredients. Food businesses can apply this technology directly to identify errors in allergen communications, preventing the risk of injury. Get in touch with us today to learn more about our Allergen Detection Technology.
To find out how LiberEat Technology supports food businesses to detect allergens and errors, to protect consumers