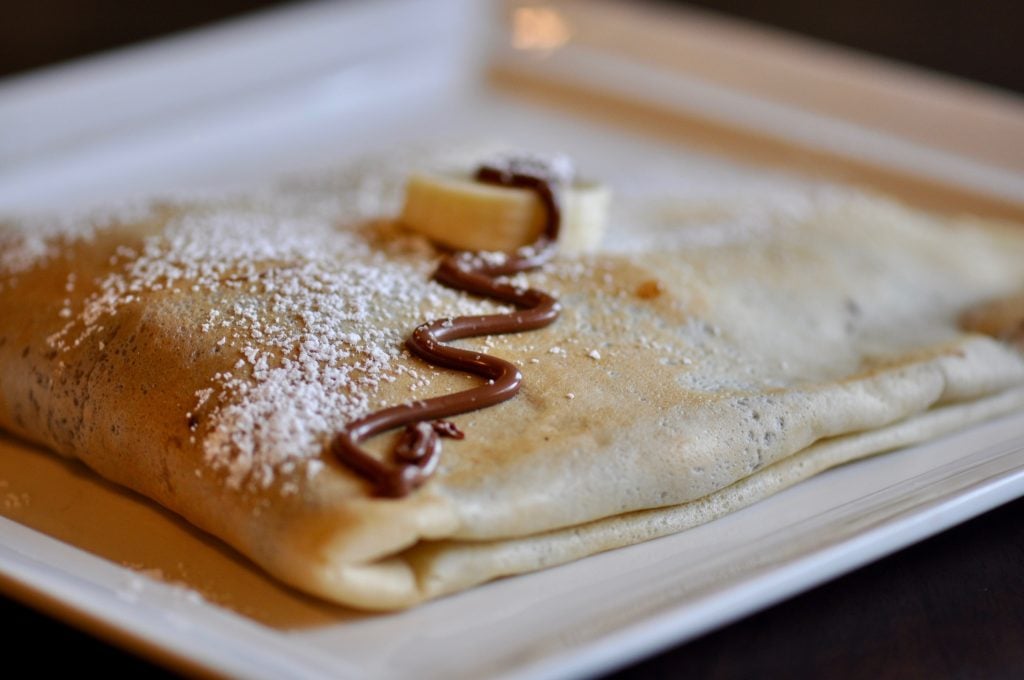 It can be hard to find recipes when you first go gluten free, and pancakes are definitely up there as some of the trickiest. You need to be sure it won't fall apart, has a good texture, and can be made simply.
This recipe is made with only 4 ingredients and I have played around with the measurements to be sure it holds together. The sauce is made from a chocolate spread of your choosing and designed to spread more easily this way.
Pancake Ingredients:
250ml Milk
1

Egg

125g Gluten free plain flour
Spray butter
Pancake Method:
1. Whisk together the milk and egg before adding the flour slowly.
2. Spray a couple squirts of spray butter on to the frying pan. This helps to evenly coat the pan quickly. Leave on a medium heat until it is almost spitting.
3. Ladle in just enough mix to cover the pan 1ml deep. The important thing with gluten free flour is it doesn't seem to mix well with the milk and after a while sinks to the bottom so in between each ladle give it a good stir with the whisk to be sure each pancake has the same consistency.
4. Once the edges are turning in and you can easily slide a spatula underneath, flip the pancake and continue cooking. When the sauce is ready spread on half of the pancake, then fold twice and serve with cream.
Chocolate Sauce Ingredients:
2 tbsp Chocolate Spread (choose a variety which is nut free if desired)

30 ml Double Cream
Chocolate Sauce Method:
1. Melt the spread in a small sauce pan on a low heat.
2. Once the sauce has melted add the cream and stir well. The sauce will become a lighter colour and you should keep stirring until you achieve a spreadable but runny consistency. Serve hot on the pancake.
If you try our Gluten-Free pancakes, don't forget to tag us on the links below.
LiberEat's allergen and error detection technology provides an allergen safety blanket for food businesses to ensure that consumers are safe and healthy when eating at your restaurant or consuming your food products.
LiberEat offers a second line of defense for food businesses by detecting errors, allergens, and other harmful ingredients. Food businesses can apply this technology directly to identify errors in allergen communications, preventing the risk of injury. Get in touch with us today to learn more about our Allergen Detection Technology.
To find out how LiberEat Technology supports food businesses to detect allergens and errors, to protect consumers