Crucial Components of Designing Menus in 2022
Menus are essential for customers to understand what they will receive in a dish they order, such as its ingredients and the price. 
Planning and designing what to include in your menus saves time, promotes healthier eating for consumers by having nutritional and calorie information and guiding consumers to specific dishes.
If your business is in the process of preparing, designing, and printing menus for food or beverage products, there are a few things that you will need to include such as allergen information, brand styling, pictures, calories, and more.
Six Elements to Include in your Menus:
1. Allergen Information - make sure you include a Food Allergy Statement on your menu
When customers come to your restaurant or purchase items from your eatery, the main goal for your business is that they enjoy it, to ensure they are happy, healthy, and encouraged to return. Customers also need to feel safe and reassured that the allergen information provided is precise and accurate. With people avoiding certain ingredients in 50% of UK households (Mintel 2021) and Natasha's Law coming into effect in 2021, allergen safety has never been more important for food businesses. 
Food businesses must provide allergen information on menus. Some restaurants opt for symbols beside the food item, whilst others provide them in writing – but the most important thing is that the allergens are cited – and cited correctly. 
The 14 allergens must be labelled in alignment with food allergen labelling regulations. 
For example, including 'may contain gluten/nuts/soy/dairy, etc., next to the item means customers can see what is or is not safe to eat based on their dietary requirements to enjoy the food product without any concerns.
2. Calories on Menus in the UK
From April 2022, the UK government will enforce large food businesses to display calorie information on menus, prepacked foods, and food labels. This initiative is launched to tackle obesity by encouraging the public to make healthier choices when eating out. Calorie labelling is being introduced to "improve and level up the health of the nation by tackling obesity, improving mental health and promoting physical activity." (link again to page) 
Please note: The UK Government considers businesses with over 250 employees to be large businesses.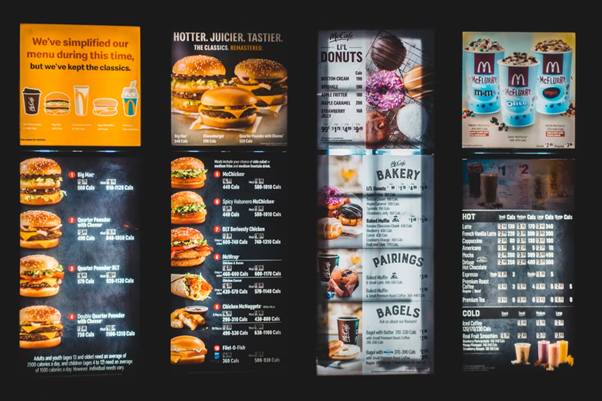 Here's an example of a McDonald's menu with calorie information. 
3. An appropriate description of each dish
Use descriptive terms to describe the texture, flavours, spice level, temperature, ingredients, healthy food inclusions, and colours in the dish to encourage and influence consumers. Aim to be accurate, enthusiastic and coercive when writing menus. It's your job to make the menu and dishes excite your diners, so they discuss it with their friends and family whilst looking forward to trying out the dishes.
It's also your opportunity to upsell side dishes, beverages and follow ons like desserts that may complement their order. You want to avoid confusing diners about what they are ordering, as this can lead to disappointment when the dish arrives.
4. Include photographs and imagery in your menu
Pictures on restaurant menus should be used sparingly. Menus that use pictures beside every food item tend to be linked to cheaper restaurants and used for simple food dishes such as 'Fish and Chips', which is more likely to encourage a customer to buy. A picture per page can increase sales for that menu item. Using high-quality and visually appealing pictures will encourage consumers to choose that item. 
There are benefits of adding pictures to your menu, such as catching customers' attention, making the customer's choice easier and allowing your business to highlight specific menu items that you want to sell more of. However, gaining high-quality pictures of food that your customers want to eat without hiring a professional photographer. You do not wish to lower customers' expectations.
5. Keep branding consistent in your menu
Brand consistency is vital for a seamless user experience in your restaurant, which shouldn't stop at your menu. It is a nice touch to personalise the menu to fit your brand. 
Inclusion of your logo, brand style, brand colour and fonts, and a professional-looking format should align with the business's brand image. Consider if the menu compliments the restaurant dining room or interior and if it suits the needs of your target customers. Always bear in mind the size of the table with respect to the size of the menu. If you have small tables, you don't want customers to struggle with space with a large menu.
6. Outline the price of dishes on your menu
Ensure you have accurately priced each dish and item. Look at competitors' menus or menus of more established brands for inspiration. Ensure that you have included everything in that price and that there are no hidden costs for the customer – i.e. do they have to pay extra for rice, salad or fries? Consider if pairing dishes is an opportunity for a special offer or discount for the customer – such as three small dishes for £12 when they usually are £5 each.  
When pricing your dishes, consider the cost of ingredients, running costs and labour, and of course, add a profit margin to your dish.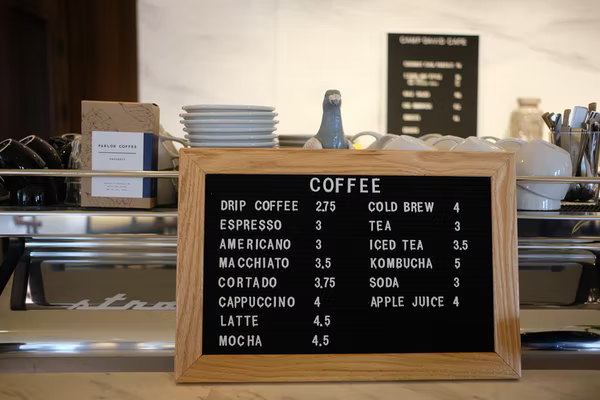 Including these simple aspects in planning your restaurant's menu will help align the brand with the menu, follow regulations and allergen laws, and price effectively.
To find out how LiberEat Technology supports food businesses to detect allergens and errors, to protect consumers