Many companies and food businesses are adapting to accommodate this growing market further, with dark kitchens seeing great success.
Dark Kitchens go by many names such as ghost kitchens and cloud kitchens, which refer to the fact that the venues are usually windowless and go unnoticed by the public. While your typical commercial kitchen will have seating to allow customers to eat their meals on-site, dark kitchens focus exclusively on preparing food for delivery drivers working through a delivery app or similar online service. 
As businesses experiment with this new method of serving and delivering food to people at home, we're starting to see different approaches emerge. Beyond the traditional dark kitchens with one brand renting the space, multi-brand dark kitchens have various brands operating in the same area under a parent company, allowing for a greater variety of food being offered. 
Another one of the more interesting ideas is outsourced dark kitchens, where a restaurant will outsource as many aspects of the food preparation processes as they desire to their dark kitchen business partner, before bringing the finished product back to the restaurant for the finishing touches. Outsourcing to dark kitchens can result in your food business requiring even space as less equipment and staff such as chefs will need to be on-site.
Advantages & Disadvantages of Running a Dark Kitchen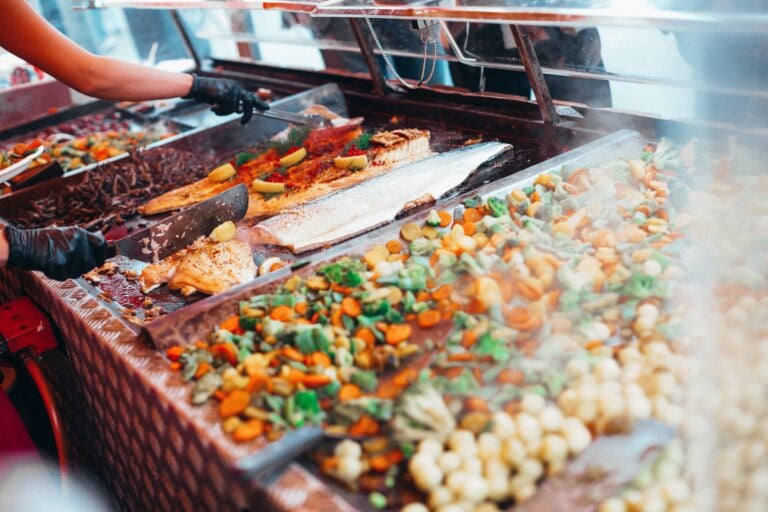 One of the most significant benefits of dark kitchens is that the business's running cost is reduced due to renting less area thanks to the removal of restaurant space. Many businesses struggled to stay afloat during the pandemic and lockdown where in-store seating was heavily reduced or not allowed due to government guidelines. If we ever find ourselves in a similar situation, dark kitchens will manage to operate mainly without disruption. 
Simply eliminating this stress factor will likely bring great peace of mind to many business owners during these uncertain times. Focusing solely on food preparation also means businesses can reduce staff since this is purely a food preparation area, so you have no need for front-of-house staff. 
Food businesses can also reduce rent costs as they are able to choose cheaper, less prime, or visually appealing locations to operate. While the success of many restaurants relies on being in a good area with a lot of footfall traffic like a city centre, for example, the location of a dark kitchen is far less important due to no sales being made on-site. Access from vehicles like motorbikes, cars, and bicycles (for delivery drivers) is of greater importance. 
These benefits aren't without their unique drawbacks forever. For small independent restaurants and local takeaways that rely on brand awareness in a small geographical area, the lack of a physical storefront can result in your businesses going unnoticed by the general public and lost in the hundreds of available options in delivery apps. Depending on the number of customers you receive, a good portion of the money saved on rent may need to go towards an increased marketing budget to raise brand awareness. 
Focusing exclusively on takeaways also means missing out on potential impulse purchases from customers buying drinks, desserts, or any additional food (side dishes, etc.) throughout their restaurant visit. Some stores such as Dominos work around this by offering exclusive discounts to each customer at the checkout stage, though smaller businesses may struggle to provide the same level of promotions without affecting their profit margin.
The Food Standards Agency has also raised concerns in a report published this year that these dark kitchens can be hard to monitor and regulate due to their isolated nature and may not have the correct food safety procedures in place as a result.
LiberEat works with businesses to keep consumers safe with its allergen and error detection technology to make sure all ingredients are identified and labeled correctly, reassuring the heads of safety and quality assurance within food businesses, whose key concern is keeping consumers safe.
Overall, the rise of dark kitchens over the last few years has certainly created an exciting opportunity for food businesses. This model certainly isn't for everyone, with some restaurants thriving due to their location and being less reliant on takeaways. However, for smaller businesses willing to specialise in this growing aspect of the food delivery industry, it's a cost-effective way to enter the market. 
The dark kitchen concept is still relatively new, with the term 'dark kitchen' first being coined in 2015. As demand for these workspaces grows and more businesses utilise them, it will be interesting to see how the business model changes.
Of utmost importance in food businesses utilising dark kitchens is that the food safety and allergen processes are just as rigorous as they would be within restaurants and food manufacturing factories. It's never been more critical to be allergen aware and allergen safe. 
To speak to our team about our SaaS offering for food businesses, which detects errors and allergens beyond current allergen processes, contact us today.
Some of our other blog posts:
LiberEat's allergen and error detection technology provides an allergen safety blanket for food businesses to ensure that consumers are safe and healthy when eating at your restaurant or consuming your food products.
LiberEat offers a second line of defense for food businesses by detecting errors, allergens, and other harmful ingredients. Food businesses can apply this technology directly to identify errors in allergen communications, preventing the risk of injury. Get in touch with us today to learn more about our Allergen Detection Technology.
To find out how LiberEat Technology supports food businesses to detect allergens and errors, to protect consumers