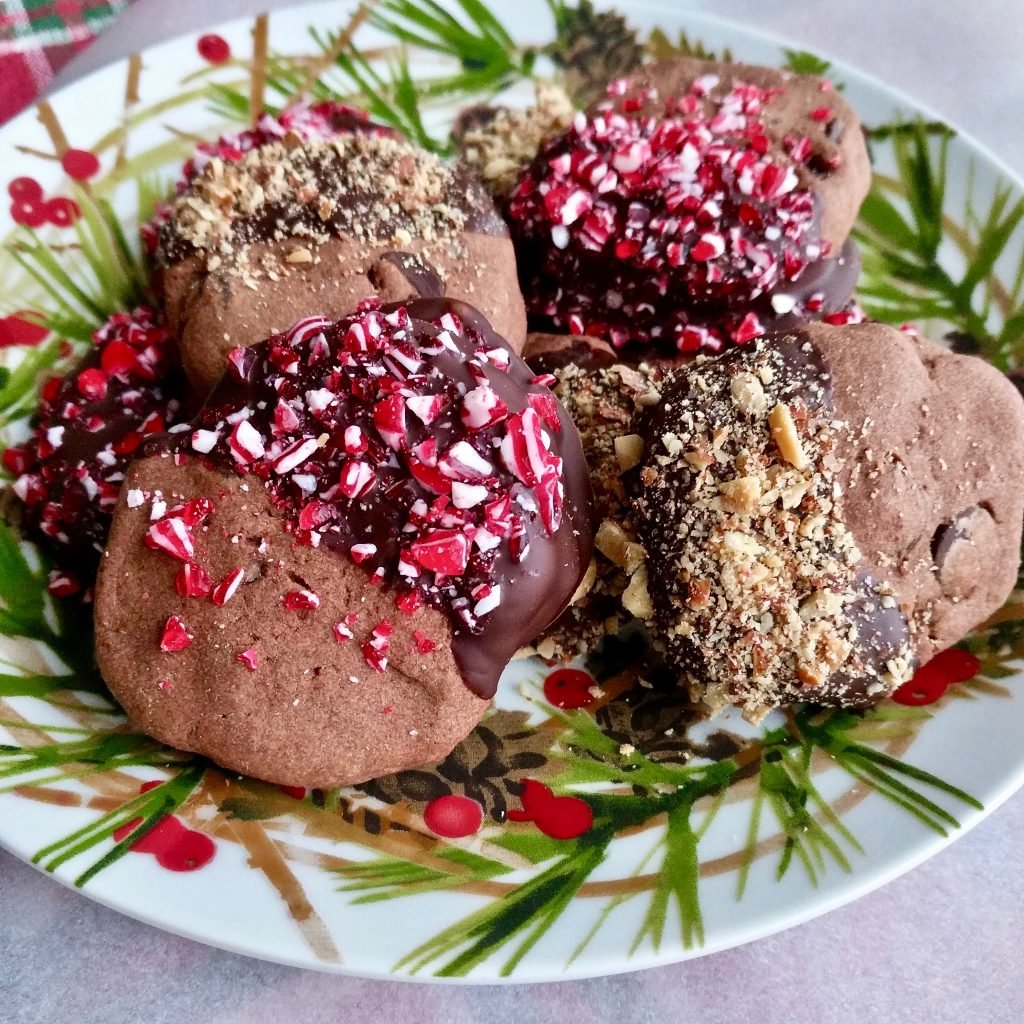 Buttery chocolate cookies with delicious chocolate chunks. Perfect for a bake sale or a tea party with your free from friends!
Ingredients:
1 cup (2 sticks) dairy-free margarine, softened
¾ cup powdered sugar
1 ¼ cup gluten-free all purpose flour
¾ cup unsweetened cocoa powder
2 tablespoons cornstarch
½ teaspoon xanthum gum
1 teaspoon vanilla
½ cup dairy-free mini chocolate chips
1 cup melted chocolate
Ground nuts or sprinkles for decorations

Directions: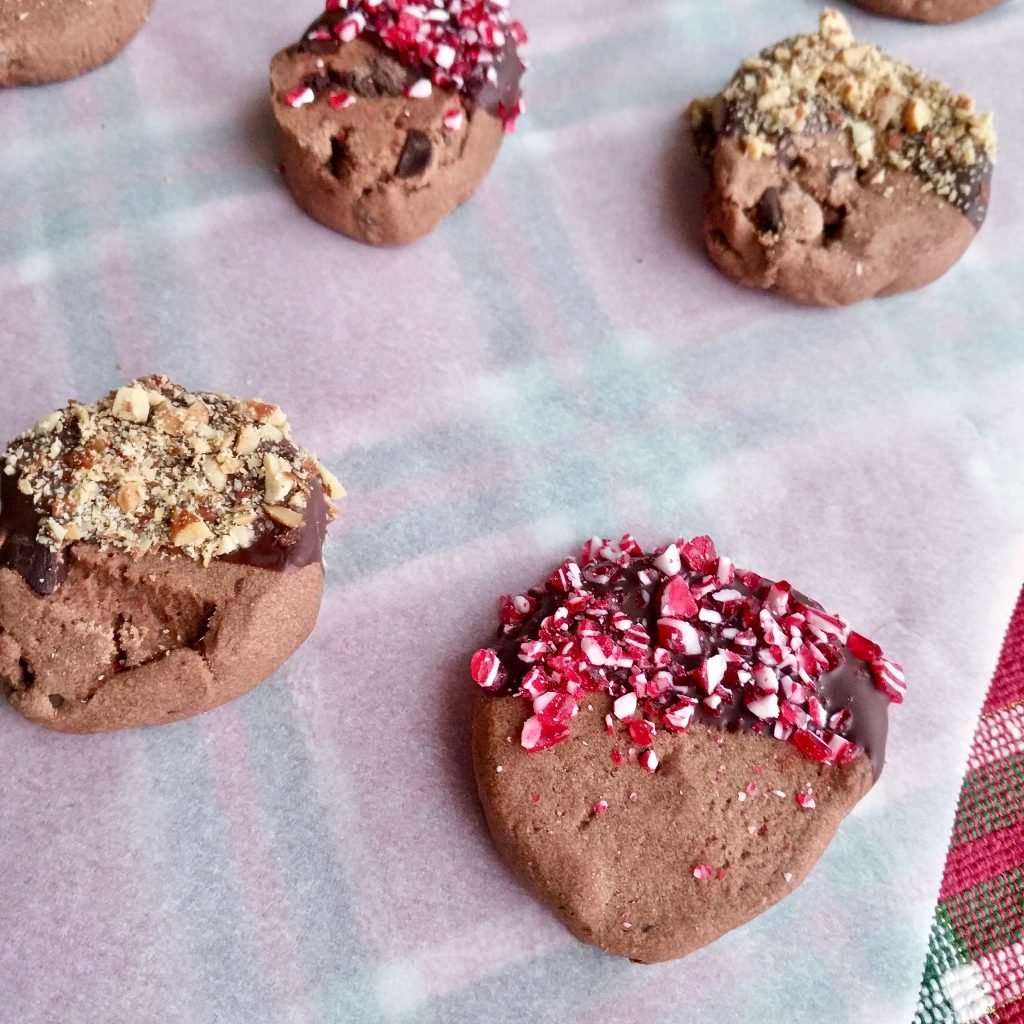 Preheat oven to 180 degrees celsius.
In the bowl of an electric mixer, cream together the dairy-free margarine and powdered sugar until pale and fluffy. Once mixed, add in the vanilla and mix to combine.

In a separate, medium-sized bowl, whisk together the gluten-free flour, cornstarch, cocoa powder, and xanthum gum.

Add the dry mixture to the wet mixture slowly to incorporate it fully. Beat until combined. Once all of the mixture is combined, add in the mini chocolate chips and fold in by hand.

Roll the dough into a log, wrap in wax paper, and refrigerate for at least 1 hour until chilled. When the dough is chilled, slice the cookies from the log at about ½ inch thick.

Bake at 350 degrees for 9-11 minutes, or until the cookies are set.

Once the cookies are cooled, dip them halfway into the melted chocolate. Let the chocolate set for a few minutes, then add sprinkles or ground nuts for decoration.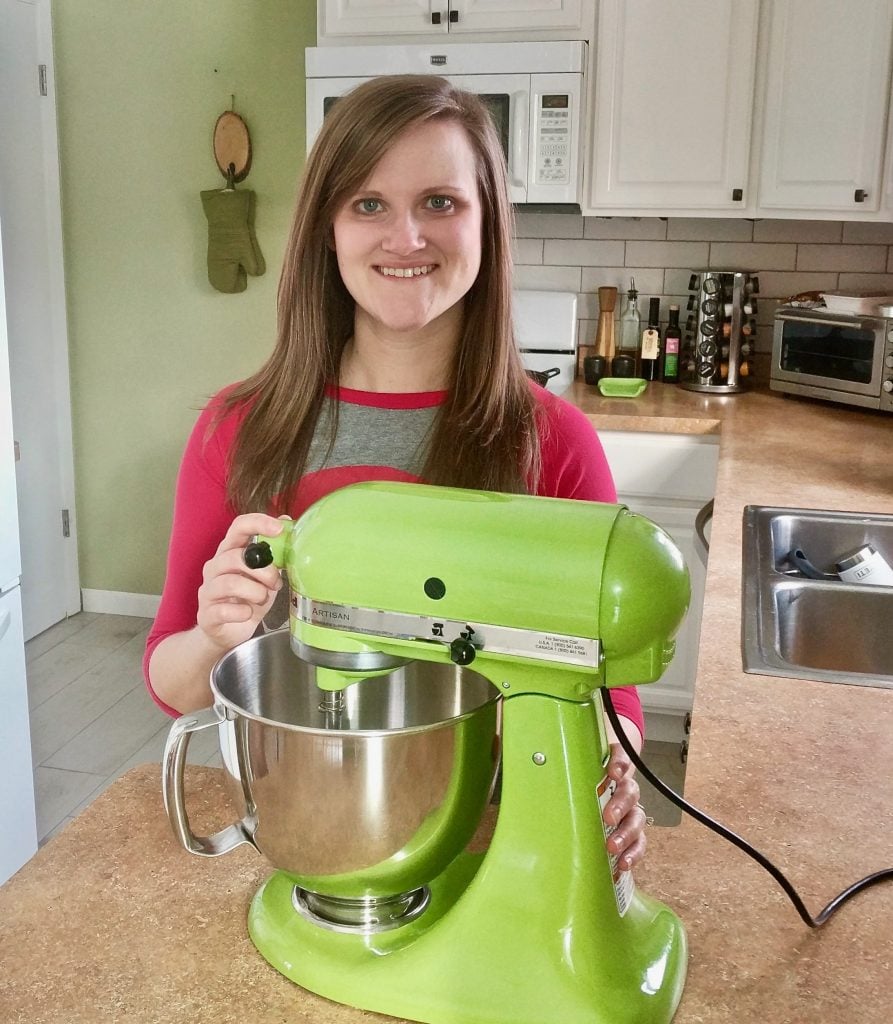 Hi everyone! I'm Kristen Kellogg from Navigating the Allergic Life. My blog focuses on living with food allergies and intolerances, navigating the low-FODMAP diet, and recipes and resources to get you started. In addition to owning the blog, I am in my late twenties, a wife, a special education teacher, a fur-mom, and a yogi.
My knowledge of food allergies and intolerances come strictly from personal experience and 28 years of learning as I live through it all. I have had a milk allergy since I was born, therefore I am completely dairy-free and so are all of my recipes with some being vegan as well. In addition to being allergic to milk, I am also allergic to beef and have fructose malabsorption. To manage my symptoms, I follow the low-FODMAP diet, which I have been doing for about 3 years.
I began Navigating the Allergic Life solely as a way to help others who suffer through these symptoms manage their lives. I know how challenging it can be, so my goal is to make just a little easier for someone else. Through sharing recipes and resources, I hope I can make that happen for someone.
Thank you for taking the time to read what I have to say and try out my recipes. I hope you will visit navigatingtheallergiclife.com to check out other recipes and resources for all of your needs!
Follow me on Pinterest, Facebook or Instagram for new recipes and more!

LiberEat's allergen and error detection technology provides an allergen safety blanket for food businesses to ensure that consumers are safe and healthy when eating at your restaurant or consuming your food products.
LiberEat offers a second line of defense for food businesses by detecting errors, allergens, and other harmful ingredients. Food businesses can apply this technology directly to identify errors in allergen communications, preventing the risk of injury. Get in touch with us today to learn more about our Allergen Detection Technology.
To find out how LiberEat Technology supports food businesses to detect allergens and errors, to protect consumers