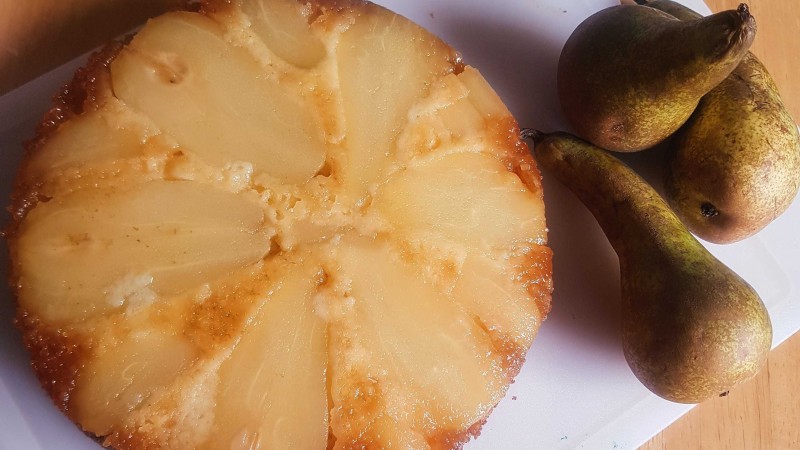 I love upside down cakes. The sponge is always moist and springy, the fruit makes it feel like 1 of my 5 a day, and the magic of turning the cake out and seeing the pattern makes me feel fancy. I make a lot of upside down cakes as a result, and this pear one is delicious! 
It is, I suppose, a pudding, and definitly goes well with ice cream and custard, but I also enjoy this cold and sliced with a cup of tea. Try the same recipe with different fruits (pineapple, cherries, peach, apple) for different flavours and to use up excess fruit. 
INGREDIENTS 
2 Large Pears
175g butter
50g brown sugar 
125g caster sugar 
2 eggs 
125g gluten free self raising flour
1 teaspoon Xanthan gum
1 Teaspoon baking powder  


 
METHOD 
Preheat oven to 180 degrees C
Peel your pears, chop off the stalk and stamen, and slice in to four slices, longwise.

Cream together 50g of butter with 50g of brown sugar.

Grease your baking dish, and then spread the brown sugar/ butter mix evenly across the base. Place your pear slices on top in a pleasing pattern. Any gaps can be filled with off cuts or other fruit pieces such as cherries or grapes

in a separate bowl, cream together 125g of butter with 125g of white sugar.

Beat in 2 eggs, followed by the flour, xanthan gum, and baking powder
Once the batter is perfectly mixed, pour over the pears and spread evenly.
Place the dish in the centre of the oven and bake for 20-25 minutes, skewering with a clean knife to check when it is cooked.

When cooked, leave to cool, before flipping out of the tin on to a board or cake so it is… Upside down! Serve hot with ice cream or custard, or cold with a cup of tea

Know someone who would like this?
Share it with the links below