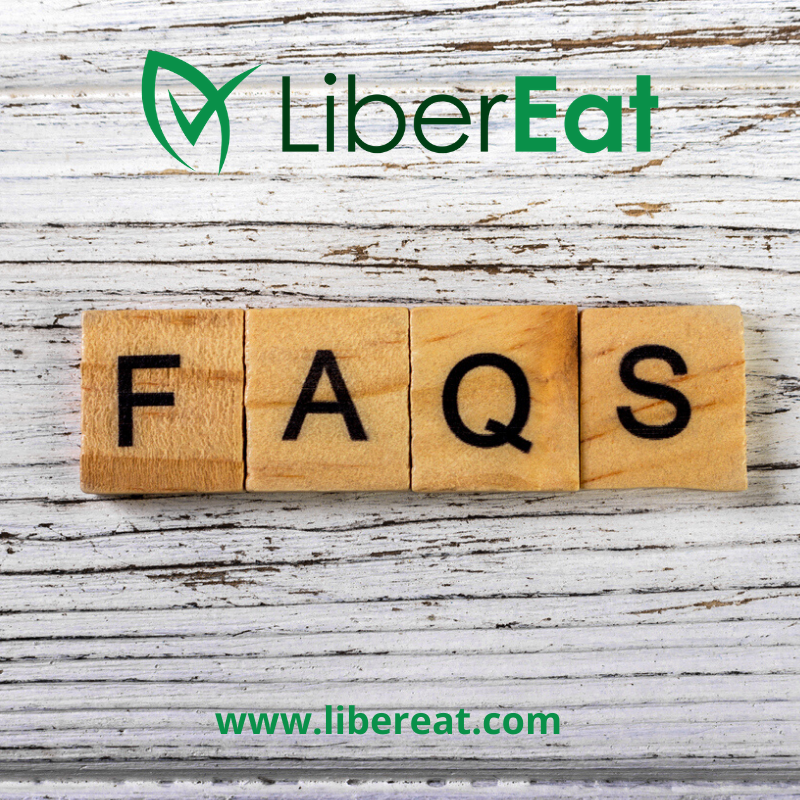 It has been a busy few months since we launched our LiberEat app. We are delighted to be working with restaurant brands such as All Bar One, Miller & Carter, Harvester and others to bring you liberating menus across more than 1000 restaurants in the UK. You can filter these menus against our 14 major allergens as well as vegan and vegetarian choices and we are currently working on expanding these options.
With over 100,000 linked grocery items and 100's of liberating recipes it is the perfect time to download our app and try LiberEat for yourselves.
We are excited to make sure we are providing our community with valuable information, signposting, updates and of course delicious recipes. What better way to start than to get straight to answering the questions you ask us most? Here is a rundown of our Frequently Asked Questions:
"How do you choose the restaurants on your app?"
At LiberEat reliability is our number one priority, so we only feature partner restaurants who can provide us with the right data directly. This is to ensure you are accessing the most reliable, up to date information possible, giving you peace of mind over your menu choices.
We are working hard to add more restaurants and bring you more choice than ever before.
If you have a favourite restaurant chain you would like us to partner with let us know by emailing [email protected]
"What food ingredients do you filter?"
Currently, our users can filter for the 14 major allergens, for vegan and vegetarian choices as well as palm oil. You can view the full list here https://libereat.com/other-dietary-requirement/
If there are any ingredients you would like us to add please let us know by emailing [email protected]
"Where do your recipes come from?"
Our recipes come from a range of sources: some are written by trusted partner bloggers; some are written by our in-house team of foodies; others are written by users just like you, who have found a great way of adapting a recipe to suit their requirement and want to share.
If you have a recipe that has helped to liberate how you eat, then you too can add it via the app. Simply download our app for free from the App Store or Google Play, set up your account, and visit the recipes tab. From here you can submit your recipe by clicking the pencil in the top right corner followed by the plus button.
"How many products do you feature?"
Our list is always growing as more and more products hit the shelves. Currently, you can scan and filter over 100,000 grocery products.
"Where can I download the app?"
Our app is available to download for free from The App Store and Google Play.
"Is it free to use?"
The LiberEat app is free to use and always will be. There are no in-app purchases or subscriptions because we know how important accessibility is to our users.
"Why did you invent LiberEat?"
Founded in 2016, the idea for LiberEat came about from personal experiences. Our co-founder Louise was told by her GP to restrict certain foods but, as a busy nurse, she really struggled to find the tools to help her source delicious foods and ingredients that she could have confidence in eating. Our other founder Barry also had a personal interest as he understood the challenges both his wife and mother faced in catering for their dietary needs.
In the UK alone it is estimated that as many as 20% of the population have a reaction to food – that's an astounding 13 million people who may need to adhere to dietary restrictions! And with ethical choices such as vegan and vegetarian diets becoming the fastest growing food movement, more families are looking closely at what they eat.
We understand the reality for those with dietary requirements – difficulty in interpreting food labelling, restricted variety, social exclusion, anxiety of requiring medical interventions and, in the case of serious allergic reactions, risk to life.
We are dedicated to making life easier and safer for those people who experience food allergies or have dietary requirements. Whether for health or lifestyle reasons, we want to take the anxiety out of buying ingredients and give real freedom when eating out to open up a world of delicious meal options.